Business Intelligence is the collective knowledge of the hive. It is a technology-driven process of analyzing existing data and organizing actionable information. It is used to help managers and executives make strategic decisions for a firm. Google Sheets business intelligence refers to the analysis and organization of data on spreadsheets.
Where is Business Intelligence?
Despite heavy investment in Enterprise Resource Planning (ERP) software most Business Intelligence resides in or is downloaded to spreadsheets.
ERPs are excellent for retaining large repositories of data. They are also a means to implement and enforce processes and procedures, that maintain coherence and control of how data enters the databases.

All ERP´s generate reports. However, it's impossible to have a one size fits all solution for data analysis and reports. All companies and managers have their own specific preferences of what data to analyze and how.
When a new manager joins the firm, a new report will probably be required. Given that most ERP´s require a paid consultant to modify or create reports in the system, this becomes impractical.
A spreadsheet, however, is where practically everybody in the organization splashes their know-how. The data required for each report is extracted from the ERP to a spreadsheet (usually by clicking a button) to then be manipulated according to the user's needs and the required results.
"The hype around Big Data is misplaced – small connected data is where the real value lies."
Rufus Pollock – Open Knowledge Foundation
Why Google Sheets business intelligence?
The principal advantage of Google Sheets is that it's in the CLOUD.
As a user of Google Sheets, this means you don't have to worry about access to shared drives or, worse yet, failures of the local drive. Leaving the firm to go on a business trip does not limit your access to the data.
Sharing data in the cloud is also much easier. With offline solutions, you likely save a copy on your hard drive, email it to a colleague who makes edits and saves on their hard drive with a different name, then emails on to someone else. Pretty soon you have dozens of copies of the same file and no one know which one is correct. With cloud-based solutions, everyone who needs access has access and knows which version is latest.
Finally, because it's easy to share data between Google Sheets (no #REF errors if someone moves a sheet from one folder to another) it allows you to segregate your data better peruse.
Interconnecting Google Sheets
Google Sheets can be interconnected to facilitate the sharing of information via the use of Add-ons such as Sheetgo.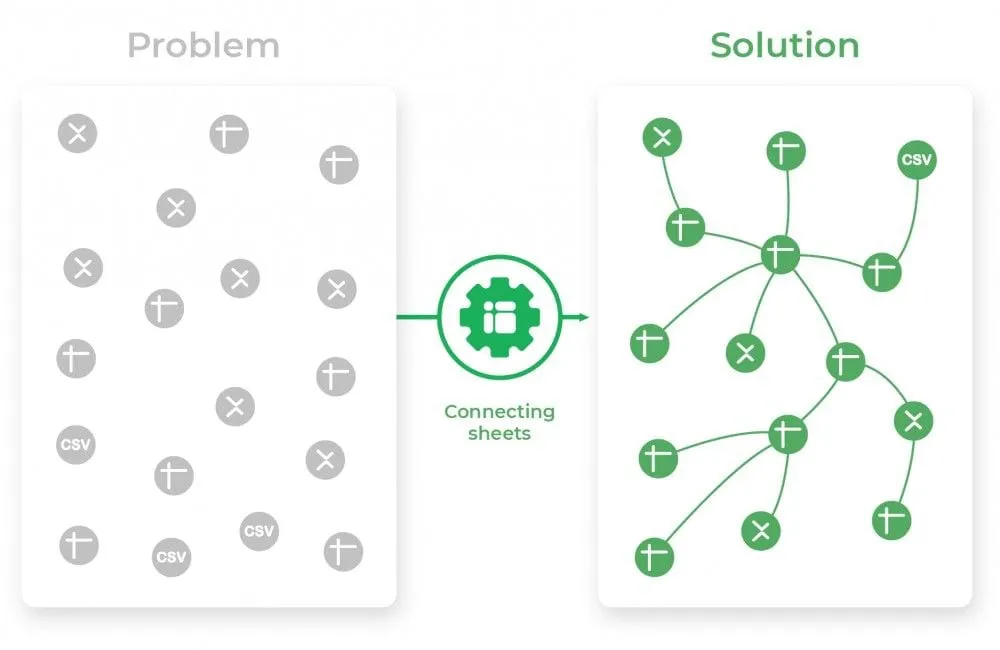 Get creative and see what you can come up via connecting sheets. To install Sheetgo, click the button below: