Effectively managing your business is the key to success – that's where ERP comes in. Nowadays, there are so many different ERP software that integrate your organization's people, processes and technology, in order to manage your overall business performance. Of course, this comes at a large cost, which is simply not affordable for many businesses. However, creating an ERP spreadsheet can be a fantastic alternative to this software. It is not only cheaper, but can help create a more custom system that specifically optimizes the particular areas of your business that needs it the most.
Let's explore in further detail about ERPs and how you can create your very own ERP in spreadsheets.
What is an ERP?
ERP stands for Enterprise Resource Planning; a type of software used for business management. ERP more specifically manages the day-to-day operations of your business, including project management, performance management, daily budgeting and supply chain operations. It integrates the various departments of your organization and accumulates to data that runs between them. With this, ERP effectively stores, manages, and interprets your data so your business can make informed decisions.
Some of the most popular ERPs include Microsoft Dynamics, SAP, Sage, Oracle ERP, Totvs, Infor, Kronos, and Lawson ERP. However, these can cost thousands to millions of dollars depending on the level of management your business wants. With a smaller budget, organizations are unable to manage key aspects of their business which ultimately defeats the purpose of a comprehensive ERP solution.
Creating an ERP spreadsheet through integration of spreadsheets is an alternative to these expensive software solutions, whilst also providing added benefits.
Why create an ERP spreadsheet?
If you correctly create an ERP in spreadsheets, the benefits are almost endless.
Let's take a look at just a few of the reasons why creating an ERP spreadsheet would be a better solution for you:
Customizable qualities: You can custom-create your management system by having complete control of integrations and data sources, in order to create multi-level management solutions or maintain a focus on specific operational objectives.
Automatic updates: Instead of having to request certain data from different departments, you can receive automatic data updates via your new management system on spreadsheets.
Data analysis potential: Integrating ERP with Spreadsheets means that you can take advantage of spreadsheet functionalities to experience more in-depth analysis for accurate insights with clear visual formatting.
Sheetgo offers the ability to create your own custom ERP system through its effective workflow connections. Sheetgo offers workflow templates that reflect the day-to-day operations of your business, including inventory management, project management, and income statement.
Simply integrate your organization's data, and build your very own ERP system. The final result is a fully-developed ERP solution accessible via spreadsheets which will be accessible to your entire business.
How to create an ERP spreadsheet with Sheetgo
Let's go through step-by-step on how you can create an ERP in spreadsheets with Sheetgo.
1. Start with a workflow using Sheetgo templates
To start the process of creating an ERP in spreadsheets, you must first decide on a single workflow to start building your data structure.
For example, if you want to create a workflow for inventory management, then you need to group your check-in inventory, check-out inventory, etc.
Sheetgo offers a range of templates that will create your workflows for you. Simply connect your data to the corresponding sheets within the templates and Sheetgo will do the rest!
On the Sheetgo app, select Create workflow. Clearly name your workflow so that you can easily connect it to other workflows later on.
In the Create a template section, choose a template that offers the workflow you need (we have a variety of templates available that you can explore in the see all templates section). For our example, we will choose inventory management.
3. Click on Install template. You can choose where to save this template depending on the type of spreadsheet you want to use (Google Sheets or Excel), as well as the type of cloud-based storage system you have.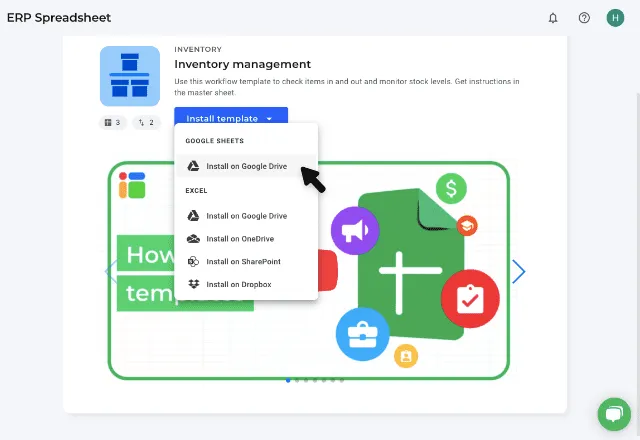 4. Now you have an overview of your workflow. Open each spreadsheet and replace the sample data with your own data. Sheetgo will then automatically update your workflow with this new data.
2. Build and connect more workflows to create your data structure
Now start to create more workflows using Sheetgo templates. From here, connect specific templates to create one big workflow that shares data from one department to another. As a result, your business is constantly updating with the latest data insights, thus making management even easier.
For example, connect your inventory management workflow to your sales report and purchase orders in order to receive more in-depth insights on your overall sales at a much more rapid pace.
3. Customize your data structure and schedule automatic updates to receive insights
Now that your data structure has been developed, you can continue to build on workflows and create more connections whenever you need, so that your ERP system fulfills your business's dynamic needs.
You will be left with a customized, fully-developed ERP system that can handle every aspect of your business operations effectively from start to finish.
Finally, you can schedule automatic updates within your workflows for frequent, up-to-date data insights that you can use to make important decisions for your business management well into the future.
ERP spreadsheet
Now that you have your ERP in spreadsheets set up with Sheetgo, your business can continue focussing on its performance whilst your data automatically updates to give constant insights into the operations of your organization.
With Sheetgo, ERP is more customizable and cost-friendly than ever.
To find out more about Sheetgo's management system capabilities or guides on how to manage specific areas of your business. Check out our other articles below!
Editor's note: This is a revised version of a previous post that has been updated for accuracy and comprehensiveness.