As one of the major players in the internet realm, Google provides a variety of services — among them a spreadsheet software named Google Sheets. With this software, Google aims to outcompete other spreadsheet software providers and in particular Microsoft with their Excel. In the last years, the Google Sheets ecosystem has experienced large growth. They keep increasing its functionalities and even established an Add-on Store in the G Suite Marketplace to provide complementary add-ons for various applications. Consequently, Google Sheets performance keeps improving.
One can summarise the merits of Google Sheets as a unique spreadsheet tool as follows:
Price: it is free to use (for most users)
Collaboration: you can share them with other users and notify them using comments
History: you can review the history of changes and restore a certain moment in time
Storage: all files are saved in the Google Drive cloud at every moment in time
In addition, you can improve Google Sheets performance with add-ons.
Improve Google Sheets performance
Google Sheets has an add-on store with a large number of add-ons that provide extra functionalities. Generally, there are two types of add-ons:
Improve existing built-in functionalities. With these add-ons, you can do some things more easily, like split cells, remove and clear data, find and replace, add rows or columns, etc.
Add new features. These add-ons can generate a significant amount of value if coupled with other services, such as Google Analytics.
Aside from these two major classifications, there are also add-ons that provide lists of templates for various applications and use cases. Lastly, there is a small niche of add-ons that improve the collaborative aspects of Google Sheets. Among those, there is Sheetgo that entirely focuses on the connectivity between spreadsheets.
Install the Sheetgo add-on for Google Sheets by clicking on the button below.
Link data with Sheetgo
Sheetgo has an Add-on for Google Sheets that allows you to connect data between spreadsheets. With this add-on, you can import or export data from one tab to another, merge multiple tabs into one, record historic data, filter necessary data only, and much more.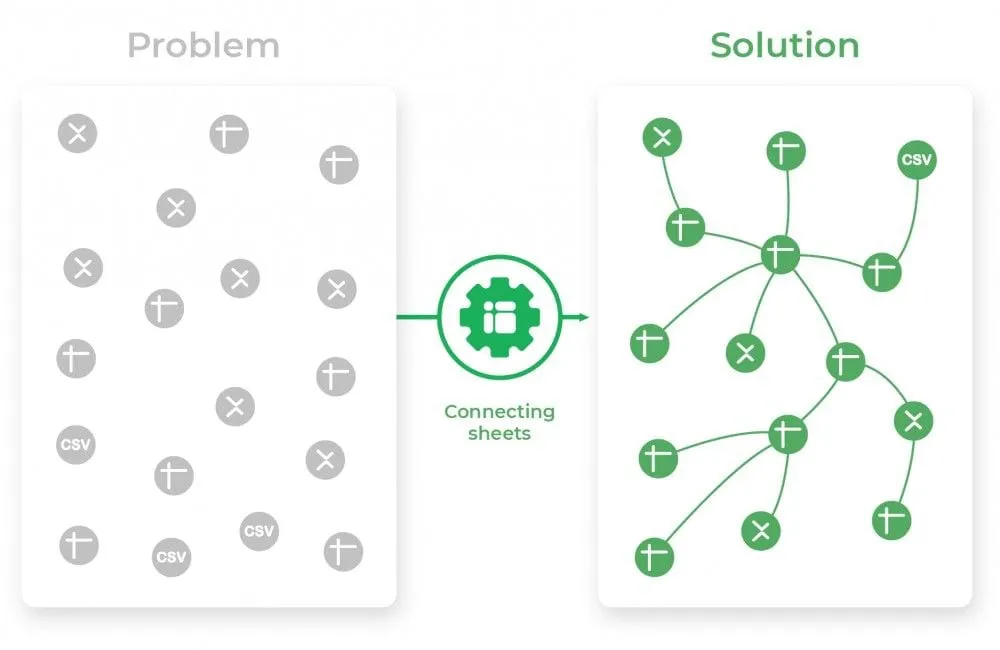 In conclusion, Sheetgo opens a new world of possibilities, especially if you and your team work with dispersed sets of spreadsheets. Or you need to cross data among them, in order to pick only the tabs that you need from other spreadsheets without doing tedious copy-paste. Ultimately, you always want to ensure that all of your data is updated. If you want to find out more about linking data in Google Sheets, check out the following blog post.