Sales is a dynamic, high pressure, and fast-paced line of work. This means that when you're busy chasing leads all day, there's not much time to sit down and analyze your sales processes and results. But plowing ahead without proper analysis and reporting could cost you growth in the long term. Regular and accurate sales reporting is essential for creating forecasts and spotting trends.
A good sales reporting system can help you monitor leads, identify potential bottlenecks in the sales funnel, and track which products or services are selling well.
When you're just starting out with a new business or project, planning and designing a smart sales process is the first step. If you want to launch an online business, take the time to research the sector before you start. Check out free online resources such as dropshipping app Oberlo, which offers a helpful guide to selling online and other tips for new e-commerce entrepreneurs.
There's a huge range of specialist sales software available to help you monitor sales. But for startups and SMEs, expensive software can be an unwise and unnecessary investment. Instead, it's often better to focus your resources on getting new clients and selling your product or service.
You can create an automated sales reporting system with the tool you already know and use every day: spreadsheets. Here's how to get started with a sales report template in Google Sheets.
Why use Google Sheets to create sales reports?
Flexible: Google Sheets enables you to manage and analyze all of your sales data in the way that suits your business. Whenever you need to change the system you can simply adapt the spreadsheets — without accounting software or IT support.
Accessible: Since Google Sheets is cloud-based and updated in real time, your sales reps can access and transfer their data at any time, even if they're on the road or out of office. All you need is an internet connection and a phone or laptop.
Compatible with everything: Every piece of software on the planet integrates with Google Sheets. This means that if your team has data stored in other programs, you can easily import that information straight into Google Sheets.
Easy to use: The majority of your colleagues probably already use spreadsheets and Google Sheets' intuitive interface is quick to get to grips with. Spreadsheets are easy to maintain and onboarding your team is quick and simple.
Get an overview of all your sales metrics including top 10 clients, the number of closed contracts per month, sales leads at each stage of the funnel, and your best-selling products or services — all in the automated dashboard.
How to get started
This Google Sheets template allows you to pull together real-time sales data from your team. The template merges sales data from different tabs to generate automated reports on all your leads, clients, and contracts.
The template can be used by sales teams of any size, selling any product or service. It provides your reps and account managers with a user-friendly way to record and share sales data. At the same time, it generates automated reports and dashboards.
What you get with this template:
When you get a copy of the Sheetgo Sales Report template, a Google Sheets file is saved to your Google Drive. This file contains the following tabs: Instructions, Dashboard, Leads, Clients, and Contracts.
How to get the Sales Report template
Click here to get a copy of the sales report spreadsheet template.
How to use the service sales report template
Step 1: Check out the input tabs
Open one of the input tabs (Contracts, Clients, or Leads) and you will see that this worksheet contains sample data. This is to show you how the template works, so you (or your colleague) can simply delete or overwrite this information.
In the input tabs (Contracts, Clients, or Leads) you can start entering data.
In the designated Leads spreadsheet, you can enter and update their current leads. In each column you enter contact details, the funnel stage, and notes.
Whenever your colleagues sign a new client, you should log all the contact's details here in the Clients tab.
In the Contracts tab, you should log every new contract that is signed.
Here you can register the company, the service or product, the deal value, an estimated duration for the project, and a link to the contract PDF.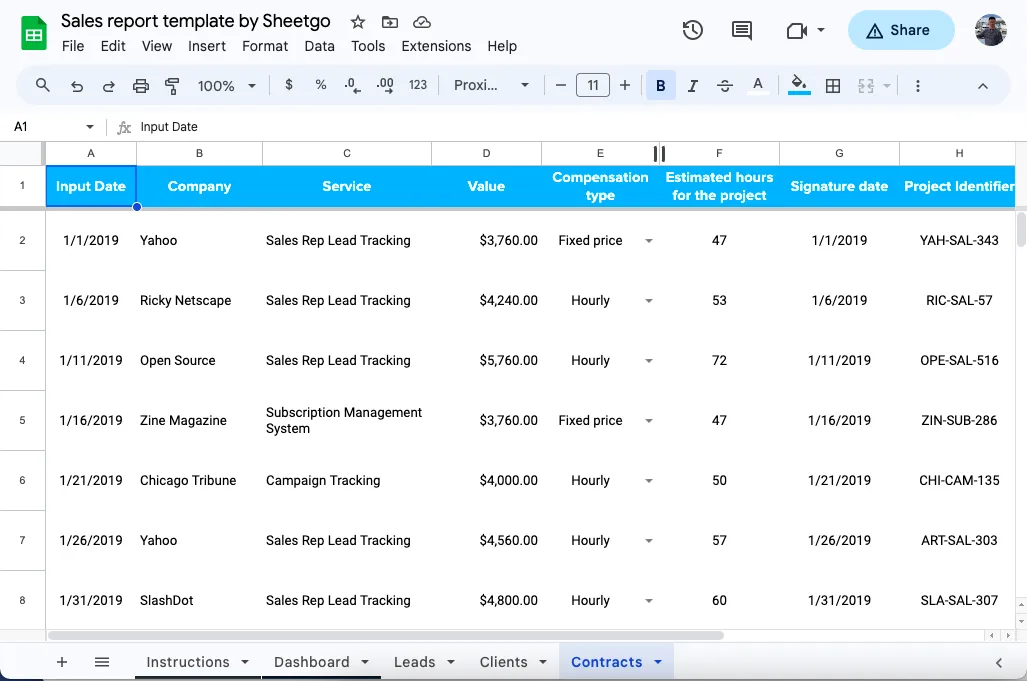 Step 2: Check the dashboard
The template will automatically generate a dashboard. With the dashboard, you can get a comprehensive report with the top 10 clients, contracts per month, leads per stage, contracts per state, and best selling services.