Anybody who has experience in sales understands the importance of regular and accurate sales reporting. Nevertheless, the fast-paced environment of sales often means that representatives and managers have little time left to sit down and analyze their progress and results. As a result, it becomes hard to create proper forecasts or spot meaningful trends in your sales processes.
Because of these time constraints, sales departments benefit from having a solid sales reporting system. For instance, a well-designed system helps sales representatives monitor leads and track best-selling products and services. Consequently, employees who are active in the sales environment gain a lot of practical insight from a Sales report solution.
Often, it is hard for companies to decide which software to choose from the wide array of possibilities. In fact, for many SMEs and start-ups, specialist software can be expensive and turn out to be an unnecessary investment. Besides that, the learning curve for these types of software is often steep.
As an alternative, create your own automated sales report template in Excel. By using spreadsheets, a tool that everybody knows, companies can easily create and implement a sales report template.
Why use an Excel-based template to create sales reports?
Flexibility: Excel spreadsheets can be modified and changed according to your organization's needs and requirements. As such, there is no need for complicated software solutions or putting pressure on your IT department to build a customized sales reporting system.
Accessibility: Whether you are working from a tablet, a desktop, laptop, or smartphone, sales managers and members of the sales team always have access to the workflow.
Compatibility: Microsoft Excel is easily compatible with other software that your organization might be using. Therefore, any sales-related data you already have is easily imported into Excel spreadsheets.
Ease of use: Many employees are familiar with spreadsheets and if they are not, it is easy to train them. Indeed, using an Excel-based template is ideal for beginners and advanced users alike.
Get an overview of all your sales metrics including contracts per month, leads per stage, top states per value, and your best-selling products or services — all in the automated dashboard.
Sign up for Sheetgo and start analyzing your

sales data

automatically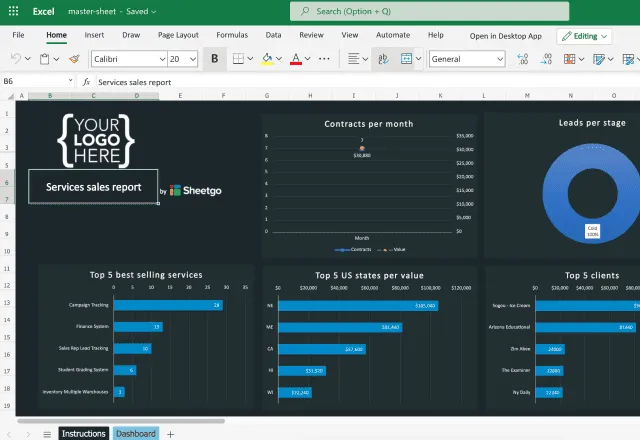 How to get started
This spreadsheet-based workflow template is a pre-built system that allows you to pull together real-time sales data from your team. The template merges sales data from different files and generates automated reports on all your leads, clients, and contracts.
The template can be used by sales teams of any size, selling any product or service. It provides your reps and account managers with a user-friendly way to record and share sales data. At the same time, it generates automated reports and dashboards for managers.
What's a spreadsheet-based workflow template?
A regular spreadsheet template is a single file containing pre-built charts and formulas, but a Sheetgo workflow template is an interconnected system. It consists of multiple Excel files that transfer data between them.
This allows individual colleagues (or small teams) to work in their own private spreadsheet while sharing data with managers automatically. There's no longer any need to copy-paste data from sheet to sheet or spend hours searching for the right files.
A spreadsheet-based workflow template gives you:
Organization and data privacy: Each file is dedicated to one specific task, for better data protection and reliability. Instead of working in one large shared spreadsheet, colleagues record sales data in their own spreadsheet. Data is exported from these files and merged in the manager's master sheet and dashboards automatically.
Scalability: You can expand an Excel-based system as your business grows. There's no need to redesign the system or switch to a new solution. Whenever you need to incorporate more data, you just connect more spreadsheets.
Integration: Excel is compatible with everything. As a result, managers easily import and combine data from other software packages. In a couple of clicks, you can connect data from Operations, Finance, or other company workflows and create an integrated data management system.
What you get with the Sales report template in Excel
One Contracts spreadsheet. Share this file with the colleague(s) responsible for closing deals or signing contracts.
One Clients spreadsheet. Share this file with the colleague(s) responsible for recording client data.
One Leads spreadsheet. Share this file with your sales reps or those responsible for lead generation and scouting.
One Service sales report master sheet, for the sales manager.
How to get the Sales report template
Click the blue button below to get started with the Sales report Excel template.
Log in to Sheetgo with your Microsoft account. As this template is based in Microsoft Excel, the files will be saved to your Onedrive or Sharepoint account.
Click Install on Onedrive or choose your preferred platform from the drop down list.
Please allow a few moments as Sheetgo creates the connections and saves a copy of the template files to your chosen account.
How to use the Sales report template
Step 1: Open the input files
First, go through the input files to get a feel for the template. Open the Contracts, Leads, and Clients spreadsheets by double-clicking their icon in the workflow view. If you prefer working in the Excel application, simply click Open in Desktop App and continue working in Excel.
In the Leads spreadsheet, sales representatives enter and update their current leads in the Leads tab.
Sales employees who sign new clients log all the contract details in the Clients tab of the Clients spreadsheet.
n the Contracts spreadsheet, you or your colleagues should log every new contract that is signed.
Step 2: Share the input files
Next, click the green Share button to grant access to the appropriate colleagues.
Start analyzing your

sales data

automatically
Step 3: Transfer the data
Your colleagues now have access to their spreadsheets and can start entering data in the Contracts, Clients, and Lead files.
The next step is to pull that information into the Service sales report master sheet. To do so, go back to the tab with the workflow view and click Run located in the left bottom corner of the screen.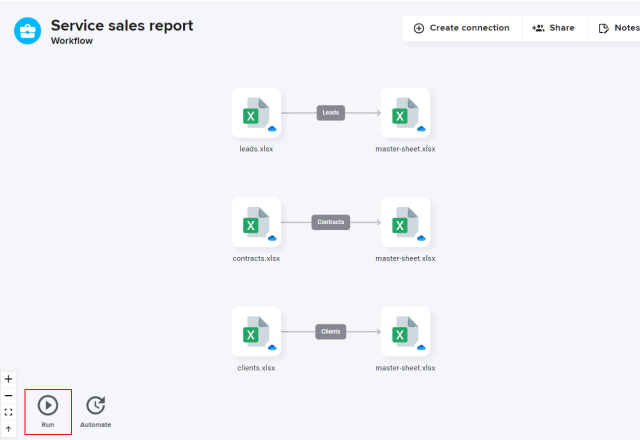 Step 4: Automate the workflow
Automatic transfers ensure that the Sales team always has the latest data in the master sheet to monitor the status of all sales and their contracts.
Additionally, automation saves your team valuable time as the Sheetgo application runs automatic transfers in the background.
In the main workflow view, click Automate instead of Run.
In the Schedule Settings, choose how often you want the workflow to update. You see at the bottom how many transfers your chosen settings approximately amount to.
Build your own sales software
Connect Excel with Sheetgo to create a dynamic sales system that's tailored to your business. Automate and streamline the system even further by linking other files and databases as data inputs.
Are you looking for a more complex sales management solution? Do you need help customizing the service sales report template for your company? Book a meeting with our automation experts here.
Did you like this post?
If you found this post helpful, share it with your colleagues and friends via the social media buttons on the left!
Start analyzing your

sales data

automatically