Sales lead tracker template in Google Sheets
Sales lead tracker template
Every company needs a way to track sales leads. And if you're a busy sales manager running a team of reps, you need to keep on top of who's talking to who and ensure that potential new leads are followed up.
Sales can be a fast-paced, hectic and high-pressure work environment, meaning that mistakes can happen pretty easily. Had a situation where one of your team made a follow-up call to a customer who was already in negotiations with another colleague? Communication errors like this can cost you clients—and money.
There's a range of specialist sales tracking tools available, but when your business is growing and you're looking for customers, it's not always a smart choice to invest precious resources on expensive software. If you have a dedicated IT team, they could create you a customized database, but imagine if you could save them the time and effort. You can!
In this post you will find out how to streamline all your leads at the top of the sales funnel with the everyday tool already sitting there on your desktop: spreadsheets.
To make the process even easier, we've created a free, ready-made sales lead tracker template in Google Sheets, so you can:
Keep track of all sales leads
Store contact details all in one place
Monitor the status of leads
View the progress of each sales rep in a dashboard
All in one spreadsheet.
What do I need?
We've created the template for you in Google Sheets, so all you need is a Google Account. It's completely free.
Using this standalone template, you just enter the data and our spreadsheet does the work. Easy. We've written the formulas for you.
Free Sheetgo standalone Leads Tracking Management template
No need for special software
Easy to use–in Google Sheets
How to use the sales lead tracking template
The template is saved to your Google Drive and it opens automatically. Now you just need to start entering your data. There's an instructions tab in the spreadsheet but we'll run you through the steps here too.
Step 1:
Fill out the blue Sales Leads tab with your own data (just write over the dummy data we have provided as an example). You need to enter: Input Date, Lead Name, Lead Email, Phone Number, Contact Type, Funnel Stage, Notes and Rep (the name of the rep responsible for this lead).
Step 2:
You can enter data yourself, or (because this is a Google Sheets template) you can share this template with your colleagues, for them to record their own sales leads and update progress.
Step 3:
Check out your dashboard to view: total leads per rep, total sales per rep, total leads per date, average days to close per rep and open leads per stage, per rep.
Congrats! You've now got a centralized sales lead tracking system in Google Sheets.
Get an at-a-glance overview of your sales leads in the dashboard tab: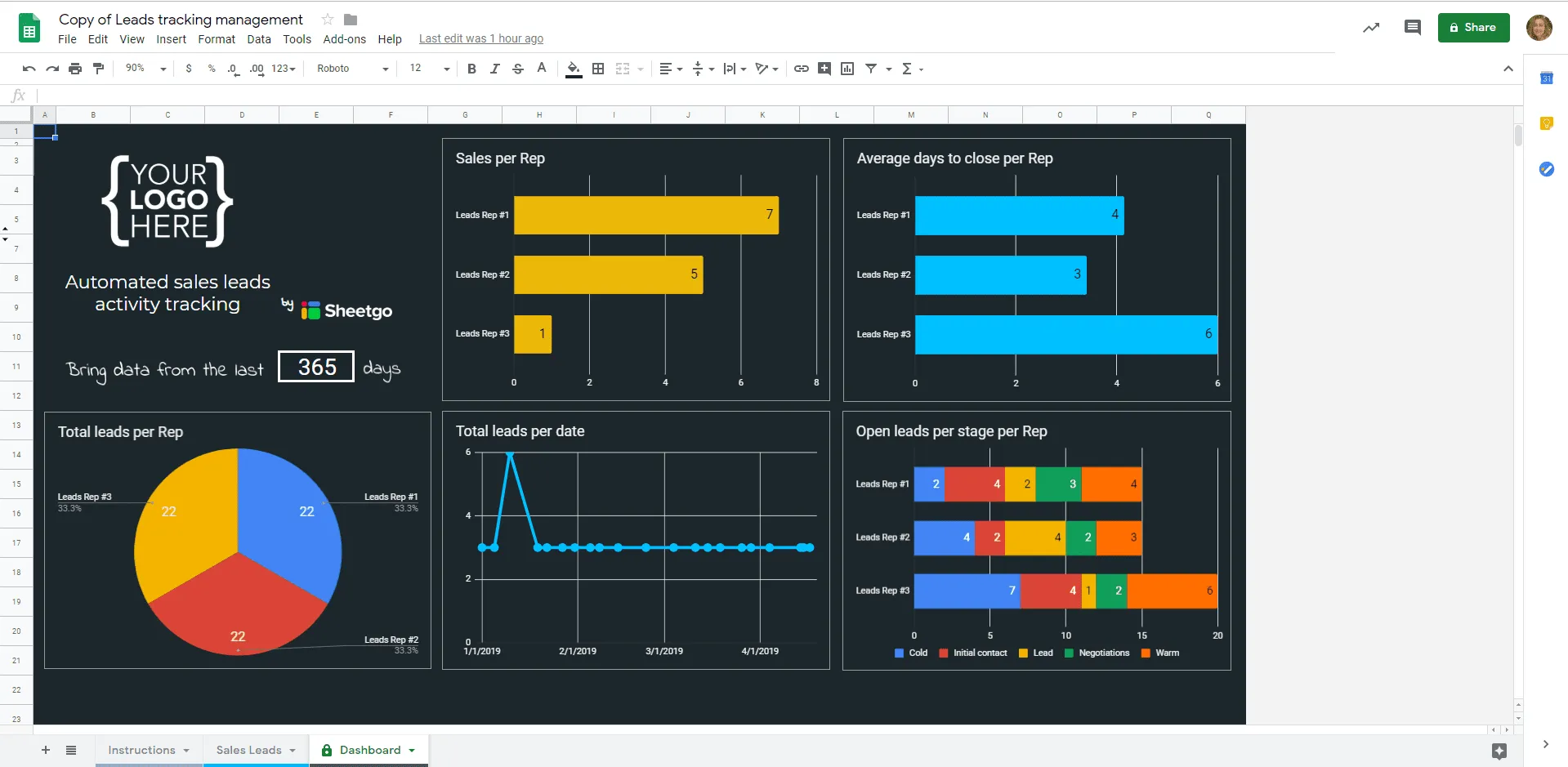 Want your sales reps to have their own sales lead tracking spreadsheets?
If you have a large sales team, you might prefer to give each sales rep their own spreadsheet. This can be a simpler system for staff, and there are data protection and privacy advantages when information is separated. Perhaps it's only the sales manager who needs to view all sales leads and each rep's results.
Want to give your team members their own individual spreadsheets for tracking sales leads? We can help. You can expand on the standalone template by using the Sheetgo add-on for Google Sheets. With Sheetgo you can connect your colleagues' spreadsheets to your own master sheet. Each individual updates their own spreadsheet and you can view all the results—in one place. And the best part? The data flows automatically.
Connect spreadsheets with Sheetgo
If you are familiar with spreadsheets, you can use Sheetgo to automate sales lead tracking in your company. This means you can:
Separate and streamline data flows—each rep handles their own spreadsheet
Data is sent to your master spreadsheet automatically
Schedule updates when you want them
Create a clean and organized sales tracking system
How to create an automated sales lead tracking system
Step 1:
Install the Sheetgo add-on.
Step 2:
Open your Leads Tracking Management template (the one we gave you earlier). This is now your master sheet. Go to the blue Sales Leads tab. Right mouse-click (or click on the small arrow) on this tab and copy to > a new spreadsheet.
Step 3:
Make as many copies as you need, for each of your sales reps. Rename these spreadsheets and then allocate them to your team members. Save all of these spreadsheets in one folder and give it a name, e.g. Sales Rep Input Spreadsheets.
Step 4:
Connect these spreadsheets to your Leads Tracking Management spreadsheet using the Sheetgo add-on. From inside your master sheet, go to add-ons > Sheetgo > Start. Select your folder as a source.
Step 5:
Under Advanced Settings, make sure to select Identify Source> Enable Source Identifier.
That's it!
You have created a Sheetgo connection, by consolidating from a folder. The data from your team's input spreadsheets is now flowing directly into your master sheet, automatically. Feel free to experiment and adjust the frequency of updates to suit you. If you need help using the add-on, click on the chat icon at the bottom right hand side of this screen.
Need more help or advice on how to connect spreadsheets with Sheetgo? Just click on the help icon at the bottom right hand side of this screen.
Interested in using spreadsheets to manage other business processes such as your cash flow? Check out our post on using a Cash Flow Template.