Creating and sending invoices becomes a much more streamlined process when you introduce invoice generators into your operations. Invoice generators offer a ready-made template for you to input your data, to make your document generation process more efficient. This differs from invoicing software, which is much more advanced tool that companies usually subscribe to.
An invoice generator template is great for SMEs or freelancers, or companies that don't want to spend a large amount of money on one tool. You may also find invoice generator templates for Excel or Google Sheets; a great way to find a solution using the tools you already have.
There is a range of different types of invoice generator templates available with varying degrees of intelligence. For example, you may want a basic tool that is simply an invoice template generator, providing a ready-made template to enter your data. Alternatively, your business may require something more advanced that can automatically input and share your invoices in just a few clicks.
Without further ado, let's take a look at our top 5 invoice generator templates, from the simple and free to the more complex, perfect for invoicing, billing, and more.
Why use an invoice generator template?
Whatever you're looking for, invoice generator templates offer many benefits for your business.
Here are just a few:
Saves time: An invoice template already offers the basics of your invoice – you simply just enter the data and it's ready to save and share.
Easily customizable: You have a wide selection of ready-made templates that you can easily customize to suit your needs and objectives. For example, you will be able to add additional lines or columns for other variables, such as item descriptions.
Additional features: A lot of invoice templates may

offer

additional features such as automatic mail merging or insights into your payments
Let's take a look at our top 5 invoice generator templates available for your business!
Sign up for Sheetgo and start automating your entire

invoicing

process
Top 5 invoice generator templates in 2023
1. Sheetgo
Sheetgo offers a fully developed invoice generator workflow that manages your invoices from start to finish. It's a great system that's in-between a more basic invoice template and invoicing software. It automates your entire invoicing process, so you don't have to worry about a thing.
Sheetgo's workflow is easy to navigate and develop with a system based on connections between Google Sheets, Google Docs, and Gmail. Using the spreadsheet template as your dashboard, you can simply input your data into the corresponding columns. Sheetgo then creates custom invoice documents, generates these into PDFs, and sends them to recipients, all automatically. What's more, you can build on this workflow to adapt to your needs, so you can extend your invoicing system as your business grows.
As a result, Sheetgo offers a fully automated, scalable invoice generator tool that can take care of your invoicing needs.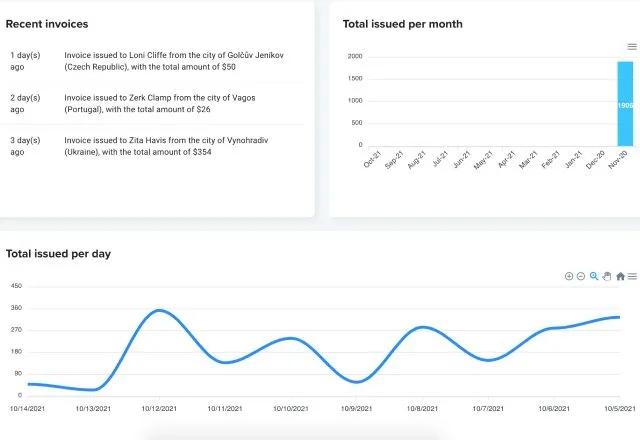 2. WeInvoice
Despite the fact that WeInvoice is primarily an invoicing web application, it offers its own invoice maker tool which you can access online. The invoice maker offers a wide range of invoices for every document type, department, and industry.
WeInvoice also has a variety of customizable design features, so you can make your invoices reflect your company personality. This simple invoice generator has an easy drag-and-drop feature that allows you to create your own custom invoice in just a matter of minutes.
Once finished, use the handy preview feature for one final look, then download your invoices as PDFs or copy the online link to send via email.
3. Invoice Generator
Invoice Generator by Invoiced is a great choice for companies who want a simple invoice maker with an easy-to-use template and customizable features..
This free invoice template can be downloaded and adapted to your billing needs. Its customizable features also include currency, shipping costs, and discounts – great for international payments or returning customers.
You can send these invoices directly to a client's email as an e-invoice. Or simply download it directly to your computer in just one click.
4. Zoho Invoice
As well as an entire invoicing software platform, Zoho offers one of the best free invoice generator. Although this is a more basic Zoho invoice template with less opportunity for customization, their Zoho's invoicing software is completely free.
This software has other intelligent features, such as online payment gateways, expense tracking, income estimations, and integrations with other business-related applications.
The Zoho invoice generator is a great option to experience the possibilities of invoicing software before making an investment.
5. Invoice Simple
Invoice Simple offers a number of invoice templates across a variety of formats and styles so you can find your perfect match. These also include specialized templates for areas that require specific fields, such as contractor or pro forma templates.
Invoice Simple also provides templates for receipts, so you have all the resources you need to track and order your payments.
Just as their name suggests, Invoice Simple offers simple templates ready to implement into your operations.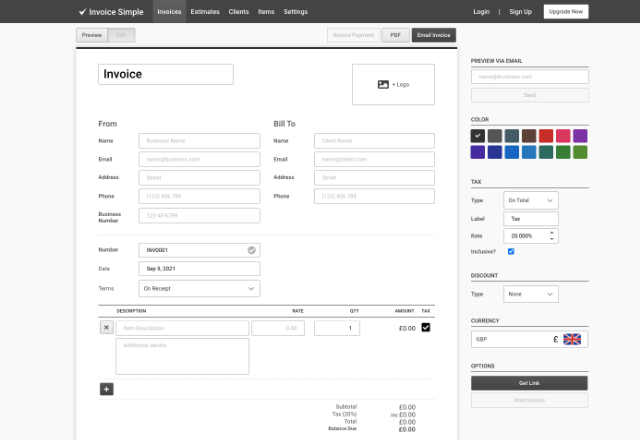 Best invoice template generators
And those are our top 5 best invoice generator templates in 2023! Although invoice generator templates are handy for any business, the Sheetgo invoicing workflow is one step up in automating your entire invoicing process. Sheetgo works as a self-sufficient tool you can trust to create and deliver your invoices when you need them. As a result, Sheetgo offers one of the best free invoice templates on the market.
If you would like to learn more about how to implement the Sheetgo invoice template into your business operations, check out our article on How to create an invoice generator.
Alternatively, take a look at our related articles below for more ways you can manage your finances successfully!
Start automating your entire

invoicing

process