Having your data perfectly organized and managed in one place is incredibly important for any department, especially in sales. In such a fast-paced environment, having a comprehensive sales template can easily help you monitor key processes, including sales leads, forecasting, and CRM. Not only does a sales template save you and your team huge amounts of time, but it can also optimize your day-to-day sales process from start to finish.
With so many types of sales-related data to take care of, spreadsheets are often the go-to tool to use when inputting and managing this data. Not only can spreadsheets store and organize lots of data effectively, but they are a completely free alternative to expensive sales software. Thanks to its amazing collaboration abilities and its range of analytical features, Google Sheets is particularly effective, perfect for creating a comprehensive report for internal and external use. As a result, you and your team can manage the entire sales process in just one place.
Although many Google Sheets sales templates are available today, depending on your needs, it can be difficult and time-consuming to identify the best of the bunch depending on your needs. In this article, we'll explore the top 5 free Google Sheets sales templates that you can implement into your sales department today!
Why use a Google Sheets sales template?
There are many reasons why using Google Sheets templates is a great way to manage your sales processes. Here are just a few of the main benefits:
Affordable alternative to expensive software: Although there is sales software available on the market, these are often very complex systems that are incredibly costly and require some sort of training to use correctly. Google Sheets is a well-known, everyday spreadsheet tool that's completely free – all you need is a Google account!
Access to smart analytical features: Google Sheets offers many great analytical features to help visualize and forecast your data. Through various formulae and table and graph formats, you can turn your raw data into actionable insights in just a few clicks.
Customize the template to your needs: You can easily adapt and edit Google Sheets templates according to your needs. You can add new rows or columns for additional tasks or your company logo and other details to make it more personal.
Easily share internally and externally: Google Sheets has awesome collaboration and sharing capabilities to control how you send data effectively. Easily share internally and externally, and manage or restrict access to sensitive information for complete security.
Top free Google Sheets sales templates in 2023
Now that you understand the benefits of using a Google Sheets sales template in your organization, let's look at the top 5 Google Sheets sales templates for 2023!
1. Sales lead tracker template from Sheetgo
The free sales lead tracker template by Sheetgo is a Google Sheets file that allows you to record and track your sales leads in one place. The template merges your sales data, analyzes the data, and generates automated sales reports.
Simply add your clients, leads, and contracts to the corresponding worksheet. In the  dashboard, you'll receive the latest insights into your sales process, including key metrics such as contracts per month, best-selling products or services, and leads per stage. You can then use these metrics to create in-depth reports that you can easily share with others.
Read the following blog post on the Sales leads tracker template in Google Sheets to find out more about what this template offers.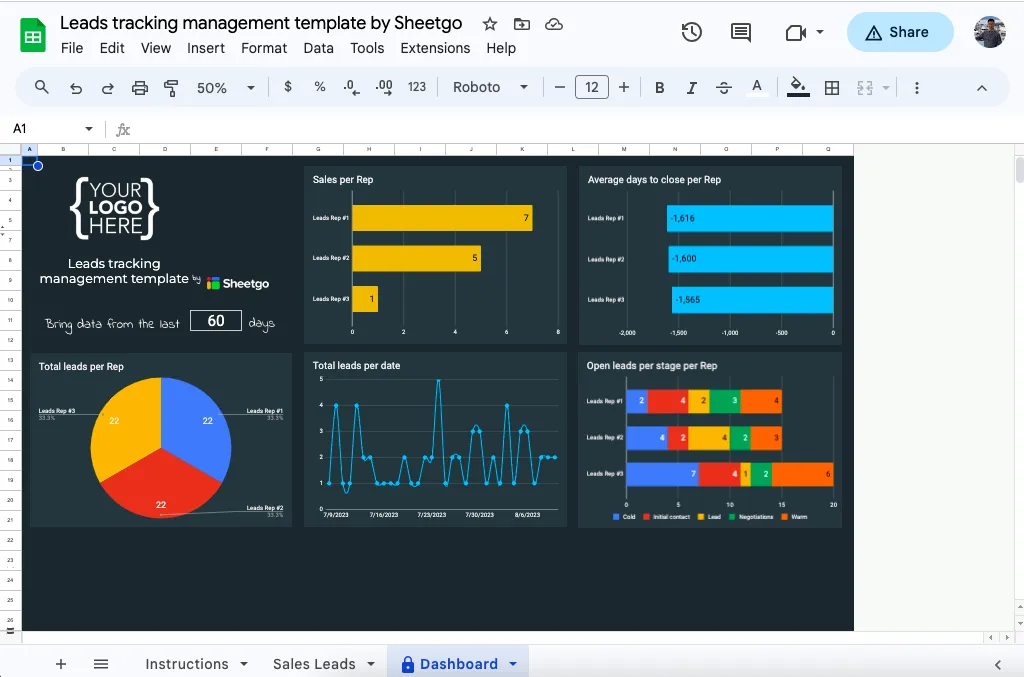 2. CRM Report from Google
Looking for a free template that helps make Customer Relationship Management easier? This CRM template from the Google Sheets template gallery is great for those looking for a high-quality, basic start to their CRM processes.
Simply add and update data to the corresponding People, Companies, and Opportunities, and monitor progress from the Dashboard tab to set the right daily, weekly, and monthly goals. What's more, the Settings tab allows you to alter categories and characteristics for each tab to customize the template to your existing method or new goals.
3. Sales Hacker SDR Performance Calculator
Looking to evaluate how much impact your Sales Development Representatives are having? This template from Sales Hacker is designed to help you define the ideal goals for your SDR and estimate how impactful their performance is on your top-line revenue.
This template comprises several tabs to ultimately help your forecast how close you are to your goals. Input the corresponding data for tabs such as Meeting & Revenue Setter, Team Costs, and SDR Meeting Quota Setter. The template provides in-depth instructions on using the template and what each metric means, so you fully understand how it works.
As soon as you input your data, you'll receive accurate calculations of exactly what you need to achieve to hit your goals. Use the link below to make a copy of the template and add it to your storage file.
4. HubSpot Monthly Sales Dashboard
For an all-in-one monthly sales tracking template, why not try HubSpot? Easily manage leads, sales, and revenue all in one place.
Input your data into the corresponding tabs to set up your new account details, sales, and more. Hubspot sorts and evaluates this data to provide key monthly metrics in the Dashboard tab, including New accounts and Recurring Revenue per region. You can modify your sales goals in the Setup tab to alter the template.
Hubspot provides a comprehensive instructions tab to unlock the full potential of this sales template.
5. Sales Hacker Sales Compensation Plan
If you're looking to generate visibility of your compensation and commissions in spreadsheets, Sales Hacker provides a neatly structured and intuitive Sales Compensation Plan Worksheet.
This template provides multiple tabs dedicated to key details about your sales roles, base salaries, and variable pay in order to establish clear compensation and commission rates based on sales performance. Then, using the example payout tables, you can input monthly sales, and the template will automatically calculate the payout required in a matter of seconds.
The best Google Sheets sales template for 2023
And there you have it! There are numerous top-quality sales templates out there that you can immediately integrate into your sales process with no additional costs required.
If you're looking for an all-in-one automated solution to streamline your marketing and sales processes, check out our spreadsheet-based solution to automate your CRM.
Editor's note: This is a revised version of a previous post that has been updated for accuracy and comprehensiveness.