We all know that that making spreadsheets look nice can be a tedious task. On top of that, it's difficult to come up with big-picture ideas to figure out how the entire spreadsheet should function, what you want it to do, and what you want it to show. Fortunately, we have templates. There are people out there who have done the work for us and made some awesome templates to help us get started with spreadsheets to manage our data or day to day tasks.
Spreadsheets can be especially helpful for tracking leads, sales, marketing, and appointments. Above all, you can manage the sales funnel from start to finish and create beautiful reports for internal and external use. Use ready-made sales templates exactly how they come, or customize them to fit the way you work. To get you started, we've got an overview of some of the best sales templates in Google Sheets.
How to get templates in Google Sheets:
There are a few different ways to access Google Sheets templates for sales.
The first option is to use Google's own templates in the Google Sheets Template Gallery. At the moment, there are around 25 templates in the Google Sheets gallery, both for professional and personal use. There aren't currently many specific sales templates, but keep an eye out for new additions! Nonetheless, several of the standard business templates (such as invoicing and project management) can also be really useful for sales teams.
To access Google Sheets standard templates:
1. Open Google Sheets.
2. Click Template Gallery
3. Click on any template and automatically open into a new Google Sheet, with instructions on how to use it. Like this: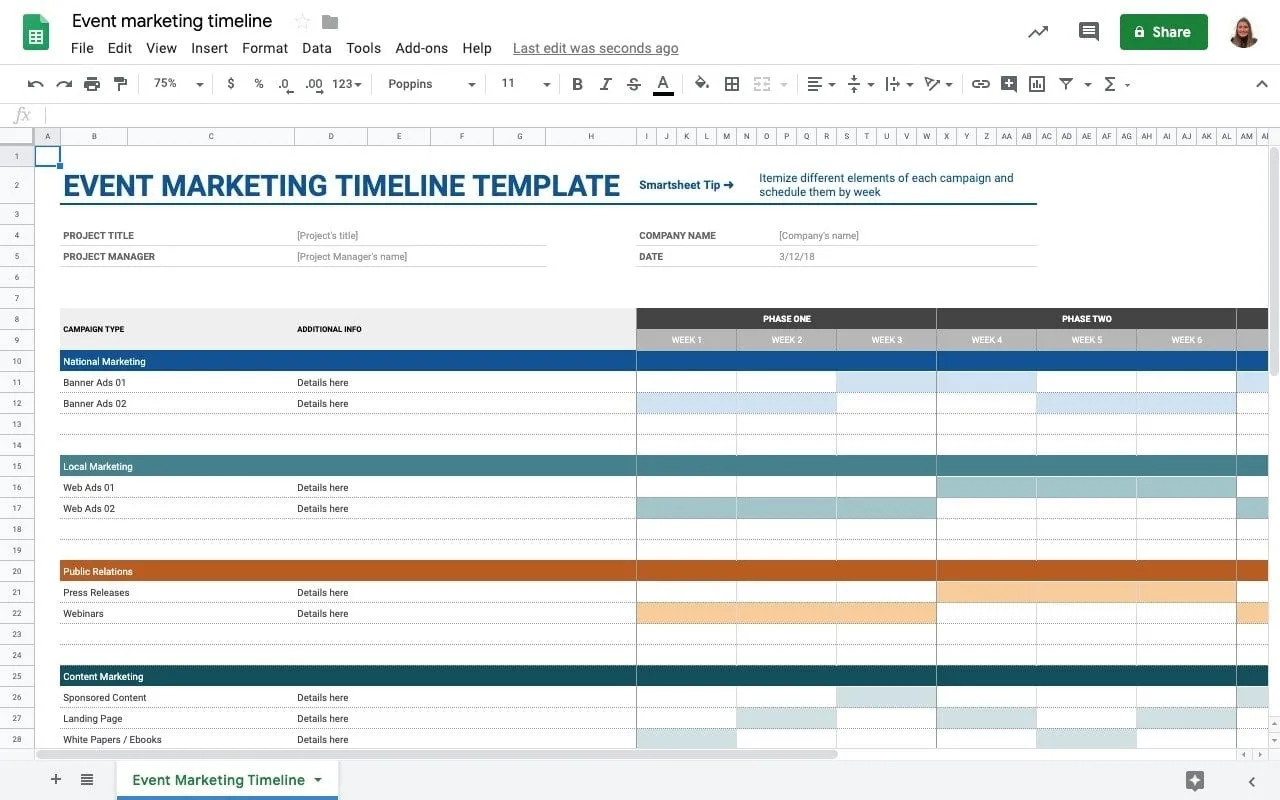 If you find the perfect sales template online but it's an "Excel" template, you can simply save it as a .xlsx or .csv file, and change it into a Google Sheets file using Sheetgo. The latest version of Sheetgo even preserves formatting.
Let's take a look at some of the best free Google Sheets sales templates:
Sales lead tracker template from Sheetgo
This free sales lead tracker template in Google Sheets enables you to record and track your sales leads and view progress in an automated dashboard. Install the spreadsheet template directly by clicking the green button below. If you need further instructions, check out our post on how the template works here.
CRM Report from Google
This customer relationship management template is free and easily available right from the Google Sheets template gallery. It's really effective for small teams or solo-preneurs who need to develop a strong sales and marketing pipeline but can't afford or don't need complicated CRM software. The primary page gives you detailed instructions on how to implement and use this template. Each of the different spreadsheet tabs represents a different aspect of your pipeline.
Spreadsheet CRM
Spreadsheet CRM is another sales and CRM dashboard template that was designed just for Google Sheets Users. Go to their website to sign up or get it here, and directly open the template. It has the share setting View Only. You need to click on File → Make a copy to make your own copy and get started. This template is designed for small businesses to use as a time and money-saving tool. You establish a custom sales timeline, generate sales reports, assign tasks, and manage contacts and lead generation all in one place.
Cold Email Sales
This template from SalesHacker is for tracking lead generation and sales via cold email. It can also be modified for cold calling. This a great tool to manage sales performance with individual employees over a period of time. It's a pretty simple template but it, on the other hand, helps you see the big picture of your cold email process. Tracking percentages and outcomes is a great way to help you manage the efficiency of your sales pipeline. Here is the template. Its share settings are set to View Only. You need to click on File → Make a copy to make your own copy and get started.
Pipeline Tracker
Another great template from Sales Hacker. This template helps you take a birdseye view of your yearly pipeline and analyze and adjust it by quarter. Moreover, set big goals and generate big revenue with the help of this great template. Its share settings are View Only. You need to click on File → Make a copy to make your own copy and get started.
Template Gallery Add-on
You don't necessarily need to go scouring the web for templates. As an alternative, there is also a great add-on called Template Gallery with many templates available. Simply get and open the add-on, then browse through the templates. When you find one you like, click it, and save a copy to your drive. These templates are by Vertex42. If you go directly to their website, they only have templates for Excel users, but by using this handy add-on, you can access their templates directly in Sheets!