Project management template in Google Sheets
Need help managing your projects?
A project manager has the difficult task of managing several projects at once. Each project is different and it can be a real headache trying to oversee the work of multiple collaborators. On top of that, the project manager has to plan each project perfectly with an ultimate deadline – and make sure this deadline is met. Unless you're a superhuman manager with an incredible memory and multitasking skills, you need some kind of project management tool to help you keep track of what's going on.
There's a host of project management software out there, but it's actually possible to create an effective and easy-to-use system using the tools you already know – spreadsheets. That's why we've created a free project management template, ready for you to use in Google Sheets.
One of the hardest elements of a project manager's job is prioritizing tasks. In order to do this, it's helpful if you can visualize the progress of different projects. A classic project management tool for visualizing progress is a Gantt chart.
What's a Gantt chart?
In its most simple form, a Gantt chart is a barchart showing tasks and time – or a schedule of what has to be done and when. More advanced versions include other information such as how different tasks relate to each other (dependencies) or what resources are required.
Our project management template contains a Gantt chart with a clear color-coded display showing you whether project tasks are behind, on schedule, ahead of schedule, or finished.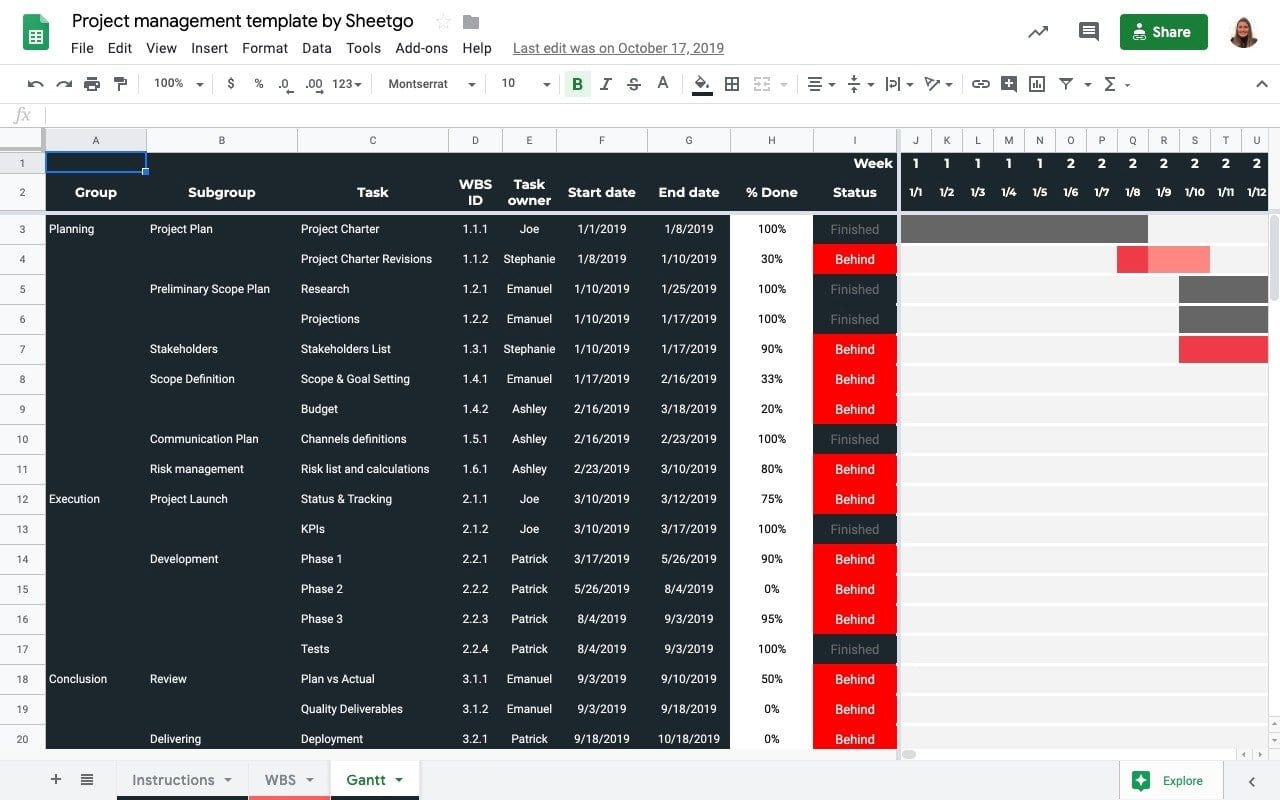 Why use a project management template in Google Sheets?
If you want to manage your project in a simple and effective way, there's no need to buy expensive or complicated software.
You can do it all in a spreadsheet – for free. With our project management template you can:
Track multiple tasks within one project- in a WBS
View progress in an automated Gantt chart
Calculate dependencies between tasks
Monitor the work of teams and/or individuals
Increase productivity – saving time and money
In one single spreadsheet.
What's WBS?
WBS stands for Work Breakdown Structure. It's a method for organizing a project in manageable, deliverable sections. It has a hierarchical, tree-like structure, meaning that you break one big, overarching project down into smaller, achievable tasks. Our spreadsheet template has a WBS tab. Here your project is broken down into Group > Subgroup > Task Title. For example, the Group might be "Planning". The Subgroup might be "Stakeholders". And the Task Title might be "Making a list of stakeholders".
How do I get started?
We've created a template for you in Google Sheets so all you need is a Google Account. It's completely free.
Using our ready-made, standalone template you just enter the data, and our spreadsheet does the work. Easy. We've already written the formulas for you.
Free standalone project management template
No need for special Gantt chart software
Easy to use – in Google Sheets
How to get the template:
Click on the green button below to get a copy of the template.
It's a Google Sheets file named Project management and it will save automatically to your Google Drive.
How do I use the project management template?
Our project management template is ready-to-use so you can start entering your data straight away. Everything is outlined in the Instructions tab but we will cover the steps here too.
Step 1:
Fill out the "Settings" on the right hand side of the Instructions sheet. Choose your project start date and how frequently you'd like the Gantt chart to update.
Step 2:
Fill out the WBS tab (but don't touch the grey cells). The start date and end date change automatically.
Step 3:
Sometimes one task needs completing before you can start another task. This relationship is called a "dependency". Each task you enter in the spreadsheet is automatically given a number, for example 1.4.2. In the dependency column, you must select whether another task needs completing before you can start this task.
Let's say you are entering task 1.4.2 in the spreadsheet. If you need to complete task 1.2.1 before you start task 1.4.2, select that task number (1.2.1) in the Dependency column and in the Dependency relationship column choose "finish-to-start". This means 1.2.1 must be finished before you start 1.4.2. "Start-to-start" means there is no dependency (both tasks can be started at the same time).
Step 4:
Choose a duration for the task (number of days) and assign each task to an owner (the person who will do it).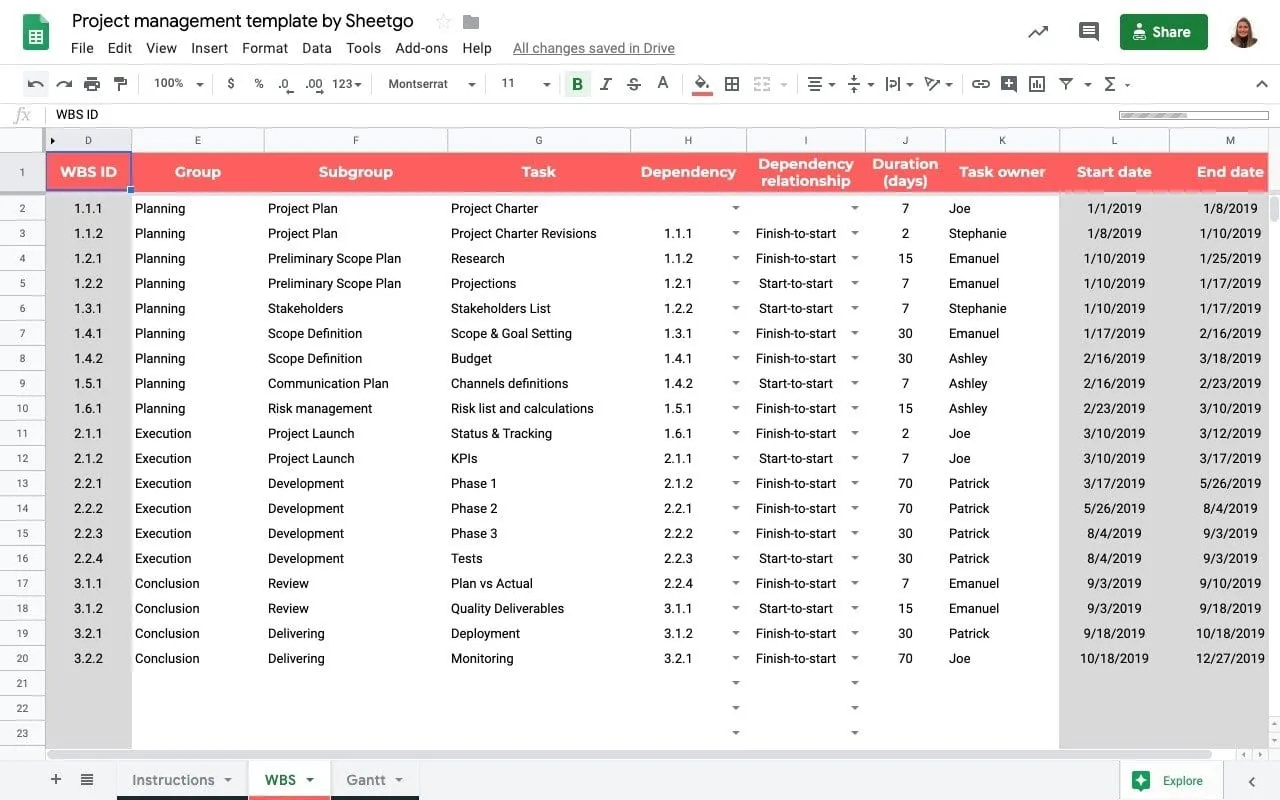 Step 5:
Fill out "% Done" in the Gantt tab. The Gantt chart will automatically calculate whether your team members are behind, ahead, finished or on schedule.
Congrats!
Your project management system is ready. You now have a clear overview of the progress each team member is making on their tasks – in one single spreadsheet. You can see the status of each task and decide what to prioritize next or where extra help is needed.
Working in a large team?
Automate project management with Sheetgo
Are you looking for a more advanced or collaborative system to manage multiple project tasks?
You can create an automated system by using the Sheetgo Project Management Template.
This allows you to connect spreadsheets belonging to other colleagues, teams or departments – directly with your master file. As a result, you centralize all project progress in one single spreadsheet, in an automated system. When you connect spreadsheets with Sheetgo, the data is transferred automatically.
Spreadsheets are a brilliant, universal tool for managing your projects – everyone has access to spreadsheets and they're easy to use. But they rely on time-consuming manual work and copy-pasting can lead to errors. Imagine if your spreadsheets could "talk to each other"…
With Sheetgo, they can. If you can use spreadsheets, you can use Sheetgo to automate your spreadsheet workflows. This means you can:
Connect different spreadsheets
Import data from multiple spreadsheets into one master sheet
Collaborate in teams
Get automated updates
Save time
Reduce manual errors
Why connect spreadsheets?
By connecting spreadsheets, you make life simpler for your colleagues. And yourself.
Only the project manager needs a full overview of all data and all tasks in the project. Using Sheetgo connections, individuals or teams keep track of their own progress in their own spreadsheet. This data is then automatically transferred to the project manager's master spreadsheet.  This means:
Team members simply enter their own data in their own spreadsheet
Tidy and streamlined working practices
Privacy – only the project manager sees the progress of all projects
You save time