As our teams move online and that seems more and more permanent, it's of increasing importance that we have the ability to communicate, collaborate, and execute on time. To do that, many teams are moving to a project management software.
What your team needs depends on how you work. Below are 7 options, each of which has its specific use cases. Of course some are better than others, but only you can decide what works best for your use case.
Do you want customization, beautiful data visualizations, and the infrastructure to grow? There are softwares on this list that satisfy all your needs.
7 Best project management software
1. Monday
Firstly, let's talk about Monday.com. Monday.com wants to make project management fun. They aim to keep your team engaged and excited and improve your company's work environment. Which is not a small task for a project management platform, a tool that is often hated by team members and managers alike.
Also known as the visual alternative to traditional project management tools, Monday.com wants to give you a better feeling for your team's work through big picture snapshots and more granular data updates. On top of project management, you can use this platform for any process's management.
Focus on UX
Most of all, Monday.com wants you to enjoy their platform. They bring up fun and enjoyment more than any of their competitors. As an example, they bring their internal focus on office culture to their customers.
As you probably know, project management software can easily get clunky and cumbersome. That is why Monday.com is working to avoid that.
Organized file storage
Monday.com also offers a great organized file storage. With file view for example, you can look at each project as a collection of files.
This means that you see drafts change over time, who's doing what, and how far along they are, all from a single screen. As a result, you get the bigger picture without leaving the platform.
On top of that, Monday.com connects directly to your Google Drive, Box.com, or Dropbox account.
Next level dashboards
In contrast to other project management software that have dashboard integration, Monday.com really makes them pop.
With bright colors and unique designs, Monday.com has the nicest data visualization options on the market. You can even track project status via llama farm!
2. Jira
Jira has found its niche with development teams. It is in particular built for bug reporting, linear project planning, and technical project management. If software creation is your thing, then Jira is most likely for your team.
There are a few variations of Jira, but Jira Software is the most popular. It's one of the big names in the agile project management space.
They say that it works across your entire company, but unless they run on an agile process, it isn't a great solution. However, it is possible to hack a usable system.
Designed for security
Because many of Jira's users are development teams, protecting IP is something they in particular focus on. They use SOC2 certified data centers to do so.
In other words, your information is safe with Jira.
Agile workflow focus
Unlike other project managing software, Jira is especially built for product teams. It has scrum boards and agile processes baked in.
Atlassian, Jira's parent company, however, does offer other solutions for different project management styles, and we'll get to one of those later.
Designed to scale
Software companies are usually startups. And Jira leads by example. For example, it had to deal with extreme customer growth multiple times throughout the years.
They have a robust infrastructure for growing your user base over time, whether they're new employees or other departments adopting Jira.
3. Asana
Next in line is Asana. It uses a work graph data model to keep your team on top of projects. Through timelines, kanban boards and automations, Asana offers a diverse look at your work. Most of these are available in the free version.
With many big name clients and a long history of success, Asana is one of the bigger players in the project management space. If you want the tried and tested option, Asana is the right choice.
Moreover, they have a strong brand presence in the sector and continue to outperform competitors.
Focus on real-time collaboration
Beyond planning and reporting, Asana wants your team to work together. Their message is that real-time collaboration can make up for a lack of communication, poor planning, and unclear goals.
In conclusion, Asana lets you plan your projects and see the big picture while also talking about what is happening at that very moment.
Robust free option
Not only does Asana have lots of big clients, they offer a great free version of their software also.
With unlimited tasks, projects, and messages, there is plenty to get by with. However, you won't have some key features, including dashboards and timelines.
Complete customization
Asana's holistic view of project management means that you're probably able to create the workflow that your team needs.
However, you might have to pay to access the full feature set.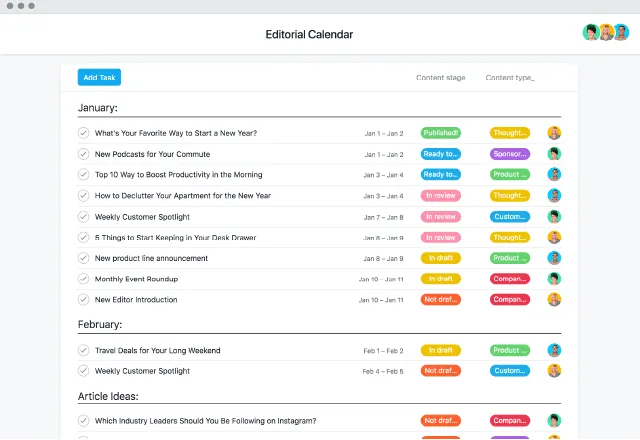 4. Sheetgo
Sheetgo brings automation and cross-platform integration to your pre-existing spreadsheet system. There is literally no onboarding necessary for most of your team. They can continue to use their favorite spreadsheet program.
All you have to do is connect their spreadsheet to a master sheet owned by your team leader or scrum master. Their data is captured and returned to an info hub for analysis and interpretation.
Use Sheetgo to connect data stored in different spreadsheets from across your company. It can single-handedly remove information silos within your organization and be a powerful tool in project management as well as project creation and decision-making.
Freelancer collaboration
Sheetgo doesn't have account orgs. This means that you can send a spreadsheet to anyone without giving them access to your team's data. In fact, connections don't have to go both ways.
Your freelancers can update their work and the data is displayed alongside employee data without non-employees having access to the rest of your Sheetgo ecosystem.
No rigid framework
Similarly, because their product isn't a project management software alone, Sheetgo doesn't have to be set up the same way across your entire company.
Let different teams work in different systems. The raw data is synced to all the groups across your company. That way, you aren't forcing different departments to work in unfamiliar or unproductive systems for the sake of cross-department communication.
No new ecosystem
"That's just the way I've always done it." is no longer a hurdle in the adoption process with Sheetgo. End users don't have to learn new software or even remember to press any new buttons.
Data is synced automatically from their spreadsheets to yours, and vise-versa.
Take a look at Sheetgo's project management templates here.
5. Trello
Next up is Trello. You've probably heard of it if you haven't used it. It's a great quick pick in this category, because the free version works well for small teams with a few related tasks. It's quick, it's simple, you don't have to learn much. But that means it does lacks some robust features.
It simply is a great option for freelancers or small teams that need something quick with the intention of switching to a more permanent solution down the line. Trello does have a good feature set, but most is done better by other options in the project management space.
The light option
Because Trello is such a simple tool, it doesn't take too much to keep it updated.
If your team needs something that you can forget for a week and bring it back to current quickly, Trello is for you. It doesn't take much input, but what you put in is what you get out.
Intuitive design
It's also simple to manage and simple to move. Trello's card-based organizational system makes it easy to adopt for new users.
Categorizing and sorting cards, usually by where they are in the production process, makes sense to most people. But keeping everything updated can be more challenging.
More than project management
Trello's layout also lends itself to other types of data organization. It can be used to brainstorm ideas, outline goals, and research subjects for example.
However, if you try to accomplish too much on a single board, your data can get quite messy quite quickly.
6. Airtable
Airtable is more of a data collection table than a project management software. It can be configured to do many things depending on your team's needs, mostly through native and third-party apps. It's essentially a spreadsheet with rich field options.
Integrate other software like Slack, Google Sheets, or Twitter to collect data and display it in insightful, analytically driven data visualizations.
Because Airtable is such an open platform, it's hard to grasp just what it can do. That is both a strength and a weakness.
In conclusion, if you're willing to put in the time and effort, it can become whatever you want. Airtable believes that everyone can solve their unique problems by building individualized software.
Database-driven
Airtable is not just a project management tool. It can also be used to organize any data that you put into the system.
They have boards that work like spreadsheets, calendars, and kanban boards for example. You can swap between these views for your database, giving your team a rich visual experience.
Relational data model
Airtable works like a spreadsheet on top of a database. It thus allows you to create relationships in your data.
Airtable's many data visualization tools all work using those relationships.
Apps, more than templates
Rather than a system of templates for your solution, Airtable offers solution-based apps.
While it isn't much more than a semantic change, what they want to draw attention to is the built-in automation in these templates.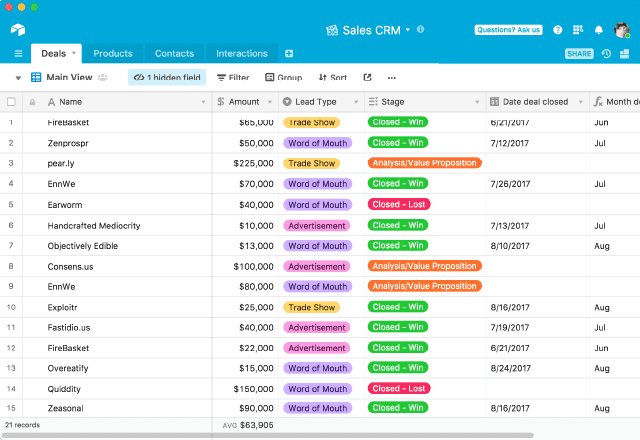 7. SmartSheet
SmartSheet promises to combine every aspect of the project management process from collaboration to creation and more.
SmartSheet is a spreadsheet based organizational system, but they also allow you to collect rich data-like files and images.
You can build your own template or start with one of their pre-built options. With different views, each team member can access information in the way that fits their workflow. Moreover, management can keep track of it all in simple and visually appealing dashboards.
Share information across your organization and beyond.
Cross-team collaboration
SmartSheet allows for the creation of customized portals. This means that you can invite someone from another department into your workflow. There's no need to train them on your whole system.
As a result, you get increased cross-team communication and reduced information silos. That's how you speed up the project management process.
Rich data visualizations
Let your team switch between spreadsheets, calendars, kanban boards, dashboards, and other data visualization methods.
Any changes made in their particular instance will be reflected across the various versions of the data set.
Conclusion
Your ideal project management software for 2023 is going to vary depending on your company's organization. Each of the options in this list is a suitable choice in some cases.
Overall, what you'll need for a smooth and successful 2023 is a system that works for you — whatever allows you the greatest level of customization without sacrificing your time to learn a new software.
Few options on this list represent those two qualities better than Sheetgo. If you'd like to talk to one of our experts, you can book a demo here. For solutions for other departments in your company, check out our solutions page.