Zapier is a no-code automation tool that syncs data between web applications in a matter of minutes. Known primarily for its powerful integration feature, it allows users to create customized workflows with over 4000 web apps. Although Zapier has some great features, let's explore the top 5 Zapier alternatives that may be a better fit for your business.
Zapier: a no-code automation tool
Zapier main features
The tool offers a range of features to optimize automation for teams and companies. These include creating custom "Zaps" (connections) between multiple tools to streamline your work in real-time. What's more, Zapier offers multiple analytical features to take your data to another level, including data-mapping, data transformation tasks, and performance monitoring.
They also allow data connections to be integrated on cloud-based environments, making the tool easily accessible to everyone.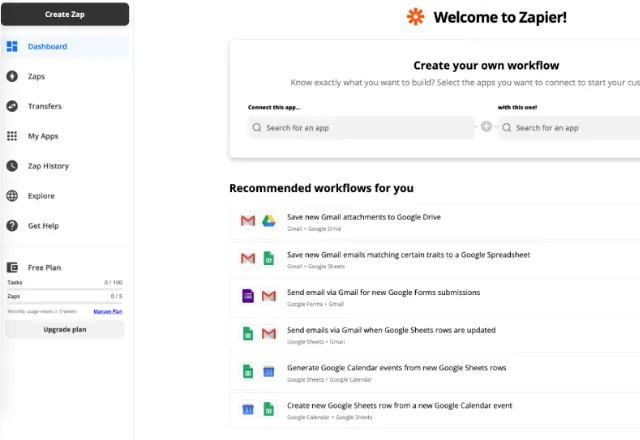 Zapier pricing and plans
Zapier offers 5 different plans, ranging from individual subscriptions to teams of over 50 users. Each plan offers different features like the amount of Zaps or connections for shared apps. You can pay monthly or annually.
Here is the list of the 5 plans and the task included in each:
Free – $0.0/month for 100 tasks /month
Starter – $19.99/month for 750 tasks /month
Professional – $49.00 for 2,000 tasks /month
Team – $299.00/month for 50,000 tasks /month
Company – $599.00 for 100,000 tasks /month
The
Zapier pricing page
allows you to compare plans and customize each according to preference. However, consider that the original price can vary based on the exchange rate at the time of purchase.
Now that you know the key features and pricing of Zapier, let's quickly look at their main pros and cons.
| Pros | Cons |
| --- | --- |
| Powerful integration with over 4000 apps | Some integrated apps do not offer all original features |
| Custom connectors or "Zaps" | Free version only allows 5 Zaps |
| Variety of data sources | For more powerful integrations, advanced skills are needed |
| Zapier Resources and Customer Support | Large community affects response time |
| Integration can be deployed to the cloud | May require paying extra |
Top 5 best Zapier alternatives in 2023
Sheetgo
Sheetgo is a no-code automation tool that allows users to connect, manage and share their data through customizable and scalable workflows. What's more, Sheetgo offers a simple and universal solution to complex automation, by using the tools you already know, such as spreadsheets.
Sheetgo not only offers an online web app but also an add-on for Google Sheets and an add-in for Excel. Sheetgo offers many features to help you split, merge and distribute your data in any way you need. What's more, Sheetgo integrates with Google Docs and Gmail so that you can generate custom documents and PDFs, and send custom emails.
Finally, if you don't want to create your own custom workflows, Sheetgo offers ready-made templates created specifically for business processes across a range of departments and industries, from inventory management to invoice generation.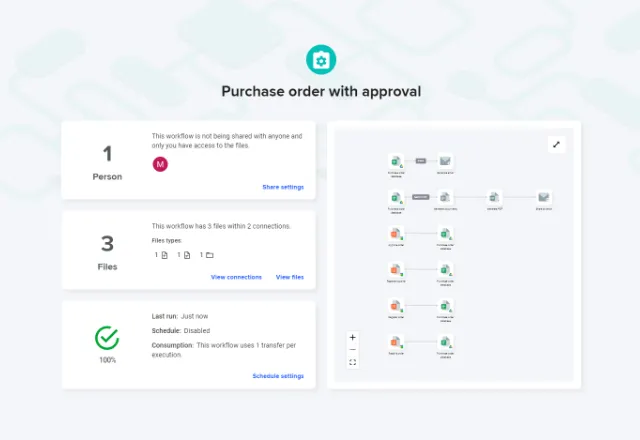 Sheetgo pricing and plans
Sheetgo offers 4 different pricing plans which can be billed monthly or yearly, which allows you to save up to 25%. What's great is that the Free plan gives you unlimited connections and the Professional and Enterprise include from 3 to 6 hours of training, so you can get the most out of its automation and customization features!
Here is the list of the 4 plans and the updates included in each:
Free – $0.0/month for 99 updates/month
Advanced – $20.00/month for 500 updates/month
Professional – $39.00 for 1,000 updates/month
Enterprise – $92.00/month for 2,500 updates/month
Sheetgo's Pricing site
also allows you to compare plans and customize each, so you can decide on the best option for you.
Now that you know the key features and pricing of Sheetgo, let's quickly look at their main pros and cons.
Pros
Cons
Free integration with all major cloud storage platforms
Connections between different file formats require the Advanced Plan ($ 20/month)
Built-in and unlimited custom connections
Uses the tools users are already familiar with, including Excel, Google Sheets, Google Docs, etc.
Automatic update schedule
The Free plan allows for 99 updates only
Google Doc and Gmail integration
Dashboard feature
Dedicated customer support from Sheetgo experts
2. ZigiOps
ZigiOps is also a no-code integration platform for business apps; it is deployed within your business' IT infrastructure which allows it to run much smoother and faster than most automation tools.
Moreover, your data is also at risk of downtime so it offers powerful recovery features.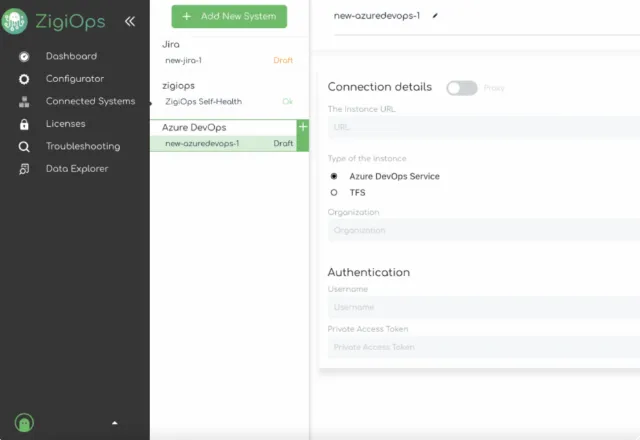 ZigiOps pricing and plans
ZigiOps does not provide pricing information on their website. They only provide the following information for each:
Business: This is available at a fixed yearly rate and includes all the basic features mentioned above, such as an unlimited number of users and workflows or unlimited custom field support. To learn more, you need to "Book an exploratory meeting".
Embedded Integration Hub: You can "Get a quote" to find out more about their Integration Hub capabilities, which are more oriented towards large enterprises.
| Pros | Cons |
| --- | --- |
| Highly scalable platform | Limited offer compared to major competitor |
| Faster internal business operations | Pricing plans are not made available for comparison |
| Powerful data recovery features | |
| Data mapping and filtering options | |
| Quick customer support | Currently only located in Europe |
3. API Fuse
API Fuse is an embedded Integration Platform as a Service (iPaaS) solution for native integration. As a business, your customers will be able to connect their apps directly to your Software as a service (SaaS) application without having to leave the API Fuse platform.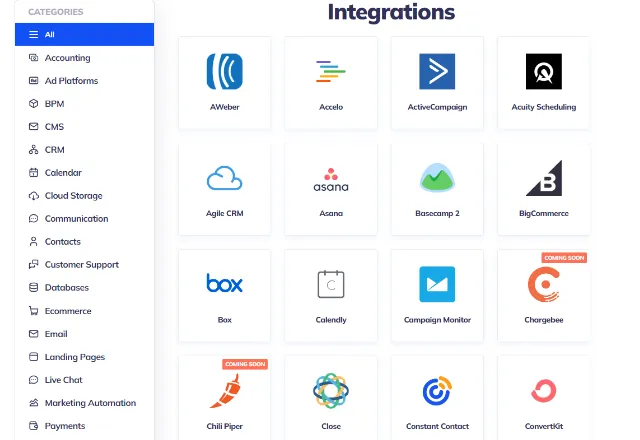 API Fuse pricing and plans
API Fuse offers 3 pricing plans, of which only one offers pricing information on their website. The first two plans are based on an annual contract, whereas the Enterprise plan is not determined as it includes all product integrations and customization of tasks, which in this case refer to the API calls that run through their integration platform.
Growth – $899.00/month for up to 250,000 tasks
Platform – Request Demo – Up to 1,000,000 tasks
Enterprise – Request Demo – All custom features
| Pros | Cons |
| --- | --- |
| Native integration solutions | Users may prefer to continue working on former environments |
| High scalability | Free plan not available |
| Custom integrations with widely used apps (Slack, Salesforce, Mailchimp, etc.) | Requires more advanced skills |
| Quick customer support | |
4. Integromat
Integromat is an integration tool to automate business workflows. The User Interface (UI) is a no-code visual builder which allows users to connect to any API and develop from simple to complex integrations using built-in apps.
Integromat pricing and plans
Integromat offers a comprehensive pricing structure with 6 different plans that vary according to the number of operations and amount of data to transfer. There is a 7th plan that will require you to "Request a demo" to learn about the features offered as well as the pricing conditions.
Here is the list of the 6 non-enterprise plans and their main features:
Free – $0.0/month for 1,000 operations and 100 MB of data transfer.
Basic – $9.00/month for 10,000 operations and 1 GB of data transfer.
Standard – $29.00 for 40,000 operations and 20 GB of data transfer.
Business – $99.00 for 150,000 operations and 70 GB of data transfer.
Platinum – $299.00 for 800,000 operations and 220 GB of data transfer.
Custom – Contact for price – Over 800,000 operations and 220 GB of data transfer.
For a more comprehensive comparison, including all features, between the first five plans, you can visit the
Integromat pricing
section.
Pros
Cons
Automatic error handling
Requires pre-planning for possible errors
Routers divide workflow for separate data processing
Billing options are not as flexible
Connection to almost any web service through OAuth2, Basic Authorization, and API key
Some connections require complex set up
Retrieve past data
Quick customer support
5. Workato
Workato is currently a leading integration and automation platform. It allows businesses to integrate their apps and automate workflows while safekeeping their data and governance capability.
Like the rest of the tools in this article, you don't need to learn code. Workato is a speedy tool, as its development and automation features rely on machine learning and patented technology.
Workato pricing and plans
Workato offers 3 different plans. To access the pricing information and conditions for each, you will need to contact them via their pricing site.
Workato for Business – Offers unlimited integration of apps, connections, users. If you wish to access more than 400,000 pre-built recipes (a set of steps to follow to launch the app connections), which you can pay for individually or in packs.
Workato for Product – Includes connection of over a thousand apps, full customization of integrations, and 24/7 support.
Pros
Cons
Fully cloud-native architecture
Pricing structure is not flexible
Real business automation with events and systems actions
Insufficient documentation on errors
Advanced and flexible data pipelines
Steep learning curve for customization features
Low-code API Management
Workbot designed for business data and processes
The winning alternative to Zapier for 2023
Although the ideal alternative may depend on your specific field, the alternatives provided in this article all have a common goal: to automate your business process through integration of the apps and tools you commonly use.
For this, Sheetgo presents the best alternative at present, since it offers the same basic features as a paid Zapier subscription in its own free plan. What's more, Sheetgo creates just as powerful automated workflows by utilizing the tools users are already confident and familiar with.
Although Zapier does indeed offer more app integrations than any other automation tool on the market, this would only be beneficial to businesses in the sales and marketing industries. For the majority of businesses, the spreadsheet still represents the starting point for most companies, regardless of your role. For an all-round automation tool that can be implemented in any business operation, Sheetgo is the best fit.
Looking to find more tools to help boost productivity for your team? Check out our article on 7 best project management software in 2023. Alternatively, check out our related blog posts below.