Barcode generators are almost completely inevitable for many businesses in today's society. Across multiple industries and departments, barcodes are being used in almost everything, from tracking inventory, paying for items, or accessing important documents. Using an online barcode generator to automate business operations is becoming a very popular solution for many businesses indeed.
With a well-developed barcode generator tool, you can generate and print barcodes which you can then easily scan to register, track or retrieve specific data. For example, you can use barcode generators in your inventory management to keep track of items coming in and out of the warehouse, track deliveries, monitor stock levels, and highlight product locations in the warehouse. Integrating an online barcode label generator helps you avoid the risk of causing a human error when entering data manually. As a result, you can save hours of time every single day.
There are many online barcode generators on the market today, but which is the best one for you? Let's look at the top 5 online barcode generator tools you have to check out in 2022, to help make barcodes online!
What is a barcode generator?
A barcode generator is an intelligent tool that automatically creates a barcode label usually for items. A barcode generator can be used in almost any business process, but the most popular is for inventory.
Usually, barcode generators will produce several types of barcode labels, depending on where your company is located and what they will be used for. The most popular types of barcodes are:
UPC-A: (Universal Product Code), commonly used for retail in the United States. Consists of 12 numbers.
EAN-13: (European Article Numbering System), commonly found in supermarkets. Consists of 13 numbers.
EAN-8: (European Article Numbering System), similar to EAN-13 but consists of 8 numbers.
CODE 39: Variable-length barcode that uses a set of 43 characters including letters, numbers and some special characters.
ITF: An identifier for items with GTIN (Global Trade Item Number). Usually consists of 14 numbers.
QR: A 2-D code used primarily on smartphones and other mobile devices that usually links to a URL or phone number.
CODE-128: High-density barcode that encodes text and numerical data in computers and other technology.
Once your barcode generator app has created your barcodes, you can then attach these to items or goods for accurate tracking and to update your metrics in real-time.
Why use a barcode generator?
Low-cost and user-friendly, barcodes can ultimately reduce overheads across your business. They can track data from pricing to inventory, accelerating processes while keeping your information error-free. With the help of an online barcode generator writer, you can print different types of codes for your business-specific purposes.
Overall, barcode generators help you make more informed decisions, saving you time and money. Here are just some of the many valuable benefits of generating barcodes for your business:
Reduce errors: By integrating a barcode tool, you reduce the risk of error from manual data management with an entirely automated process, so you'll always have the most accurate data.
Improve overall efficiency:You can use the barcode generator to automate various steps in a process, from tracking to analysis. As a result, you can save hours which you can then spend focusing on other important tasks within your business.
Create varied barcode solutions:You can use an online barcode generator to create several types of barcodes like constant value and sequential, and use them for your specific chosen purpose. You can use a combination of these different barcodes for specific tasks.
Easy-to-use interface:You can easily navigate through and use the software to generate different types of barcodes. There's no training required for using a tool like this.
Now that you understand the multiple benefits of using barcode generators for your business operations, let's take a look at the top 5 online barcode generator tools for 2022.
Top 5 best online barcode generators in 2022
The
Labeljoy
barcode generator creates 25 different types of barcodes for almost any situation. With its user-friendly, simple interface, you can create custom barcodes in just a few clicks. It includes an incremental counter for updating alphanumeric and numeric values in the barcode.
What's more, you can connect the tool to external data sources such as Excel or Outlook to integrate your data into barcode generation. The tool is also available in 27 different languages.
Labeljoy is available on a free trial with no limit of features from the full version, besides having the feature for limited exporting and printing. When switching over to the paid version, you also can connect the software with Google Sheets. Labeljoy is a great tool for any business that needs to access a range of barcode styles in one place.
The Wasp Barcode Maker software lets you easily and quickly design and generate barcodes as inventory labels, product barcode labels, printed barcode labels, and more. The easy-to-use toolbar integrates with Microsoft Word and Excel and generates an instant barcode creation solution. This barcode generator can also link data from external data sources like Microsoft Access and generate hundreds of barcodes automatically.
Wasp Barcode Maker is ideal for small and medium-sized businesses because of Its simplicity. It is great for creating barcode labels for inventory management and asset tracking.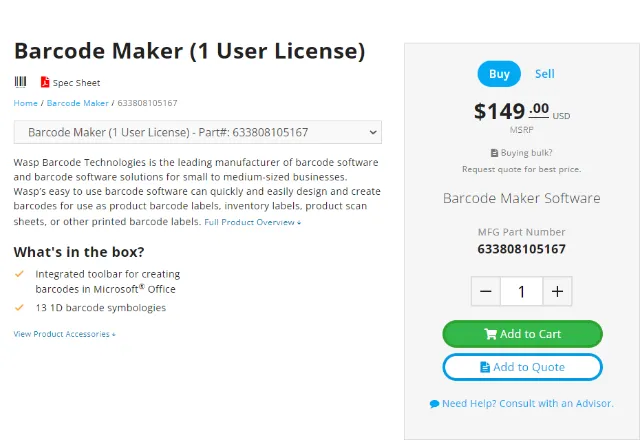 Handifox is an award-winning barcode generator software for Sales management and Inventory tracking. It integrates data across desktops and mobile devices to help monitor and manage inventory at any time and place. You can create custom barcode labels that you can then generate, print, and scan within your operations.
HandiFox comes at a higher price than other barcode tools, but it does offer more advanced features and support, like barcode tool tracking, that can take your business to the next level.
This tool is great for manufacturing firms because of its advantage in inventory control and sales tracking.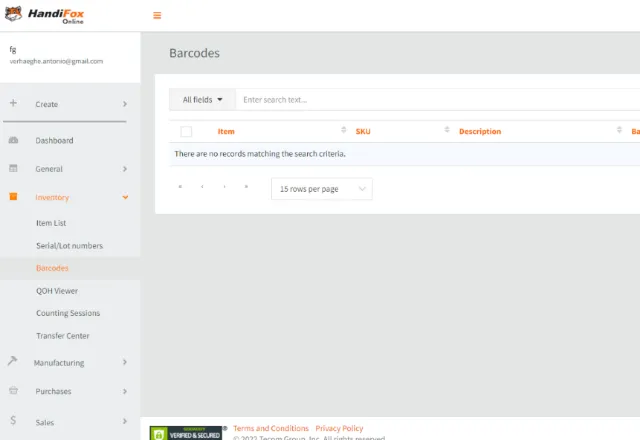 4. Online Barcode Generator by TEC-IT
The Online barcode generator by TEC-IT is a great all-in-one barcode generator and scanner. You can generate different types of barcodes without having to download any file or toolkit on your device. Once you've created your barcode, it sends the barcodes and data to Google Sheets, Excel, Word, or other databases with the Scan-it to office feature. It also offers software on both Android and IOS devices to scan the barcodes.
TEC-IT offers a free online barcode generator tool, perfect for start-ups or small businesses to create barcodes for free. On the other hand, they also offer other barcode generator solutions, from a simple add-on in spreadsheets to adding barcodes to documents to a more comprehensive barcode generator system for SAP.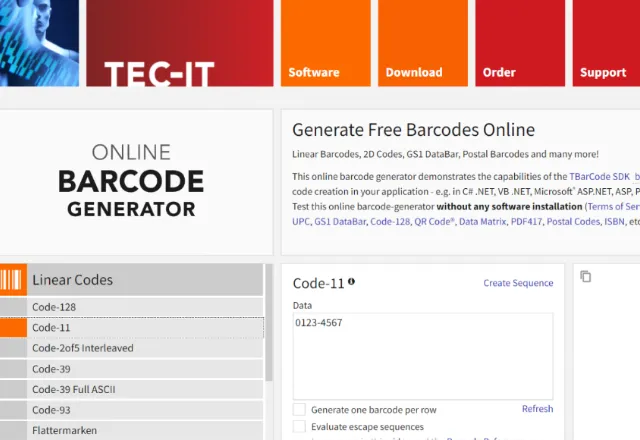 EZOfficeInventory
is a cloud-based asset tracking software for both small businesses and industry leaders. It is trusted by companies like CNN, Amazon, Honda, and more. With EZOfficeIventory's Label Designer feature, you can also create and print out barcode labels and scan them with its mobile app.
With this software, you can lower administrative overheads and fully optimize and automate the labeling process in one place. The software is also compatible with QR codes. They offer a range of different subscription services tailored to the level of barcode generation your business needs.
Overall, it's another great barcode maker and scanner.
Free online barcode scanner generator for small businesses
And there you have it! Online barcode generator tools are an effective way to automate and streamline business operations for any industry. You can now automate certain processes you never thought possible, all with a simple barcode solution!
But what about if you could generate barcodes for data directly in your spreadsheets? Not only would this be more convenient than adding another piece of software to your operating system, but you'd save even more time by having your data and barcode generator in one place. Sheetgo has an Inventory with barcode scanner solution that connects directly with your spreadsheet data, automating your entire inventory management process. After registering your items, Sheetgo will automatically generate a barcode for each item, saving you hours of time. Through Sheetgo Forms, you can use the integrated barcode scanner to scan your items and track their status in the visual dashboard. As a result, you have a fully automated inventory solution, all within your spreadsheet!
Looking for other ways to automate your business operations too? Check out our recent article on the Top 5 QR code generator tools for 2022.
Alternatively, take a look at our related blog posts below!