QR code generators have become extremely popular thanks to their multiple uses in a variety of business processes. They're extremely easy to integrate into your business operations. Using the power of technology, you can quickly scan codes from almost anywhere. Not only can they streamline your entire process, but they can improve the overall efficiency of your organization.
You can use QR codes at almost any stage of your business. Whether you're trying to track hundreds of thousands of items in your inventory, or simply offering your customers a quick way to access your website. Now may be a good time to evaluate whether to integrate QR code generation into your business. Let's explore the benefits of QR code generation and our top 5 QR code generator tools for 2023!
Why use QR code generators?
QR codes are 2D barcodes that direct users to digital content. These codes are the encrypted version of large amounts of data, from URLs to discount information, which can be read by any smartphone device. They are most widely used to streamline processes for CRM (Customer Relationship System) and Help Desk platforms, such as ServiceNow or Zendesk. They are used as the quickest and easiest way for ticketing and tracking.
Here are just some of the many benefits of using QR Code generators for your business:
Streamlines processes: QR code generators automatically create QR codes you can use in your business processes. With just a quick scan using a smart device, they completely erase the manual inputting of data. Thus, you can streamline your entire operation and save lots of time and money.
Integrates with technology: Whether it's a laptop, a tablet, or smartphone, nowadays, you can use QR generators on anything with a camera. The entire process has become more and more digitized to adapt to all business needs.
Installation not required: Users can scan QR codes simply from their camera app – there is no need to download QR code-specific software to use a QR code. It's a universally accessible feature.
Avoids human error: By generating QR codes automatically, you avoid the risk of error from manual data management.
Now that you understand why QR code generation is used and its many benefits, let's take a look at the 5 top QR code generator tools for 2023.
1. Beaconstac QR Code Generator
Beaconstac's QR Code Generator is one of the best QR Code creator solutions available when it comes to creating both static and dynamic QR Codes for varying marketing needs. In fact, it is trusted by brands like Pepsi, Revlon, and The New York Times and over 30,000 businesses, making it easily the first choice for top brands who are looking to scale up their marketing efforts. 
The intuitive dashboard is another highlight of this solution, as it gives you all the information you want to know in a single location. You can also track your QR Code performance using the in-built analytics and make the required changes to the QR Codes for the success of your marketing campaigns. Beaconstac is also one of the safest QR Code generators out there and is both GDPR and SOC-2 Type II compliant. It even has over 5000 integrations with CRMs and automation tools such as Zapier, Workato, Integromat, Google Analytics, Google Sheets, Slack, etc. 
Explore Beaconstac's QR Code generator with a 14-day free trial today!

2. QR Code Generator add-on by INNOVA
The QR Code Generator add-on by INNOVA apps makes it simple to generate QR codes from Google Sheets values. This add-on allows you to make several QR codes by utilizing a custom template or by specifying a range of values in a spreadsheet. The generated QR codes are saved in a Google Docs file or as PNG files in Google Drive.
You can quickly integrate this application into your day-to-day activities because it is an add-on. If you already know how to work with Google's interface and use Google Drive, this is an excellent option. This add-on is also entirely free.
Download the QR Code Generator by clicking
here.
3. QRCode Monkey
The QRCode Monkey generator is currently one of the most popular tools for commercial and print purposes. It does not require installation, it's free, and it provides high quality QR codes.
Another advantage is that the codes generated do not expire and scanning is unlimited. The only downside is that the codes are static, so you won't be able to edit the QR code again.
QRCode Monkey also integrates with Zazzle, a marketplace for custom products. So once you choose your QRCode template and customize your logo, you can directly send it to print on business cards or t-shirts. If you work in marketing, this may be the QR Generator for you.
4. Stave QR Code Generator
Do you use ServiceNow in your supply operations? Stave's QR Code Generator is the tool for you. It directly integrates with this software for a next-level solution. You can create single or batches of QR codes for ServiceNow records, CMS (Customer Management System) pages, items in your catalog, or external URLs.
One of the great things about their generated QR codes is that you can update the links without having to change the code. Therefore, all the printed media won't be affected.
5. Barcodes Inc. QR Code Generator
Barcodes, Inc. is North America's leading provider of barcode, mobile, and RFID (radio-frequency identification) solutions. You can use their QR Code Generator service, including pre-printed barcode labels or barcode label designer.
For a full service, they offer TopShelf. This is a cloud management tool that includes inbound and outbound transactions, items management, barcode scanning and printing, mobile barcode devices, as well as other useful features. This is great for organizations looking for a full-service solution in one place.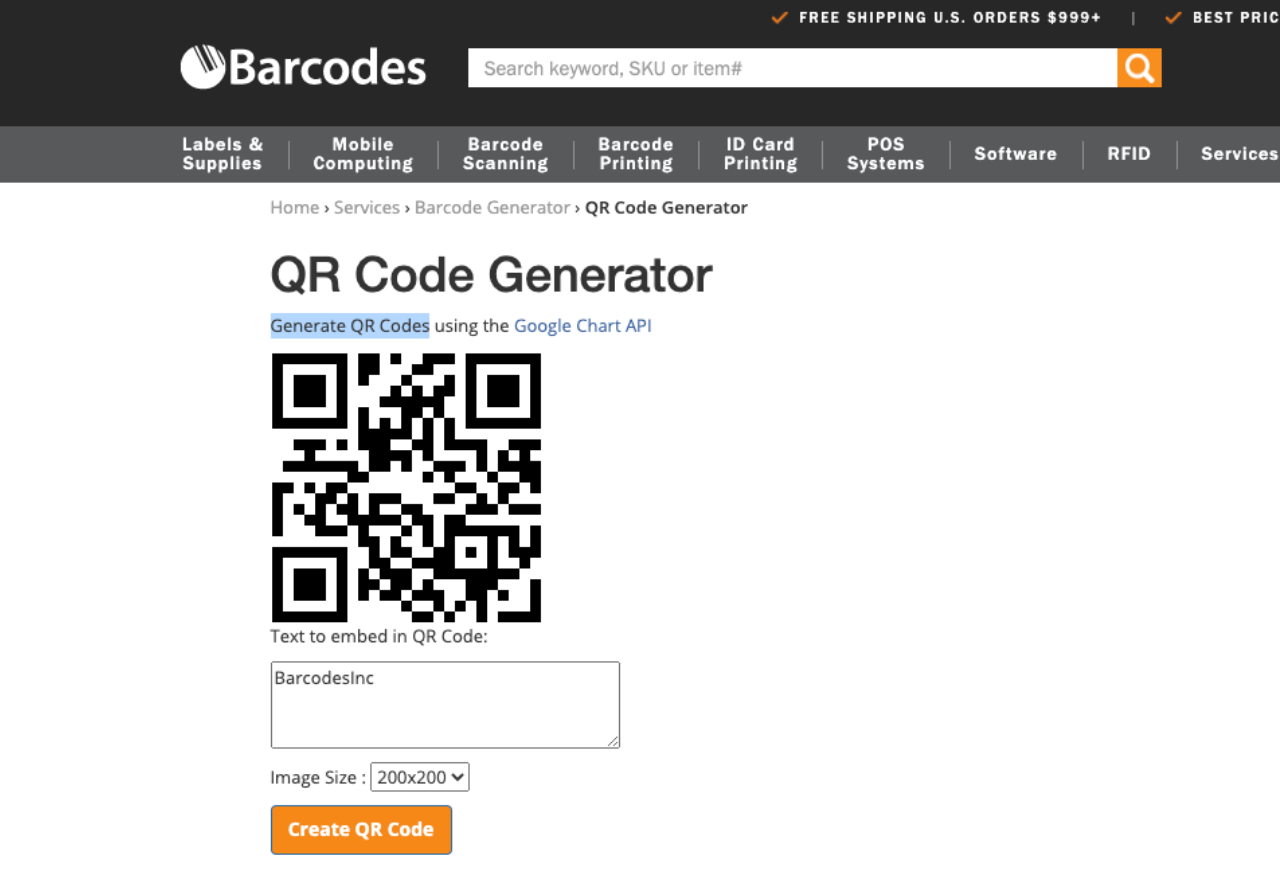 Please note: Barcodes Inc. is a Cloudflare-protected URL. You may trigger Error 1020 depending on the type of security you use on your computer. Read this article on How to fix Error 1020 for more details.
BONUS:
Sheetgo's QR code generator
If you're looking to streamline your inventory management processes, the Sheetgo inventory barcode scanner system is the solution for you. Sheetgo automatically generates individual QR codes for every row of data in your inventory spreadsheet, so you have QR codes for all of your items in a matter of seconds. From the Sheetgo Forms in your workflow, you can use the scanner to register, check-in, or check-out your items from any smart device. Sheetgo then sends this information directly to your dashboard. Here, you get the latest insights into your inventory, including total items in stock, average check-out items per weekday, and over sold items.
With this template, Sheetgo automates your entire inventory management process from start to finish. What's more, the workflow is completely scalable and can be shared with your colleagues. For more information on how this template works, take a look at our inventory management template article.
The best QR code generator tool for 2023
And there you have it! QR code generation tools are an excellent way to streamline business operations, no matter what industry you're in. If you're looking for a way to automate your entire inventory management process using the tools you already have, Sheetgo is the solution for you. 
Looking to streamline other business operations too? Why not check out our article on the Top 5 PDF converter tools in 2023?
Alternatively, take a look at our related blog posts below!