No matter whether you're a small startup or a huge enterprise, winning new clients rides on creating and sending a top-quality proposal. Perfecting a winning proposal and sending it to your potential client may seem like a straightforward task. But this becomes a lot harder when your business is dealing with several of these at the same time. Luckily, there is a variety of sales proposal generator software on the market that makes it easy to create, send and monitor these different proposals at the same time.
With proposal generator software, you have everything you need in one place to manage your client-winning process from start to finish. For example, whilst you are preparing a personalized proposal for one client, you can also use the software to monitor a deal completion of another client. However, with so many options out there, which one is the best for your business?
Let's explore the top 5 proposal generators for different business needs to manage your proposals in 2022.
What is proposal generator software?
Proposal generator software, also known as proposal management software, is a tool that helps to streamline and automate your sales proposal process. With this software, you can use custom templates to quickly generate your sales proposals, send them to your potential clients, and also monitor their responses.
Most proposal generator software will offer a variety of customizable proposal templates. They also provide intelligent features such as e-signatures and real-time tracking. What's more, some software will integrate with other tools to help automate your entire proposal process from beginning to end.
Why is proposal software important?
With a tool that manages your proposal generation, your business can enjoy the following benefits:
Save time: Forget about manually creating unique proposals from scratch. Use ready-made templates so you can send several proposals at once in just a few minutes.
Access everything in one place: Proposal management software acts as a centralized system where you can access all of your templates, existing proposals, updates, and closed deals in one place.
Customize to reflect your brand: Personalize templates to reflect your brand identity. Add your brand colors, logo, and company information to create a professional proposal that clients won't say no to.
Track progress: Get the latest updates on the progress of your proposals. Find out when clients have opened or signed your documents and monitor multiple clients at the same time.
Top 5 proposal generators in 2022
Without further ado, let's take a look at the top proposal generators available today to help streamline your business processes in 2022.
1. Better Proposals
Better Proposals is an easy-to-use proposal generator tool with more than 80 proposal templates available in their 200+ template library. This tool enables you to personalize your proposals to reflect your company's brand. Then track the sending, receiving, and signing of proposals in one place. What's more, Better Proposals integrates with CRM tools like Salesforce and Hubspot, and payment tools like Paypal and Stripe to help automate the entire sales process from start to finish.
Overall, this is a great option for small businesses that need a simple solution or require something that can easily integrate with their existing systems.
2. Prospero
Prospero is an affordable proposal generator software with 35+ easily customizable proposal templates. You can track key status updates, including when the proposal has been opened, how long it has been opened for, and when it has been signed. You can access all of this from plans starting at just $10 per month.
Prospero also has a useful e-signature feature so clients can easily sign your proposals on any device, on the go. Finally, it can integrate with a select number of tools like Zapier and Quickbooks. However, Prospero promises more integrations soon.
3. QuoteWerks
QuoteWerks is a great solution for those looking for proposal software that's a quick and easy bridge between CRM and accounting. With QuoteWerks, you can transfer your client details from your existing CRM to create a proposal in minutes. In addition, you can also opt to include other documentation like spec sheets and cover pages to take your proposal to the next level.
QuoteWerks also integrates with 55+ of the most powerful CRM and accounting systems, payment tools, and shipping providers for a seamless operation.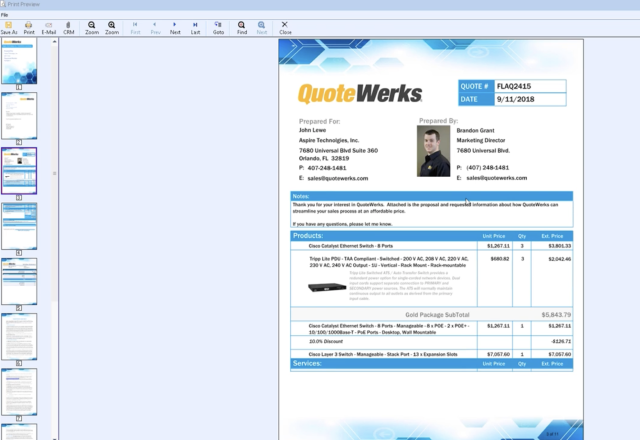 4. PandaDoc
PandaDoc is a popular proposal management software tool, often marketed as a more sophisticated software option. As an overall document management automation, proposal generation and management is just one of its many functions. With over 750+ templates, you have access to a wide range of customizable proposal designs. You can also receive real-time notifications when your proposals have been sent, opened, commented on, or signed.
You can use the freemium version to get all the features mentioned above. Or, you can join one of their paid plans to access intelligent integrations and in-depth analytics. Pricier than most tools, this is a good option for businesses that require a larger management system.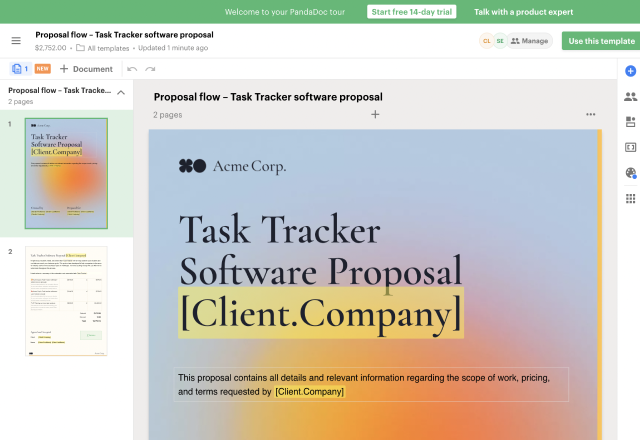 5. Proposal Kit
Proposal Kit is a great option for those looking for a one-off, low-cost proposal generator software. After downloading this software, you get access to thousands of templates unique to each type of proposal and industry. Although this tool doesn't offer management features to send and track your proposals, it does offer different resources and other documentation. Examples include a proposal writing manual, as well as lifetime access to free support.
For the latest proposal pack at a one-off price of just $79.99, this is a great option for startups or small businesses looking for a one-off solution.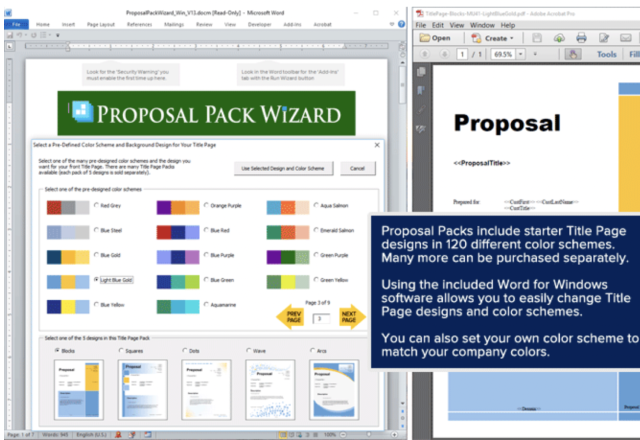 Best proposal management tools
And there you have it! Level up your proposal generation and management in 2022 with one of these fantastic tools. Whether you're a startup looking for a one-off solution, or a tech-savvy enterprise looking for a robust proposal management system, there is a range of proposal generation software packages that can fulfill your specific business needs.
Looking for software to manage other processes within your business? Check out this article on the Top 5 document approval tools in 2022.
Alternatively, take a look at related blog posts below.