Ok Marketers. It's time to up your game. Marketing is one of the most important aspects of a business. It doesn't matter how great your product or service is, marketing can make or break your business. So how can you create great marketing campaigns? Well, that's up to you. But, using spreadsheets to organize and manage all of your systems can help you improve your workflow. By automating or eliminate tasks, and working more efficiently, you get back precious time and energy that you can use to be more creative!
Use spreadsheets for things like financials or content. You can track budgets, ad spend, ROI, and invoice management. Spreadsheets can also be used to manage social media posts and campaigns, blog calendars, SEO, ad effectiveness, web traffic, and many other metrics.
The things you can use spreadsheets for are endless and marketers always find new and innovative ways to improve their systems using them. If you are looking for some ideas on how you can use spreadsheets, check out these free marketing templates to get you started. Use them as is, modify them to fit your business or brand, or simply use them as inspiration to create your own spreadsheets!
Let's take a look at our Top 6 free Marketing templates for 2023:
1. Marketing KPIs Template from Sheetgo
Sheetgo has created a free Marketing KPIs template in Google Sheets for you to easily monitor the Key Performance Indicators of all of your marketing channels. The template is provided with a consolidated tracking tab for you to register the KPIs for your channels such as SEO, Email Marketing and Content Marketing, and a separate tab for experiments.
The automated dashboard gives you a clear visual overview of your KPIs. Set up your own system and start tracking all of your KPIs in a single dashboard.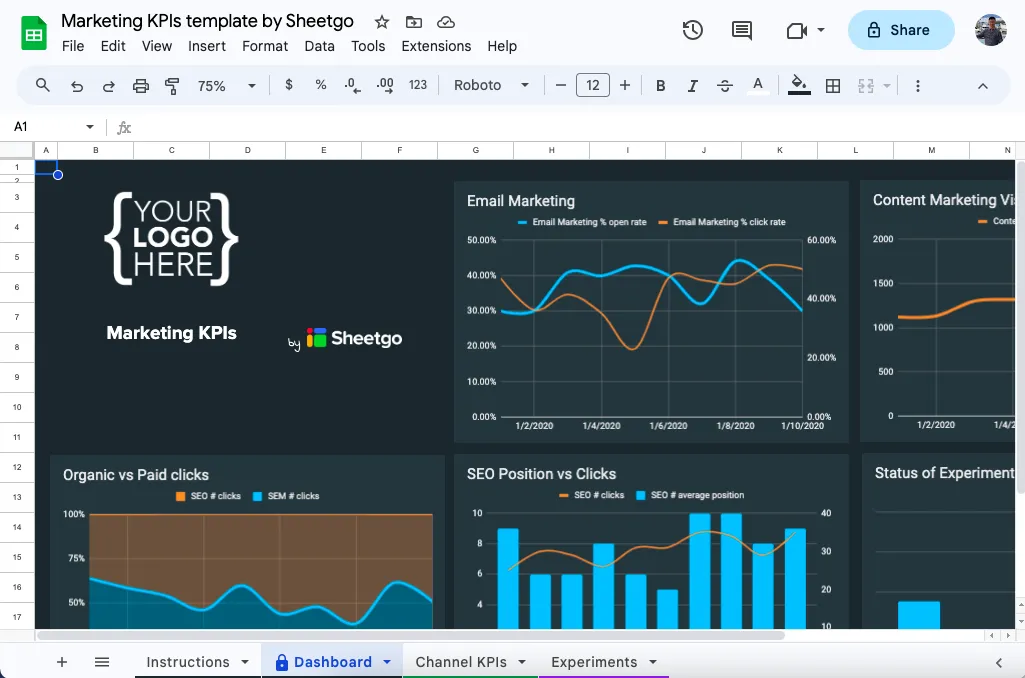 2. Hubspot free Marketing templates
Hubspot offers several great templates for managing content with spreadsheets. The Hubspot blog is one of the leading online resources for marketers, consistently providing great tips and guides on how to improve your marketing efforts.
Lucky for us, they also provide a lot of great freebies to their readers! They have a great little package of 9 FREE templates for budgeting, social media content planning, a blog calendar, setting goals, tracking SEO, and managing ads. You could probably outfit an entire online marketing company with this great set of tools!
All of these spreadsheets are designed for Excel and come in the form of a direct download. Most of them can be easily uploaded to your Google drive and converted into a Google Sheets file.
3. Buffer Marketing templates
Buffer is a really cool social media management company. They have a great blog and create valuable content for online and social media marketers. They love to share their own processes with their reader and give tips and advice on how to work smarter and faster.
Recently Buffer released 15 FREE templates for social media marketing and management. Wow! The templates include ways to plan and implement your social media marketing strategy. From content goal setting, to post calendars, these templates can even help your marketing intern set up campaigns with ease!
They also have some interesting templates for things like planning a Twitter chat or keeping track of influencers.
4. Marketing Heat Map
This template is great for people who were visual learners in school! So many times, people spend a ton of time creating spreadsheets with important and valuable data that are really complicated to look at! You should visually represent data in a way that is intuitive to read. Endless rows and columns full of numbers are more likely to give your colleagues a headache then clarity about the information you are sharing!
Using different headers, different font weights, and colors are a few strategies people can use to make their data more digestible. Heat Map does this for you with your Google Analytics data. This template was created by Seer, for Google Sheets. This interactive heat map visually represents when your users interact with your content the most. Use it to make a data-driven decision about when to be most active on social sites, and when to target your audience. They offer great instructions on how to use it.
5. Money, Money, Money
This set of templates is all about budgeting! Let's face it, financials can be challenging. Especially when you want to dedicate your time to creating innovative and interesting content and campaigns. Crunching the numbers can just be a bore!
CoSchedule has created 6 FREE marketing budget templates to help you keep your finances on track this year.
6. Sheets or Excel Marketing Templates
Vertex42 is one of the leading providers of free templates online. They have different ways to access them for Excel or Sheets users. Sheets users can download them directly from the Vertex42 website, and Google Sheets users need to get their add-on, and then they can access templates from right within the Sheets program.
The best marketing templates that Vertex42 provides are the Project tracking template and the Timeline template.
You are all set!
Choose between these 6 free and amazing Marketing templates to find the best fit for your marketing team.
Looking for an all-in-one automated solution to streamline your marketing and sales processes instead? Check out our spreadsheet-based solution to automate your CRM.