Marketers always need an edge. For this reason, tactics in business and marketing are always changing, and successful marketers need to adapt. Digital marketing has majorly changed the landscape of the field, and more and more marketers are doing all of their work online.
Keeping track of analytics and ad spend,  creating reports and building marketing systems from scratch can be challenging and time-consuming. However, there are tools that can help.
If you are reading this, you are probably already a Google Sheets user looking for some tips to improve its function in your work life. Have you tried Google add-ons? They are fantastic tools available to Sheets users. They increase the capabilities of your Sheets, and help you do things you might not have known were possible with spreadsheets! Using add-ons can increase insights into your marketing business and improve your processes.
Today we are going to break down some of the best Google Sheets add-ons for marketing and how you can start using them.
How to access Google Add-ons:
It is really simple to get add-ons for Sheets. The easiest way is to click on the link for the add-on, this will take you to the Google Workspace Marketplace. Simply click the Install button, and the add-on will be added to your Sheets account. Alternatively, you can get the add-on by following these steps:
Open a spreadsheet
Click the Add-ons button in the navigation menu
Click the Get add-ons button
A window will pop up for you to browse
Click on any add-on to get more details about it
Click the Install button to get the Add-on
Best add-ons for Marketing
1. Sheetgo
With the Sheetgo add-on for Google Sheets, you can connect, merge, filter, distribute data from different marketing databases and spreadsheets.
Use it to your advantage to for example merge KPIs from your different marketing channels (such as SEO, SEM, Email marketing,…) into a single spreadsheet to report from.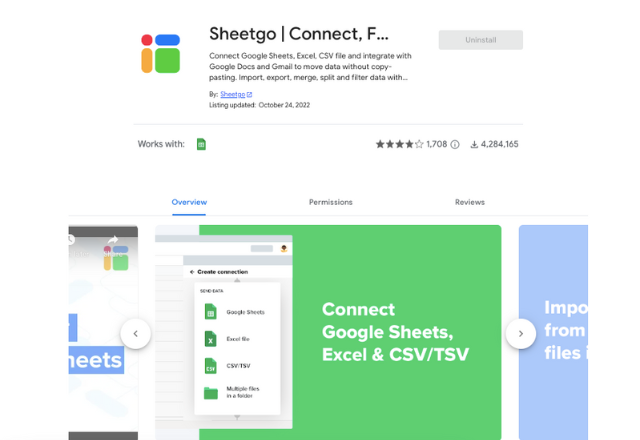 2. AppSheet
AppSheet makes it easy to create a custom mobile app using spreadsheets. That's right! You can create an app right from Google Sheets using this cool add-on. The kinds of things marketers might use this for are limitless.
For example, you can create an internal app for project management or tracking marketing campaigns and responsibilities within your team.
3. Supermetrics
The Supermetrics add-on is a paid service that will help you tie in all of your marketing efforts and improve outcomes. It is a cloud-based software you can use for reporting, monitoring, and analyzing your digital metrics.
Supermetrics can integrate with more than 40 data sources. So whether you are pulling data from social media platforms, advertising services, or even your own databases, Supermetrics has you covered!
4. Yet Another Mail Merge
This is one of the most popular Sheets add-ons for marketing. It has over one million users and a 4.5-star rating on the Google store. So, they must be doing some right! Yet Another Mail Merge or YAMM, is a powerful tool to assist you with email campaigns.
You can create templates or use one of the free templates provided by YAMM to create, schedule, and automate email campaigns using Sheets and Gmail. You can also track open rates and clicks all within Sheets.
5. Google Analytics
Google Analytics is a tool every marketer needs to get insights into their web traffic. While the Google Analytics dashboard is awesome and intuitive, there is a lot of information there, and it can be overwhelming.
Not all members of your marketing team want or need to have access to all features of your analytics dashboard. Use this add-on to create simple, shareable reports that update in real-time.
Add-ons for Marketing
That's it! Now you can access and install these Top 5 add-ons for Marketing. These add-ons can help you track your campaigns, automate your tasks and present marketing data.
Instead, if you're looking for an all-in-one automated solution to streamline your marketing and sales processes, check out our spreadsheet-based solution to automate your CRM.
Editor's note: This is a revised version of a previous post that has been updated for accuracy and comprehensiveness.