Google Ads add-on: an awesome reporting tool—and a huge timesaver
Last year Google launched a new add-on for Google Ads (formerly known as Google Adwords) and this extension makes reporting significantly easier, pulling your data from Google Ads straight into a spreadsheet.
Nothing beats Google Sheets for data analysis, presentation, reporting and collaboration. And if you want to combine your Adwords data with other information, a spreadsheet is the ideal place to do that. But downloading your Google Ads data—or back in the day, your Adwords data—into a spreadsheet, was previously a laborious process involving a lot of copying and pasting, and a lot of time.
With the Google Ads add-on, you can now quickly generate reports from multiple ad accounts in one spreadsheet. With this tool you can choose from a variety of metrics to report on and easily filter data using the convenient sidebar, get a full overview of all of the reports you have generated, and easily refresh and update the data. And as always when working with Google Sheets, you can easily share files with colleagues to view or comment, using Google's unique sharing features.
Who is this add-on for?
Because of how customizable this report generator is, it's perfect for companies of any size running anything from single ads to complex campaigns, or agencies managing campaigns for multiple clients. The fact that you can pull data from multiple accounts and push them into single reports gives you access to a lot of insights. Savvy marketers should definitely take advantage of this add-on; tools like this can show you where you are seeing success in your campaigns and where you can improve. Use this add-on to create reports to share with your team or your clients.
What can I do with the add-on?
Create reports in Google Sheets for:
Campaigns
Ad Groups
Ads
Search keywords
Negative keywords
Targeted location
Search teams
Get reports from custom time ranges:
The add-on gives you the option to generate reports from specific days, weeks, custom ranges … or even from all time!
You can also choose to compare multiple time periods in the same report.
Refresh reports quickly 
Save time and reduce errors by eliminating the need to download or copy and paste data into Google Sheets.
Once you've created a report you can simply schedule regular updates.
Add a variety of segments to your report such as:
Day of the week

check_box_outline_blank

Day

Month

Quarter

Week

Year

Device

Click type

Conversion action

Conversion category

Network (with search partners)

Conversion source

Conversion action

Top vs. Other

Search terms match type

Days to conversion

Days to conversion or adjustment

Conversion adjustment

Ad event type
How to get the Google Ads add-on
It's really simple to get add-ons for Sheets. You can install the Google Ads add-on directly from Google by clicking this link.
Just click the Install button and the add-on will be added to your Google Sheets account.
Alternatively, you can get the add-on by following these steps:
1. Open a spreadsheet
2. Click the add-ons button in the navigation menu
3. Click the Get add-ons button
4. A window will pop up for you to browse
5. Type "Google Ads" in the search box. There are a lot of add-ons that are designed to work with Google Ads, but Google's version should be at the top.
6. Click the button to get the add-on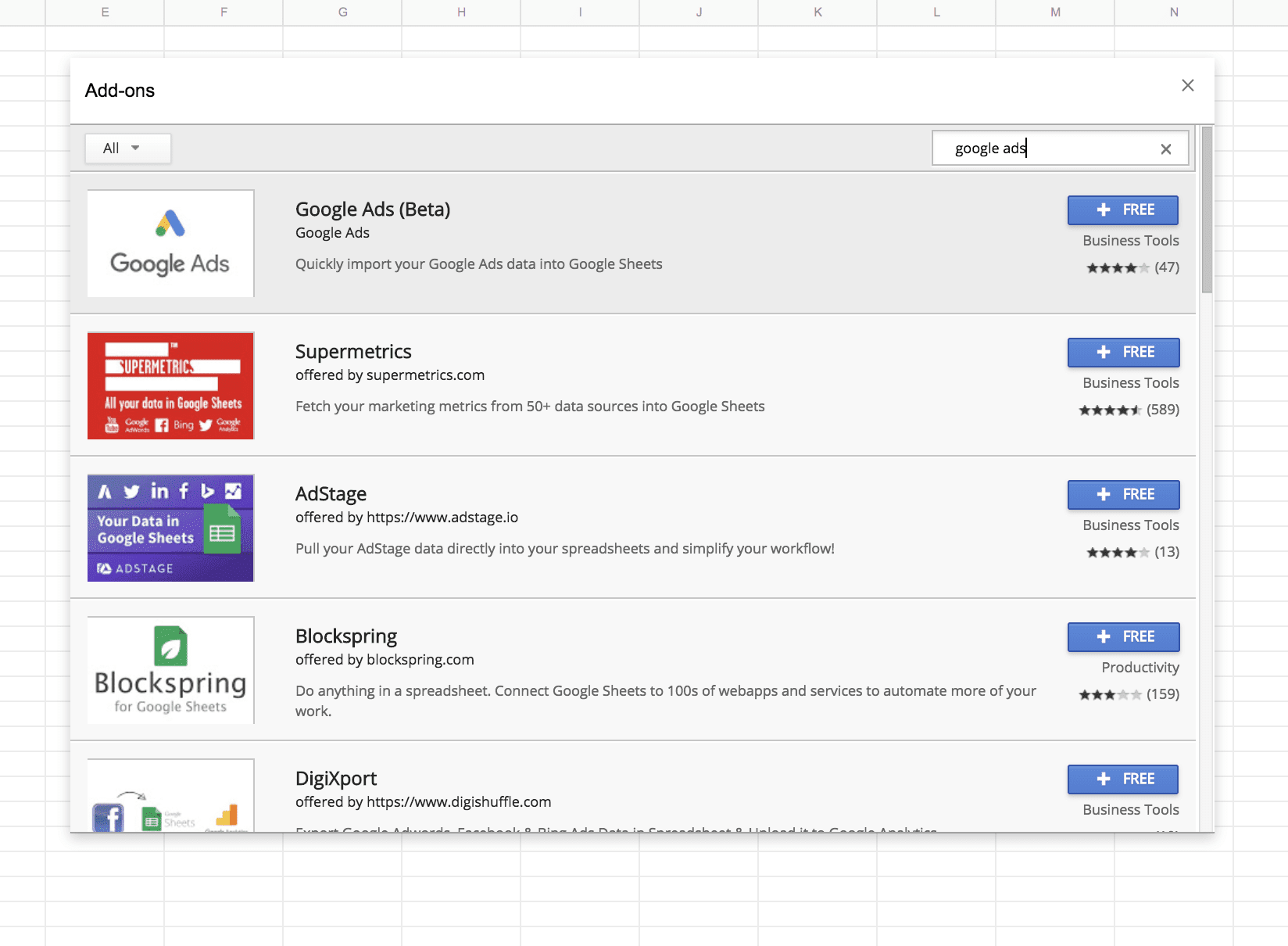 How to connect Google Ads to Google Sheets with the Google Ads add-on
Install the Google Ads add-on from the link we provided.
Open a spreadsheet in Google Sheets. Check that you're signed in to the same Google account that you use for your Google Ads account.
Generate a new report:
From inside a new spreadsheet, go to menu > Add-ons. Hover your mouse over "Google Ads" then click "Create a new report". Choose what date range, report type and filters you want to use.
Update a report:
From inside the report in Google Sheets that you want to update, go to menu > Add-ons. Hover your mouse over "Google Ads" then click "Refresh report".
Edit a report:
From inside the report in Google Sheets that you want to edit, go to menu > Add-ons. Hover your mouse over "Google Ads" then click "Edit a report".
That's it! You're ready to start using the Google Ads add-on for Google Sheets. 
If you're looking for an all-in-one automated solution to streamline your marketing and sales processes, check out our spreadsheet-based solution to automate your CRM.