Free Google Sheets marketing tools
Marketing can be an expensive business. There's a host of comprehensive account-based marketing (ABM) and customer relationship management (CRM) systems out there. And once your company reaches a certain size, it's definitely worth investing in a big integrated platform like Hubspot or Marketo.
But if you're a solo entrepreneur or a small startup, there's no need to max out your marketing budget on expensive software that you don't really need.
Even if you do use one of the big marketing software platforms in your company, it's likely that you still use something else too: spreadsheets.
Spreadsheets are a versatile and indispensable tool for collecting, processing, and presenting your marketing data.
Here we've pulled together 10 of the top free marketing apps to help you do that — in conjunction with the tool you already use every day: Google Sheets.
Smart marketing in Google Sheets
Google Sheets is popular with marketing teams, and for good reason. It's free, accessible from anywhere, and it updates in real-time. On top of that, it offers powerful collaboration functions, so you can work on your sheets in tandem with colleagues.
Google Sheets doesn't yet have the full power and advanced functionality of Excel. But when you combine Sheets with a marketing add-on or template, you can turn a simple spreadsheet into a really versatile part of your marketing toolkit. You can combine data, create automated reports, and coordinate your campaigns — without spending anything.
Take a look at our 10 top free marketing tools:
1. Google Analytics
When it comes to marketing, the key companion to Google Sheets has to be Google Analytics. 
You probably already use Google Analytics to keep an eye on your web traffic and demographics. If you pull that information into Google Sheets, you can manipulate the data to get even deeper insights.
The Google Analytics add-on helps you to filter and query data into your spreadsheets to create custom reports and visualizations. You can pull GA data into Google Sheets dashboards, schedule automatic updates, and control who sees what using Google's sharing permissions.
Just install the free Google Analytics add-on for Google Sheets. If you need help, check out our step-by-step guide here.
2. Mailmeteor
If you have a small business and you're looking for a free mail merge solution, try Mailmeteor.
Simply compile your contacts database in Google Sheets, use one of Mailmeteor's email templates, and preview the email.
This means that in a couple of clicks, you can then send up to 75 personalized emails per day from Gmail. Or up to 500 a day if you're working in education with a .EDU email address.
When your business expands and you need to send larger email campaigns, upgrade to a paid plan.
Try it by installing the Mailmeteor add-on for Google Sheets.
3. Sheetgo
Sheetgo lets you automate data transfer between different Google Sheets files, so you can create your own custom-built marketing system.
With this customizable Marketing KPIs template in Google Sheets, you can monitor different marketing channels and track marketing experiments.
For reporting and analysis, the dashboard allows you to analyze data from the marketing channels and the experiments.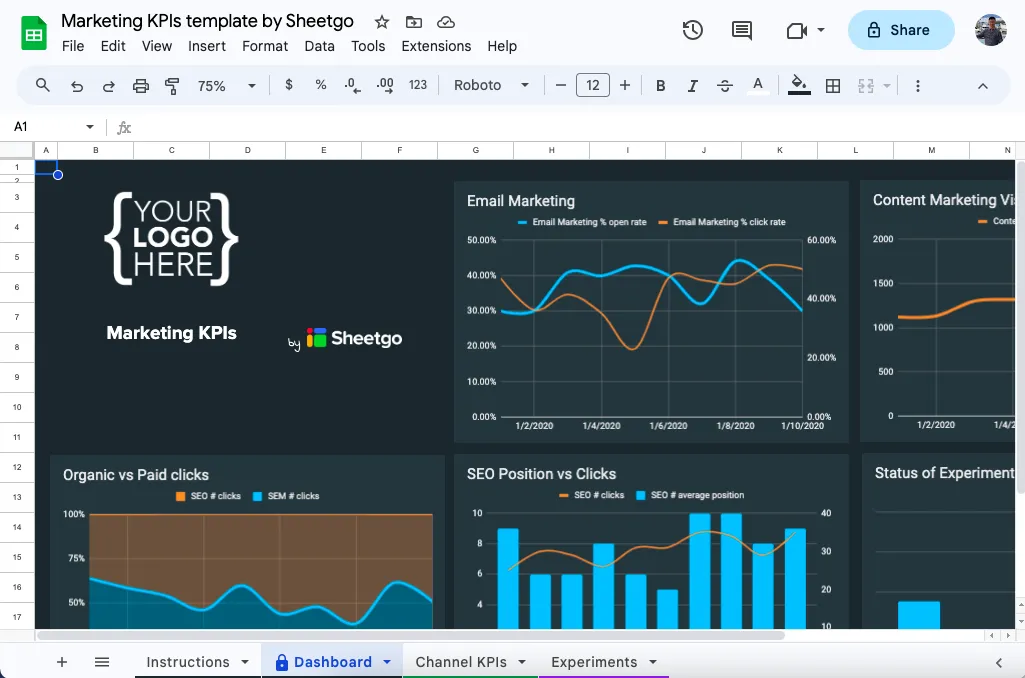 4. Sheets for Marketers
This one's not a specific tool, but an incredibly useful collection of 100+ ready-to-use marketing templates for Google Sheets.
Rather than working with a blank canvas, it's much quicker and easier to turn Google Sheets into an effective marketing system if you start with a template.
And as long as you're familiar with formulas, you can customize any of the templates to suit your needs.
Sheets for Marketers is a one-stop-shop for all Google Sheets marketing templates, for everything from link building to keyword research.
5. Hunter
If you're responsible for lead generation, Hunter is an awesome email finder.
It allows you to quickly and easily pull the names and email addresses of specific people in a business or organization from their company's website. There's a free Chrome extension (just click on it when you're browsing, and Hunter will display the email addresses associated with that domain).
The Hunter for Google Sheets add-on goes a step further, organizing this information efficiently in a spreadsheet withprofessional titles, full names, emails, and social network information. It will also tell you how the information was sourced and give you a confidence score, indicating how reliable the data is. The free plan gives you 50 free searches per month.
Want to drive more leads and reduce the cost of Facebook ads? Try
MobileMonkey
. It's a popular tool for collecting customer and prospect data from your chatbots and automated messaging systems. With the free version, you get 1000 send credits per month.
6. Tweet Archiver
If Twitter is one of your key platforms, Tweet Archiver (previously named Twitter Archiver) is a handy tool for collecting and saving tweets about your brand, competitors, conferences, industry news, and trends. Search for certain keywords, hashtags, or specific geo-tagged tweets and this tool will automatically save them to Google Sheets.
Having access to this kind of information is great for analyzing trends or brand sentiment. The add-on is free to install and the free version allows you to apply a single search term from one Google account. Upgrade for more advanced searching options.
7. MeaningCloud
After you have collected and archived tweets using Tweet Archiver, you can analyze the text using a text analytics tool such as Meaningcloud.
This software uses Natural Language Processing technology to identify the meaning of unstructured content, such as social media content, forums, and surveys.
It also extracts mentions of people, companies, or brands and detects positive, neutral, or negative sentiment. So you can use this to gauge responses to certain campaigns, or your overall brand.
The MeaningCloud add-on for Google Sheets lets you embed text analytics functionality directly in your spreadsheets. A free plan allows you to make up to 20,000 requests per month.
8. Analytics Canvas
Analytics Canvas is one of the most popular platforms for working with Google Analytics data, allowing you to visualize your data in dashboards.
The advanced desktop software is only available with a paid plan, but Analytics Canvas also offers a more basic free add-on for Google Sheets.
It obviously doesn't have all the features for creating complex reports. But it still allows you to easily import data from Analytics into Sheets, eliminate copy-pasting, edit queries directly in your spreadsheet, and build and share dashboards.
The add-on is intuitive and easy to use, especially when creating and editing queries. If you want to pull larger volumes of data from Google Analytics or combine CRM data with web analytics, you can sign up for a trial for the full software.
9. Search Analytics for Sheets
This is an incredibly helpful free add-on for anyone working with Google Search Console, enabling you to get much more from your data. It enables you to retrieve data and work with it directly in Google Sheets.
You can:
Filter data by query, page, country, and device.
Get data on clicks, impressions, CTR, and position.
Access information on rankings, queries, landing pages, and more.
There's also detailed information and support available from the Search Analytics for Sheets website.
10. YouTube Tracker
Want to import real-time metrics from your YouTube videos and channels directly into Google Sheets? That's exactly what the YT Tracker will do for you.
It exports live YouTube statistics (such as viewing times and the number of views, likes, and dislikes) directly from your videos and channels into a spreadsheet.
YT Tracker is well-built and really easy to use. Just install and open the add-on and a template will open. Paste the video ID into the first column of the sheet and the tracker will start. See how it works here.
The free version lets you monitor 25 videos and 10 channels. Upgrade to a Premium account to track the metrics for more videos.
A marketing tool for every business
So those are our recommendations for the top free marketing tools to use with Google Sheets.
If you're looking for an all-in-one automated solution to streamline your marketing and sales processes, check out our spreadsheet-based solution to automate your CRM.
For more marketing tips and tricks, browse our full range of articles on how to use spreadsheets for marketing.