If you work in a small business, it's likely that you have an informal system for purchase order management and procurement. Perhaps staff just send a quick message to an administrator asking for materials. Or maybe they pick up the phone to place an order with the supplier directly.
Inefficiencies and communication problems can lead to incorrect orders, shortages, and supply chain disruption. All of which is bad news for your customers. On top of that, overspending and stockpiles can make a dent in your cash flow.
Imagine that you place an order with a supplier on the phone. On the day the shipment arrives, a colleague accepts the delivery but the invoice shows a higher price than the original quote. Certain items are missing and some goods arrive damaged. Unless the same person places the order and receives the delivery, there can be a delay before anyone spots mistakes. By that point, the invoice may have already been processed and it's more difficult to solve the problem with the vendor.
Did your colleague already place the order? Maybe you ordered "two" boxes on the phone but the person in the office thought you said "ten". Communication issues can be avoided with a formal purchase control system, but it's not always easy to design and implement a system from scratch.
Specialist purchase control and procurement software packages aren't cheap, and these programs can be overly complex for small businesses. Instead, you can create your own purchase order management solution with the tool you already use: spreadsheets.
Why use Google Sheets to manage purchase orders?
Flexible: Spreadsheets allow you to create a system that's tailored to your business. You can adapt and expand it over time, without IT support.
Accessible: Google Sheets is cloud-based so you can manage your purchase order data from anywhere, at any time.  All you need is an internet connection. On top of that, you won't waste money on expensive and unnecessary software.
Compatible with everything: All other software packages integrate with Google Sheets. This means you can easily import data from other parts of the business and centralize everything in Google Sheets.
Easy to use: Most people use spreadsheets at some point. Therefore, the entire team will be able to use the system without training. As a result, it's future-proof and easy to maintain.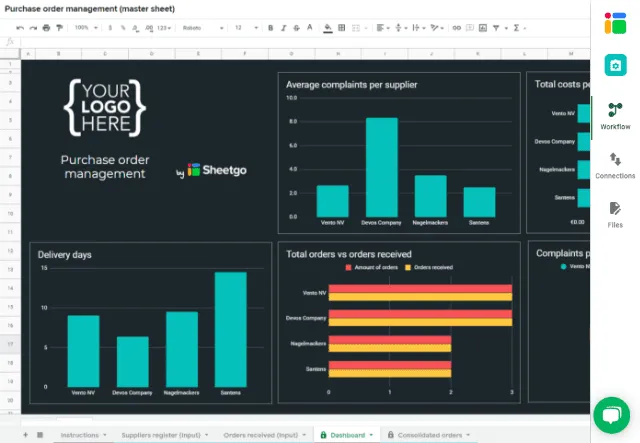 Looking for a basic template instead?
Do you work alone? If you need a simple spreadsheet template to track order requests yourself, try our one-file template. This template does not contain multiple files or connections — just a simple way to manage suppliers, orders, and deliveries.
How to get started
Sheetgo's spreadsheet-based workflow template is a pre-built system for automated purchase order management. It can be used by any business, in any sector. The template provides administrators with a simple and reliable way to manage order requests from across the company.
What is a spreadsheet-based workflow template?
A standard spreadsheet template is a single file containing tables, charts, layouts, and formulas. In contrast, a Sheetgo workflow template is a complete system. It's a group of interconnected Google Sheets that exchange data between them. This enables you to share data with others while working independently in your own individual file.
A spreadsheet-based workflow template gives you:
Organization and data privacy: Each file is dedicated to one specific task, which keeps data flows secure and separated. Teams submit supply requests in their own spreadsheet. The manager receives all requests in their master sheet, where they also log information about deliveries received.
Scalability: Google Sheets sharing function is powerful but multiple people working in the same spreadsheet can make the file heavy and slow. Separating data in individual spreadsheets keeps the system working smoothly. To expand the template for more departments, you can simply duplicate one of the spreadsheets and share it with additional teams.
Integration: In addition to being able to import data from different software, a spreadsheet-based workflow allows managers to merge data from departments. In a few clicks, you can connect your purchase order workflow with your finance workflow to generate reports.
What you get with this template:
When you install the Sheetgo purchase order management template, three Google Sheets files with ready-made Sheetgo connections are saved to your Google Drive:
Two Order request spreadsheets. Share these files with the team members who will submit purchase requests and make as many copies as you need for additional departments. Each team uses its copy of the spreadsheet to request materials and supplies.
One Purchase order management master sheet, for the administrator and person responsible for processing deliveries. Here, the manager receives order requests from across the company and logs when the orders arrive. In the automated dashboards, they get a visual overview of delivery times, complaints, orders placed and received, plus costs per supplier.
How to get the workflow template
Click on the button below to install Sheetgo's Purchase order management template and then
Purchase order template
Workflow template to track suppliers and collect order requests from colleagues.
Login to Sheetgo with your Google, Microsoft, or Dropbox account.
Click Install template.
Wait a few moments while Sheetgo creates copies of the files and connects them.
The Purchase order management master file opens inside Sheetgo. Take a look at all the files to familiarize yourself with the template. You will see that the spreadsheets contain sample data to show you how the template works. Just delete or overwrite this information when you start using the template.
To open any of the spreadsheets, double click on the file in the sidebar on the right. When you want to close the sidebar, just slide it to the right using the blue arrows.
How to use the purchase order template
Step 1
:

Create a supplier list

In the Purchase order management master sheet, delete the sample data, and enter your list of suppliers in the Suppliers register (Input) tab.

Do not type in the gray Supplier Code Column (Column A). The spreadsheet will generate this code for you automatically.
Step 2: Transfer supplier data to the connected files
When you have completed the supplier register, it's time to transfer this information to the Order Request files. This will enable your colleagues to select a supplier from a dropdown menu in their own spreadsheets when they place an order.
Click Workflow on the right-hand side of the screen to open the side panel.
Now click Run on the menu bar.
Step 3: Share the Order Request Spreadsheets
Firstly, delete the sample data from the Order request #1 and Order request #2 files and share them with the appropriate colleague(s) using Google Sheets' sharing function.
Secondly, share the spreadsheets with individuals or a specific team or department.
From inside Sheetgo, click Open in new. When the file opens in your browser, just click the green Share button.
Step 4: Start entering orders
When your colleagues want to order items, they just enter the information into the Order request tab of their spreadsheet.
Note that they should not edit the gray columns (Order number and Total cost) as the template fills these out automatically. Tell your colleagues to check out the instructions in the first tab of the spreadsheet.
Step 5: Update the workflow
Once your colleagues have started entering order requests into their spreadsheets, you need to pull this data into the manager's master sheet. To do this manually, click Workflow on the right-hand side and click Run.
You will see that all order requests from your colleagues' spreadsheets have been imported into the Consolidated orders tab inside the master sheet. Note that the tab has a padlock icon. That's just to remind you that this is a connected Sheetgo tab and the data should not be edited.
Step 6: Automate the purchase order management system
To make sure you receive new order requests regularly, schedule automatic updates.
Every time you update the workflow, the Sheetgo connections refresh the data in all the spreadsheets.
This means that if you add a new supplier, it will appear automatically in the Order Request sheet dropdown menu. When a colleague places an order request, it will appear in your master sheet.
Click Automate on the menu bar and choose how frequently you want the connections to be updated.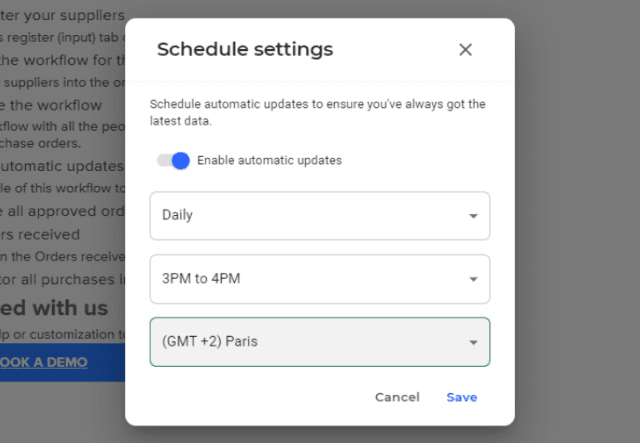 Step 7: Register deliveries
When new deliveries arrive at the company, log them in the Orders received tab of the manager's master sheet.
Enter the date, select the order number from the dropdown menu, and make a note of any complaints or problems with the delivery.
If deliveries are accepted or processed by another colleague or team, you can share this spreadsheet with them and instruct them to fill out this tab.
Want to add more Order Request sheets?
To add more order request spreadsheets to the workflow, you can copy one of the spreadsheets and connect it with new Sheetgo connections. Get step-by-step instructions here.
Need an end-to-end custom supply chain solution using your everyday tools?
If you're looking to automate your entire supply chain management, look no further than our spreadsheet-based solution.
Our spreadsheet-based solution was designed to automate not only your purchase orders, but all your supply chain management: Inventory management, bill of materials, purchase order, packing and shipping, and invoice generation. In addition, you can integrate it to other departments to automate all areas of your business.
Take advantage of our spreadsheet-based supply chain solution  to unlock all the benefits of ERP systems at a fraction of the price.