Small businesses usually have an informal system to manage their purchase orders and procurement. Maybe employees simply send a quick message to their manager asking for certain materials. In other cases, they may place orders with a supplier themselves without having to ask for authorization.
Informal systems might seem adequate for companies at first. However, they can cause communication issues that result in wrong orders and inefficiencies throughout the supply chain. Additionally, missing an essential item in stock reflects poorly on an organization's customers. Moreover, it causes problems in the cash flow.
When the same orders are managed by different employees, mistakes quickly pile up. While one employee places the order, another accepts it and fails to notice items missing. Organizations that delegate these tasks properly have a more efficient ordering process. Managers do this by implementing a formal purchase control system.
At this point, companies might be thinking that they need specialist software with a hefty price tag. In many cases, these tools are complex and too overwhelming for a business's specific needs. Instead of going through that trouble, firms can simply create their own purchase order management system with a familiar tool: spreadsheets. Sheetgo's Purchase order template enables companies to easily automate their purchase order processes in an online template.
How to get started
The Sheetgo purchase order template in Excel is specifically designed to automate purchase order management and can be used by any organization, in any sector.
Firms that require a reliable way to handle order requests benefit from havig these processes automated.
Purchase order template
Workflow template to track suppliers and collect order requests from colleagues.
What is an Excel-based workflow template?
Instead of providing you with a single file containing charts and formulas, Sheetgo's purchase order template provides you with a complete system. The template workflow consists of separate Excel spreadsheets that exchange data between them through Sheetgo connections.
Each employee manages their work privately and has the possibility to share their data with others in a few clicks. This way, you do not have to worry about slow spreadsheet loading caused by multiple people working in the same file.
Additionally, your data will remain private and secure. Different teams can submit different requests in their separate spreadsheets while the manager has an overview of all sent requests in the master sheet.
In short, an Excel-based workflow gives you outstanding organization, data privacy, scalability and integration.
What you get with the Purchase order template in Excel
When you install the Sheetgo Purchase order template, three Microsoft Excel files with pre-built Sheetgo connections are saved to your preferred cloud-based account:
Two Order request spreadsheets. Share these files with your teams responsible for submitting purchase requests. Make copies if you have additional departments or teams to add. Each team uses their copies of the spreadsheets to submit requests for materials and supplies.
One Purchase order management master sheet. This master sheet is managed by the administrator or the person responsible for processing deliveries. The different order requests from the different teams in the organization are received here. All you need to do is log when the orders arrive. You will also have access to a personal automated dashboard, providing you with additional information concerning delivery times, complaints, costs per supplier and more.
How to install the Purchase order template in Excel
Click here to install the template.
Log in to Sheetgo with your Microsoft account. As this template is based in Microsoft Excel, the files will be saved to your Onedrive or Sharepoint.
Click Install on Onedrive or choose your preferred platform from the drop down list.
Please allow a few moments as Sheetgo creates the connections and saves a copy of the template files to your chosen account.
The template now opens automatically. Feel free to use the purchase order template either in the web application or the Desktop App.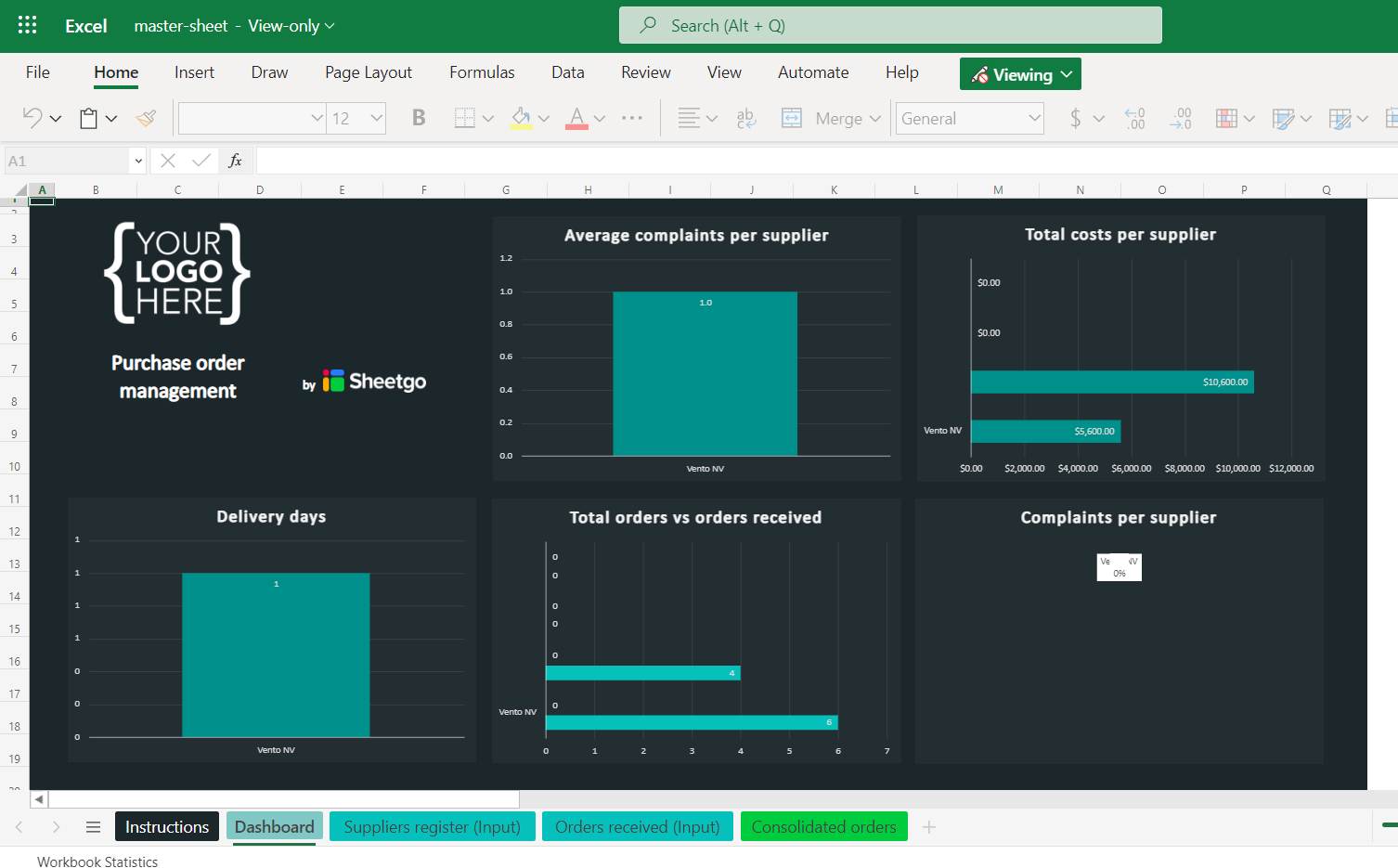 Step 1: Create a supplier list
Click on the Suppliers register (input) tab at the bottom of your screen, right next to the Dashboard tab.
Keep in mind that our templates contain sample data. Simply replace this data with your own.
In this tab, delete the sample data (name, address, country, phone number & category tabs) and replace it with your suppliers' information.
Do not change anything in the Supplier Code Column (Column A). The spreadsheet generates this code for you automatically.
Step 2: Transfer the suppliers' data to the Order request files
After you've entered your supplier information, update your workflow.
Go back to the Purchase order management overview in the main workflow tab and click Run in the Workflow menu.
Updating your workflow sends the supplier information to your Order request spreadsheets.
This enables your colleagues to select a supplier from a dropdown menu in their own spreadsheets when they place an order.
Step 3: Share the Order request spreadsheets with your colleague(s)
Go back to the Purchase order management workflow in the other tab and double click one of the Order request files to open it.
The Order request file now opens in a new tab. Click the Share button and enter the email address of your colleague(s) responsible for making purchase requests.
Repeat this process for the other Order request spreadsheets.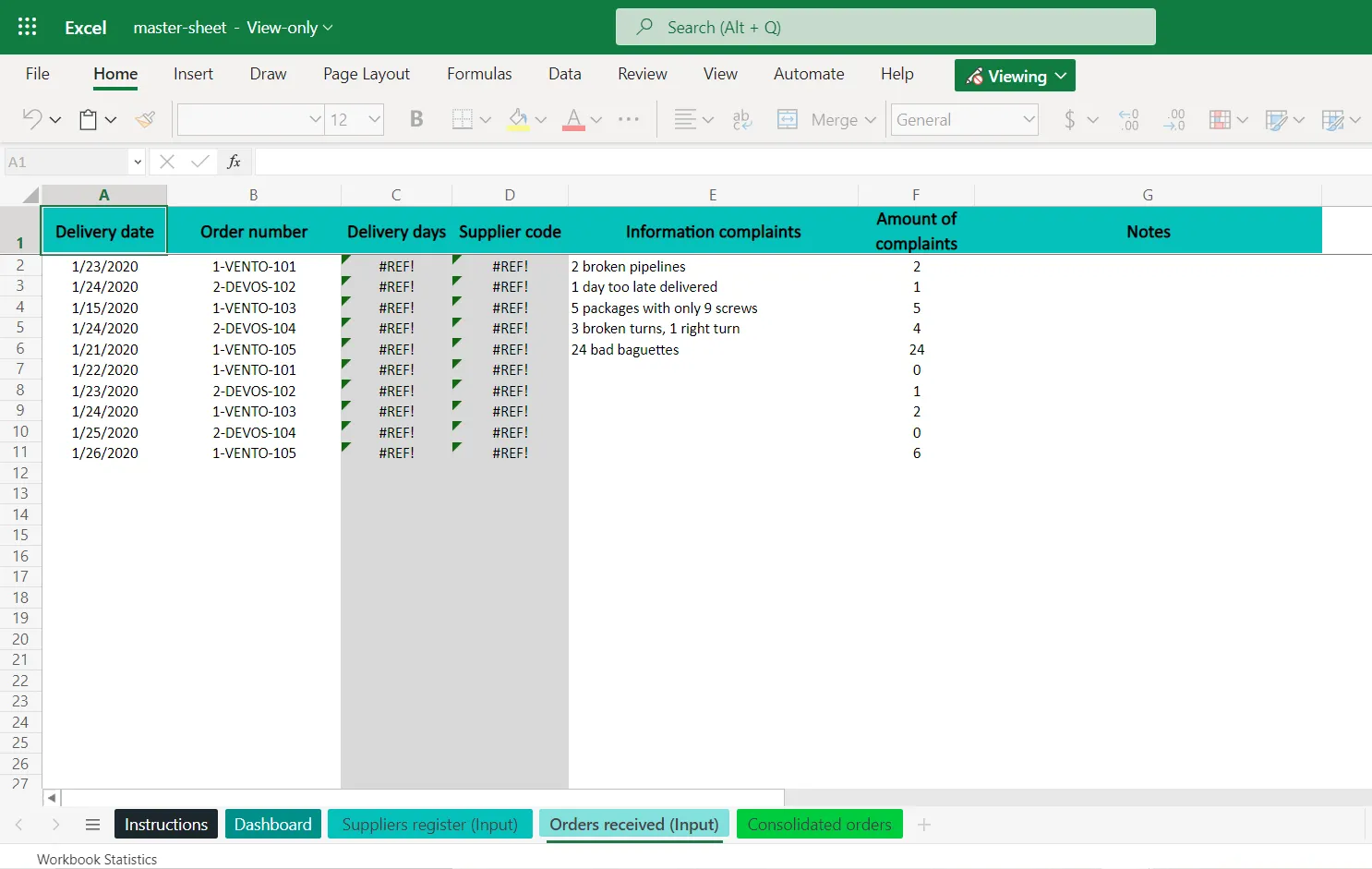 Step 4: Enter your orders
After sharing the Order request sheets with your colleagues, they start ordering items by entering the order information into the Order request tab.
Again, it is important to note that they do not edit the gray columns as these are filled out automatically by the template.
Step 5: Update your workflow
To manually update your workflow and pull your colleagues' data into the manager's master sheet, go back to the Purchase order management workflow and click Run.
After updating your workflow, all your colleagues' order requests have been imported into the Consolidated orders tab inside the master sheet.
Step 6: Automate your workflow
To ensure that you always have the correct and updated purchase order data, automate your workflow. Automation ensures you always have the latest purchase data in the management dashboards.
To automate your workflow, go back to the Purchase order management workflow and click Automate.
Select update automatically by sliding the bar to the right. Choose to update multiple times a day, once a day or once a month.
Next, select your preferred time window and your time zone. You are able to see how many updates per month your selection will approximately amount to at the bottom of the settings tab.
Step 7: Register your deliveries
Whenever a new delivery arrives at the company, log them in the Orders received tab inside the manager's master sheet.
Enter the date, select the order number from the dropdown menu, and make a note of any complaints or problems with the delivery.
In the case that deliveries are accepted or processed by another colleague or team, simply share this spreadsheet with them according to the steps above and instruct them to fill out this tab.
That's it!
Congratulations on setting up Sheetgo's Purchase order template in Excel! Are you looking for more Excel-based templates? Have a look at Sheetgo's Cash flow template
here.
Did you like this post?
If you found this article useful, please share it with your friends and colleagues via the social media buttons on the left!