Investing in inventory management software can be very expensive indeed. What most businesses don't know is that you can create and develop your very own inventory management system by just using Google Sheets! But what about important inventory tools and features, such as barcode scanners?
Organizations that are dealing with large numbers of stock usually rely on barcode scanners to improve efficiency when it comes to checking in and checking out products. Using a barcode scanner for inventory is vital in order to streamline the entire process. That's why Sheetgo has created its own template for an inventory system with a barcode scanner included.
In this article, let's explore the features of the Sheetgo template and our step by step on how to install the inventory system with barcode scanner in Google Sheets.
What is a barcode inventory system?
A barcode inventory system is a way to help streamline and automate your inventory tracking database by using a tool to scan and record each item for you. The barcode scanner will automatically send the item data directly to your inventory database, avoiding any manual effort.
As a result, you're able to scan and record dozens of items in the time it would take to manually input a single item.
How does the Sheetgo inventory management system with barcode scanner work?
The inventory management template by Sheetgo makes tracking your inventory easier than ever. The template is an automated workflow that consists of 4 spreadsheet files. 3 of these spreadsheets are dedicated to each area of your inventory; items, check-in, and check-out. The items sheet connects to both check-in and check-out sheets.
These three spreadsheets then connect to your master sheet which acts as an inventory database. From here, your data is sorted, and you receive the latest insights into your inventory system as a visual dashboard.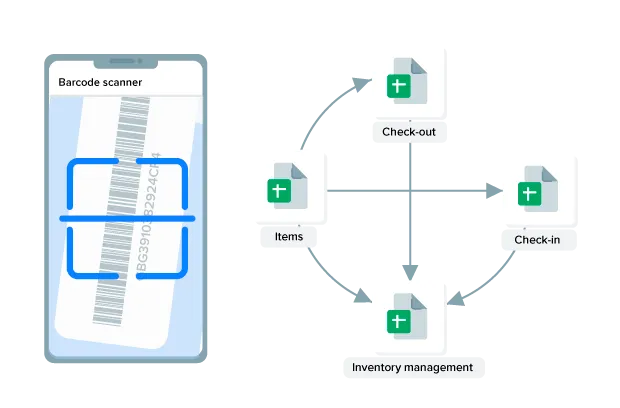 What's more, Sheetgo offers forms to make inventory management even easier. There are three forms for each area of your inventory; item registration, check-in, and check-out. This is where you can access the barcode scanner system. With the barcode scanner, you can automate the entire item management process. Once you've scanned or inputted your items, Sheetgo automatically transfers the data into the corresponding spreadsheets, ready for your use.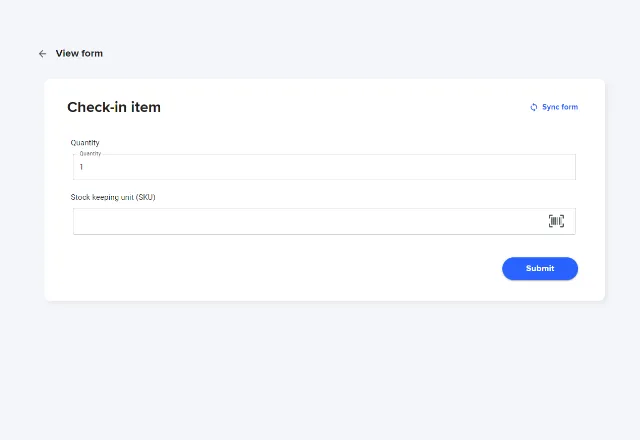 Let's take a look at the many benefits of using this barcode system for inventory over other complex inventory systems available on the market.
Why use a barcode inventory system?
With this inventory barcode system, you have access to optimized, automated features that have multiple advantages.
Here are just a few:
Automated workflow: Sheetgo connects spreadsheets to create an entire workflow that is automated so that you receive the latest information without even having to click a button.
Experience the added benefits of Google Sheets: Sheetgo workflows are based on multiple Google Sheets files – a tool that the majority of users are very familiar with. You can make the most of Google Sheets' collaborative features and sharing abilities. Plus, you get access to a Google-compatible barcode reader.
New forms with barcode scanner: Sheetgo offers forms with an in-built barcode scanner – simply scan the barcode to record into Google Sheets.
Access on any device: Make the most of a handheld inventory scanner. You can access the forms and barcode scanner on any device, including your smartphone (iPhone and android) or tablet, to make warehouse scanning easier.
Metrics view in Sheetgo web app: This barcode system for inventory offers an entire metrics overview dedicated to your data. To access, simply navigate to the Metrics tab within your workflow overview on the Sheetgo web app.
Print label generator for products: Want to use the barcode scanner but your items don't have a code yet? Sheetgo will automatically make a scannable barcode for each item for you. Simply input item data, and a unique QR code label will appear.
As a result, you have a fully developed inventory management system that's extremely customizable and scalable. What's more, this barcode system costs costs a fraction of the cost of inventory management software!
If you're interested in a more basic inventory template without a barcode scanning system, take a look at our blog post introducing the inventory management template in Google Sheets.
Now that you have a breakdown of the inventory template by Sheetgo, let's take a look at how you can use this barcode scanner inventory system in Google Sheets.
How to make an online inventory system with barcode scanner
Making your own custom inventory system with Sheetgo is easy. Just download the template, connect your files and adjust the features to fulfill your specific objectives!
1. Install the Sheetgo inventory management template
Inventory with barcode
Spreadsheet-based workflow template to manage your inventory using a barcode scanner.
First, click the blue button above and sign up for Sheetgo with your Google account. Once signed in, simply click on Install template and Sheetgo will add it to your Google Drive once you've authorized the installation.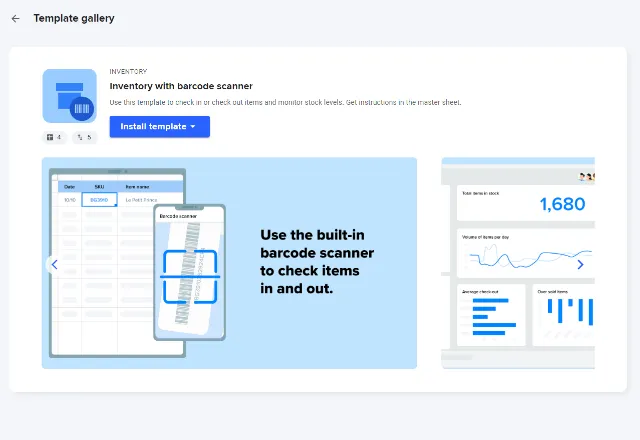 2. Use the Sheetgo forms with barcode scanner to input your items
Now it's time to start inputting your inventory data within the spreadsheets. First, you must delete the sample data already provided. You can then use the Sheetgo forms to input your data into the spreadsheets. You can find the forms for item recording in the Forms tab on the right-hand menu within the workflow.
Simply choose the correct form referring to the spreadsheet you want to input data into. Sheetgo will automatically transfer the data to the corresponding spreadsheet and update the rest of the sheets accordingly.
Here's what each form does:
Register item: Input new items into your inventory using the register item form.
Check-in item: Input the items that have entered the inventory with the check-in item form.
Check-out item: This form is used to show which items have left the inventory.
There are two ways you can use the Sheetgo forms to input item information:
Option 1: Manually input data into the form fields
Simply type in your item information in the dedicated fields and press Submit to send your data to the spreadsheet.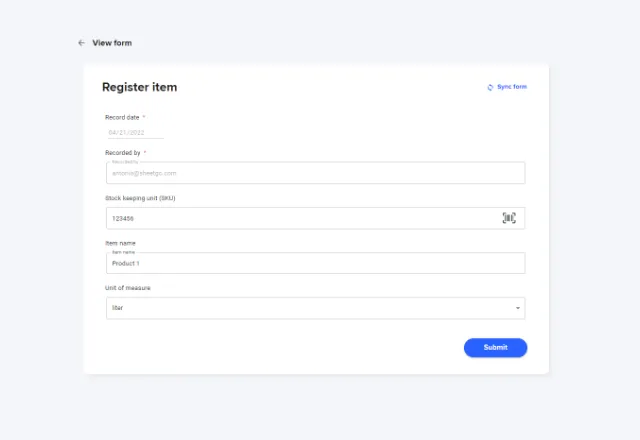 Option 2: Automatically input data using the barcode scanner
Click on the Scan feature (the barcode icon) to use your camera to scan the barcode your items. Once finished, press Submit to send your data to the spreadsheet.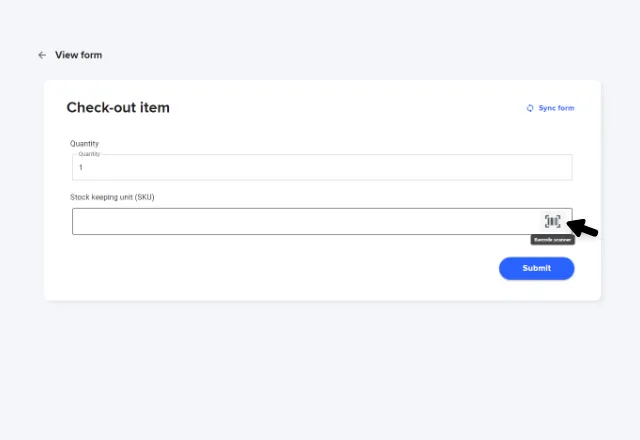 You can also access the Sheetgo forms on your phone, tablet, or computer to make barcode scanning even more convenient. Simply search for the Sheetgo web app in your browser.
Alternatively, if you already have a large amount of existing data on your inventory (such as a pre-existing list of your registered items), you can simply copy and paste your data into the corresponding spreadsheet. Make sure that your data is inputted under the correct columns.
Once you have submitted your forms, Sheetgo automatically transfers your data to the other spreadsheets.
3. Schedule automatic transfers for your inventory
Now that everything is set up, you can now schedule automatic transfers so that your inventory spreadsheets and metrics are always up-to-date.
To do this, enter the Workflow tab of the menu and click on the button labelled Automate near the bottom of the screen. Slide the button Run automatically and select the frequency of your transfers in days and hours. Once you're happy with the estimated number of transfers per month, press Save.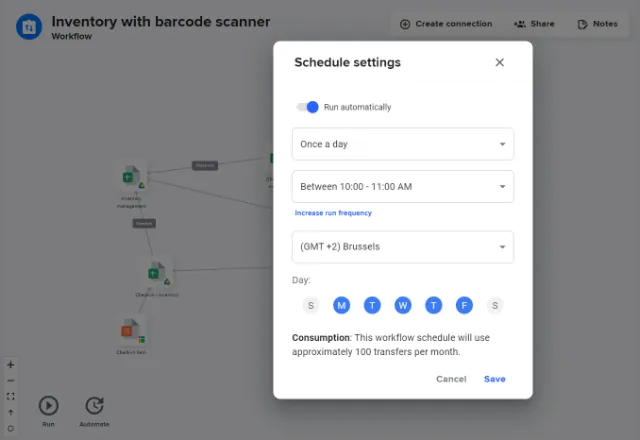 4. Check your metrics
Finally, monitor and visually analyze your inventory in the Metrics tab of the menu.
Here, you will find useful statistics about your inventory data, including total items in stock, average check-out items per weekday, and over sold items.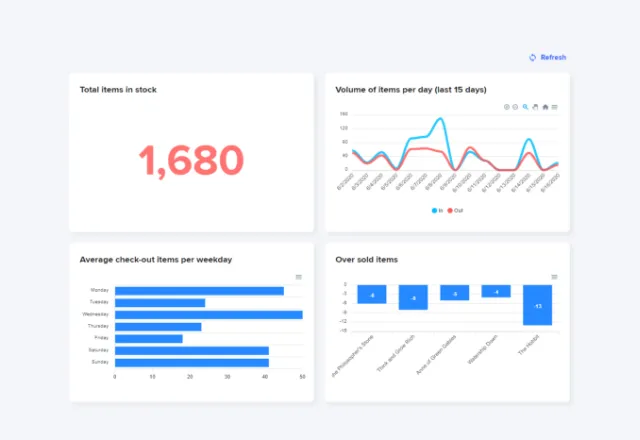 Inventory with barcode reader for small businesses
And there you have it! Now your inventory management system is set up and ready to be used. You can add team members to your workflow so that they can access the forms and begin their inventory operations.
Sheetgo provides an affordable, easy-to-use barcode scanner app that you can access for free when you sign up! You can find more information on our inventory management software with barcode solution on the Sheetgo solutions page.
Looking for more information on barcode scanners and the best barcode inventory systems for small businesses? Why not check out our blog post on the how to create an invoice generator in Google Sheets?Alternatively, take a look at how you can solve with Sheetgo below!
Editor's note: This is a revised version of a previous post that has been updated for accuracy and comprehensiveness.