Inventory management involves monitoring stock levels and organizing the supply and storage of materials, merchandise, products, or goods. An inventory is essentially a list of all the items that you store until they are resold. At the heart of this process, you need some kind of system for tracking each item that enters or leaves your company. This is where an inventory management template can help.
Good inventory management is a balancing act: you need to avoid shortages and make sure your customers receive their orders on time. On the other hand, sitting on a large quantity of unsold stock can also be detrimental to your business. As well as being bad for cash flow, items risk becoming damaged, spoiled, stolen, going out of date or out of fashion.
Keeping tabs on which items are selling and recognizing when stocks are running low prevents supply chain disruption. The results of that are happy customers and a healthy bank balance.
Today there's a huge range of inventory management software on the market. Large companies tend to use specialist software or an ERP, but for SMEs, this is a costly (and unnecessary) investment. Inventory software can be difficult to use and doesn't always provide the flexibility that a business owner or operations manager needs. It also tends to have more features than you would ever need in a small business or organization.
Instead, you can create a reliable, user-friendly inventory management system with the tool you already know and use every single day: spreadsheets.
Why choose Google Sheets for inventory management?
Flexible: Google Sheets enables you to create a tailor-made inventory control system that you can change and adapt yourself, without any specialist software.
Accessible: As it's cloud-based, Google Sheets can be accessed by any member of the team at any time, as long as they have an internet connection.
Compatible with everything: All other software packages integrate with Google Sheets so you can easily merge data from multiple departments or processes, such as sales, order, or e-commerce software.
Easy to use: There's no need to train your team as they will already be familiar with spreadsheets. Maintenance is straightforward and there's no need for technical or IT support.
Sheetgo's Inventory management template
Sheetgo's Inventory template is a pre-built system in Google Sheets for automated inventory tracking that can be used by companies handling any kind of product, from kitchen ingredients to clothing.
The template gives managers a reliable way to track inventory and stock levels while providing warehouse or office staff with a simple method to log which items have entered or left the company.
The spreadsheet contains pre-built tables, charts, layouts, and formulas.
How to get the Inventory template
Click on the button below to get your free copy of the Inventory management template in Google Sheets by Sheetgo.
The single spreadsheet file contains a couple of different tabs where you can work in:
A Check-in sheet where the individual or team responsible records which items enter the company. This data might include new deliveries or returned items, for example.
A Check-out sheet where the individual or team responsible registers items leaving the inventory. This might include items sold, materials used in manufacturing, or products sent to other departments.
A Current inventory list that automatically updates with the status of your inventory. Here you have an overview of your available stock per item.
An Inventory management master sheet for the manager. This tab contains automated dashboards with an overview of current stock levels. Data flows into this file from the check-in and check-out sheets via pre-built formulas.
You can always read through the Instructions tab to remember how to use the template best.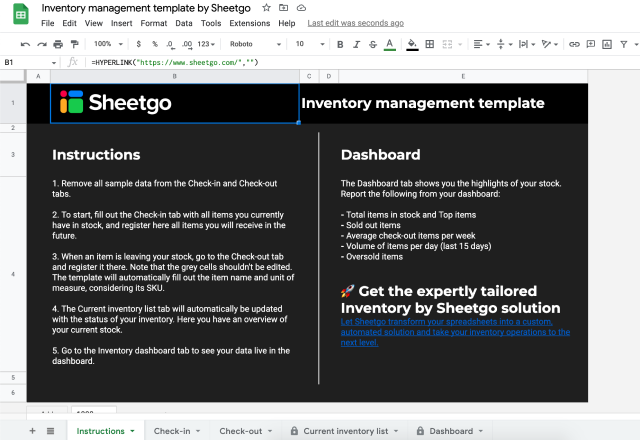 Get started
Step 1: Remove sample data
Inside the Check-in and Check-out tabs, there is some sample data provided for you to better understand how the template works.
Simply remove all data from within the white cells to get started with your own.
Step 2: Fill out your check-in and check-out
Once you've removed all the sample data from the Check-in and Check-out tabs, you'll notice that the Current inventory list and Dashboard tabs are empty.
To be able to track your own inventory in the template and its dashboard, start filling out your stock levels. The Check-in sheet is where you log all of the items you currently have in stock. Use the Check-out sheet to log every sale (or simply every time an item leaves your inventory).
Step 3: The Current inventory list automatically updates
Now you'll notice that the template automatically calculates how many items you have in your current inventory, by deducting the Check-out from the Check-in using Google Sheets formulas.
Step 4: Monitor stock in the pre-built dashboard
Finally, in the Dashboard tab, you will be able to see your key inventory metrics in a visually appealing way. Monitor the following:
Total items in stock
Top selling items
Sold out items
Average check-out items per weekday
Volume of items per day
Oversold items
That's it. That's how you use our simple, easy to implement Inventory management template in Google Sheets.
Looking for an expertly tailored inventory solution using your existing tools?
Spreadsheet templates like the above are great to start organizing a new process. However, when the process scales, you might start to struggle using only 1 spreadsheet to manage a more complex inventory process. Because of that, Sheetgo offers you the best of two worlds: the ease of use of spreadsheets together with the robustness of a specialized software.
The Supply Chain solution by Sheetgo transforms your spreadsheets into a custom, automated system and takes your inventory operations to the next level. Sheetgo's automation experts help to build the perfect workflow using your existing tools to drive efficiency and ultimately fulfill your control system objectives.
Sheetgo guarantees an easy to adapt solution to cover any type of inventory management. Integrating all aspects of inventory tasks, including shipping, purchasing, receiving, warehouse storage, turnover, tracking, and reordering.
The following features are included into the solution:
Forms to automatically check items in and out
Barcode scanner for mobile (for scan gun use)
Smart automation schedule
Custom built dashboard to monitor stock levels
Dedicated support by automation experts
Custom-built project for a long-term solution
Unique service package for each client
Inventory management in Google Sheets
This is how you easily monitor stock levels using the tools you're already familiar with: spreadsheets. No need to buy any expensive inventory software if you have these amazing templates and features.
If you prefer monitoring stock in Excel instead of Google Sheets, take a look at Sheetgo's selection of Top 10 inventory Excel tracking templates here.
Alternatively, take a look at the related inventory articles below.
Editor's note: This is a revised version of a previous post that has been updated for accuracy and comprehensiveness.