Whether you are a small eCommerce business or a major warehouse, inventory matters. You need to have accurate inventory information to make sure you are making the right top-level business decisions. Too much inventory can lead to profit loss, while not enough can mean you are not meeting the demands of your consumers. Inventory management is all about spreadsheets. If you are not a spreadsheet whiz, then coming up with a process can be a difficult task. In that case, using a free inventory template can come in handy.
Fortunately, there are many ready-made templates for inventory management. Today we compiled some of the best templates out there. You can use them out of the box, or customize them to meet the needs of your team. Some inventory spreadsheets might be a simple tally of what is in stock. Some solutions may need to be more complicated to help you track sales, delivery, and communication with suppliers. Let's start finding your perfect free inventory template.
How to use Google Sheets templates:
There are a few different ways to access Google Sheets templates for Inventory. Here is one way:
1. Open Google Sheets.
2. Click Template Gallery
3. Click on any template and it will automatically open into a new Google Sheet, with instructions on how to use it. 
There are currently only around 25 templates in the Google Sheets gallery, for both professional and personal use, but not all of them will be what you are looking for. Keep an eye out for new additions from time to time, but until then, you can check out some 3rd party inventory templates.
If you use the Sheetgo web app or add-on for Google Sheets, you can import data from an Excel file. The latest version of Sheetgo preserves formatting. So, if you find the perfect template out there online that is an "Excel" template, you can simply save it as a .xlsx or .csv file, and change it into a Google Sheets file using Sheetgo.
Let's take a look at the templates:
1. Basic Inventory
Here is a nice basic template to help you with simple inventory management. It is straightforward and easy to use. This would be great for small warehouses or shops that need to keep a regular inventory of stock or orders. You can even modify it to handlebar or restaurant inventory management. To get this template,> click this link, which will open the template in Google Sheets. It will be View Only. You will need to click File → Make a copy to make your own copy and get started.
2. Template Gallery Add-on
Some templates come packaged into an add-on. There is a website called Vertex42. Their website is traditionally a tips and templates website for Excel users. But they have recently made their templates available to Google Sheets users by creating a Sheets add-on! The add-on features many different kinds of templates, including a few for inventory. The best one is called Inventory Control Spreadsheet. To get it, get the Template Gallery Add-on, open it, and search "inventory" in the search box. Click Inventory Control Spreadsheet, and then Copy to Drive, then Open File. Click through the different tabs in the sheet to explore the functions of this template and learn how to use it.
3. Inventory management template by Sheetgo
Register all items checked in and out—in one spreadsheet.
Monitor your stock levels at-a-glance, in an automated dashboard.
View key metrics, such as top-selling items
Maintain healthy stock levels
This simple solution helps you track check-in and check-out items in a single spreadsheet. Get a copy of the inventory template here.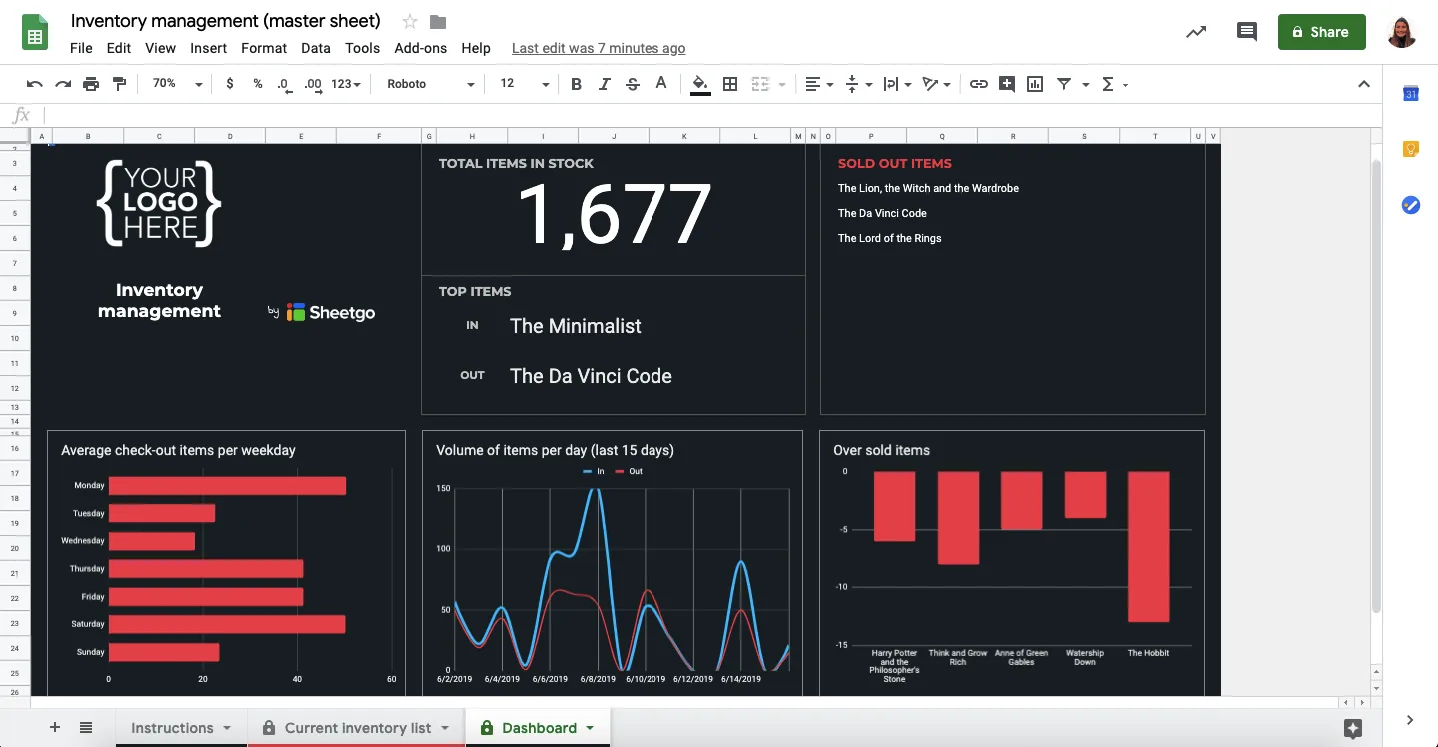 4. TradeGecko
TradeGecko is an inventory management software solution that has created an attractive and free inventory management workbook to get you started. This template is also view-only. So you will need to make a copy. Click File → Make a copy to make your own copy and get started.
5. Combine Forms with Sheets
A great solution provided by Google is to combine Forms and Sheets as a way to track inventory. Here is an example of a Form and Sheet that can work together to make inventory management easier. Make a copy of a Sheet and customize it to make it your own. You will need to create your own form to start the process. RetailOps has created detailed instructions on how to do this.
---
There you go!
If you're looking for the perfect inventory template to boost your Inventory Management you now have several free options to choose from! If you don't find the right fit and want a more advanced solution, check out our inventory template for an all-round inventory workflow solution.
Forget expensive inventory software. There's absolutely no need to invest time and money into a...
read more