Whether you are operating a small eCommerce business or a major warehouse, inventory matters. Accurate, real-time stock information helps you make the right top-level business decisions. Excess inventory can dent your cash flow and profitability. On the other hand, shortages prevent you from meeting customer demand. As a result, you can lose business to competitors. Spreadsheets are a great tool for inventory management, and Google Sheets is ideal. Online, free, and collaborative, Google Sheets allows you to manage your inventory data in real-time. If you're not a spreadsheet whiz, however, designing a system and writing all the formulas can be a challenge. In this case, a Google Sheets inventory template will come in handy.
Google Sheets inventory templates
Ready-made inventory templates help you record and analyze your stock levels. Here, we've compiled some of the best templates out there today. You can use them straight out of the box, or customize them to meet the needs of your team.
The basic options provide a simple tally of which items are in stock whereas more complex templates enable you to track sales, delivery, and communication with suppliers. Take a look at the range of templates here to find the best solution for your business.
Top 5 free inventory templates
1. Sheetgo inventory management template
Sheetgo's inventory template in Google Sheets
is a single file containing pre-built tables and formulas. The template gives managers a reliable way to track inventory and stock levels while providing warehouse or office staff with a simple method to log which items have entered or left the company. The spreadsheet contains the following:
Check-in: tab where the individual or team responsible records which items enter the company.
Check-out: tab where the individual or team responsible registers items leaving the inventory.
Current inventory list: automatically updates with the status of your inventory. Here you have an overview of your available stock per item.
An inventory management master sheet for the manager: This tab contains dashboards with an overview of current stock levels. Data flows into this file from the check-in and check-out spreadsheets automatically via the pre-built formulas.
2. Vertex42
Some templates come packaged into an add-on. This is the case with Vertex42. Their website was traditionally a tips and templates website for Excel users. Luckily, they have recently made their templates available to Google Sheets users by creating a Sheets add-on. The Vertex42 add-on features many different kinds of templates, including a few for inventory. The inventory template is called Inventory Control Spreadsheet. Firstly, install the Vertex42 add-on for Google Sheets, open it inside any Google Sheets file, and enter "inventory" in the search box. Secondly, click Inventory Control Spreadsheet, and then Copy to your Google Drive > Open File. Finally, click through the different tabs in the sheet to explore the functions of this template and learn how to use it.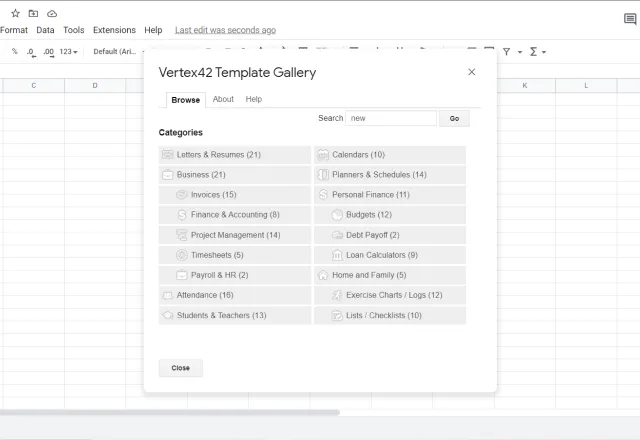 Get the template: Vertex42 (G Suite Marketplace).
3. TradeGecko
TradeGecko is an inventory and sales management software solution. They offer an attractive and free inventory management workbook to get you started. To get this template, click the link below and then click the Make a copy button. This will save a copy of the template to your Google Drive.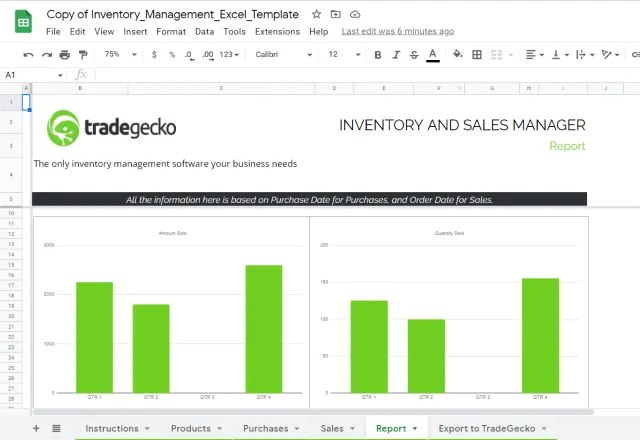 4. Basic inventory
This one is a basic template to help you start managing your inventory in Sheets. It's straightforward, no-frills, and easy to use. In particular, this would suit small warehouses or shops that need to keep a regular inventory of stock or orders. Alternatively, you could modify it for bar or restaurant inventory management. To get this template click the link below, which will open a new window/tab in your browser. Click the Make a copy button and start entering your data.
5. Combine Forms with Sheets
The last on the list is actually a tip for adapting your inventory template. Google Forms offer a handy way to check in or check out items.
Here is an example of a Google Form and a Google Sheets file that can work together to make inventory management easier. Make a copy of a Sheet and customize it to make it your own (File > Make a copy to copy the file). You will need to create your own form to start the process.
---
Did you like this Google Sheets inventory template article?
If you found this post helpful, share it with your network!