Top 10 inventory Excel tracking templates
Spreadsheets are a vital tool in tracking and managing inventory for all business sizes. Using Excel or Google Sheets to manage your inventory is a low-cost, and straightforward way. Although some large companies prefer to use advanced inventory software, it can be quite costly and complicated to introduce these kinds of systems. Even though inventory software has its perks, many companies simply don't need the kind of features that come with a complex inventory management system. Spreadsheets are enough. However, many business owners just don't know where to start! Fortunately, there are a plethora of great inventory tracking templates out there to get you started using spreadsheets to manage your inventory. We've aggregated some of the best for you!
Looking for an inventory management template in Google Sheets? Here at Sheetgo, we have a ready-to-use solution:
Running a small business and looking for a more basic solution? If inventory isn't central to your business and you need a simple solution to track check-in and check-out items in one spreadsheet, try our standalone template.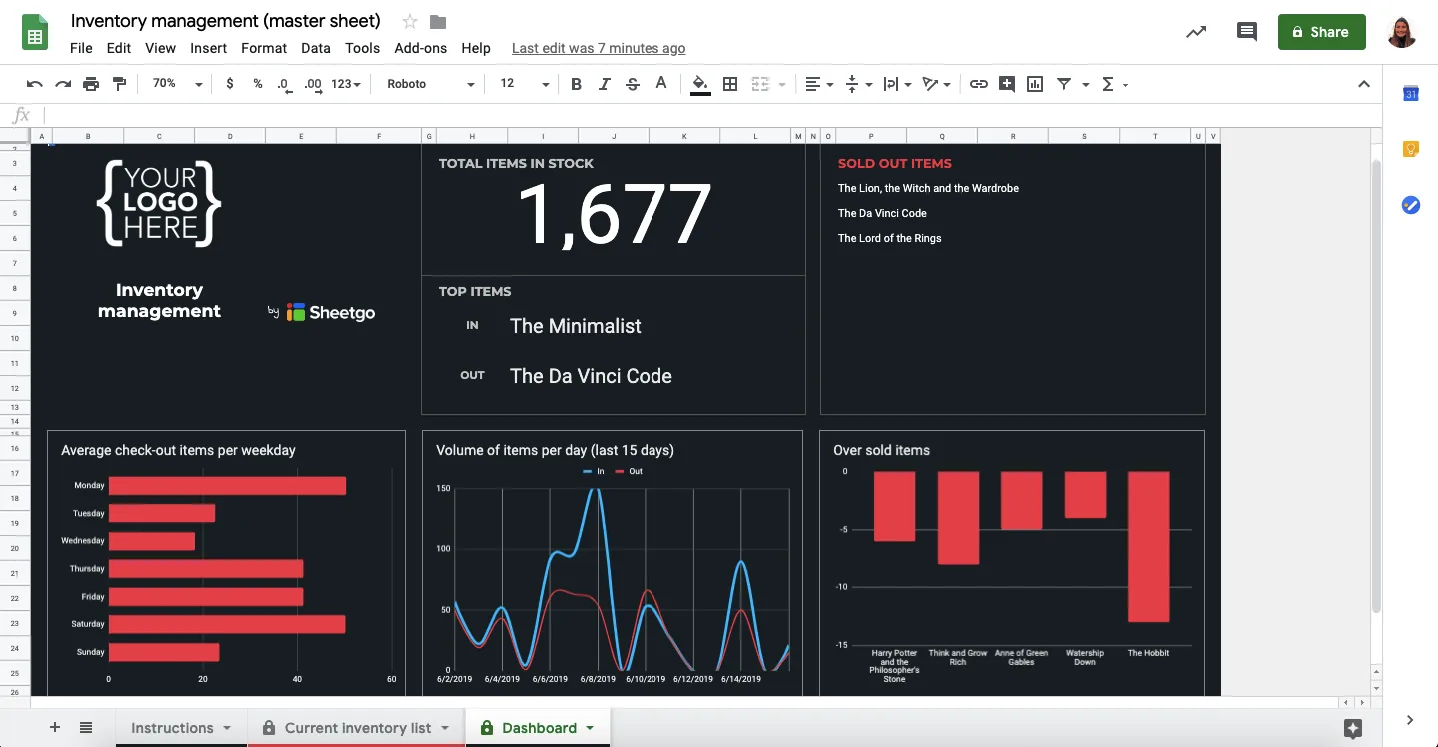 Now let's get to it!
Below you can find our top 10 inventory tracking Excel templates:
Top inventory tracking Excel templates
Inventory analysis
Vend offers a great Excel template that is free to download and use. The template has clear instructions on how to set up and use the system. It teaches you how to manage the sales tables and calculate metrics within the workbook. Use this template to track metrics like the cost of goods sold (COGS), inventory turnover rate, sell-through percentage, and conversation rates. All of the formulas are pre-entered for you, so you just need to type in your data and see the results!
Stock Usage
Excel Skills provides more than 40 premium templates for their users, including three designed just for managing inventory processes. They are not free, but they are high quality, unique, and come with extensive training resources built right into the template. This particular template includes 5 inventory pages to track stock usage and movement. Clicking the link will download the file.
Stock Inventory
This Stock Inventory Control template is provided for free by Vertex42. Vertex42 is the leading spreadsheet template resource on the web. They traditionally create spreadsheet templates for Excel but also have some great templates for Google Sheets users. Use this spreadsheet to update and manage your stock and keep track of your supplier information. This multi-page template costs $9.95 to purchase and is only available for Excel.
Software Inventory
Here is another great template offered by Vertex42. This software inventory tracker is perfect for companies with many software users and licenses. Track software descriptions and information, purchase information, and license details. It is free to download and use.
Inventory and Stock Management
Zervant is a well known invoicing company based in the UK. They provide some free, easy to use templates on their blog. And including a 3-page inventory and stock management template. The workbook includes tabs titled daily stocktake, stock inventory, and stock database. Along with the template, they provide really clear instructions on how to use the template right on their blog.
Food Stock Management
This template from Spreadsheet123 is for restaurants and cafeterias to manage food inventory and sales. This template is unique. You can use it in many different countries, as it has different currency, text, and measurement settings.
Inventory Management Workbook
We love TradeGecko's inventory management spreadsheet. It is free to use, and they offer some amazing tips on managing your inventory using Excel. Track products, purchases, sales, and view all of your data in a beautifully designed report from the dashboard right inside the workbook.
Beverage Stock Management
This is one of the best beverage inventory spreadsheet templates out there. It costs $39.95 to use, but you can download a locked version to see if it will work for you before you make the purchase. The one-time purchase is good for life and includes free updates. You can track specific volumes against sales to calculate profits more accurately.
Inventory Management from Excel Champs
This inventory template from Excel Champs is easy to use, with a free Lite Version, and a paid Pro Version. First of all, both versions have a sleek dashboard and an inventory in and out sheet. The Pro version allows you to manage returns and create invoices, and supplier reports.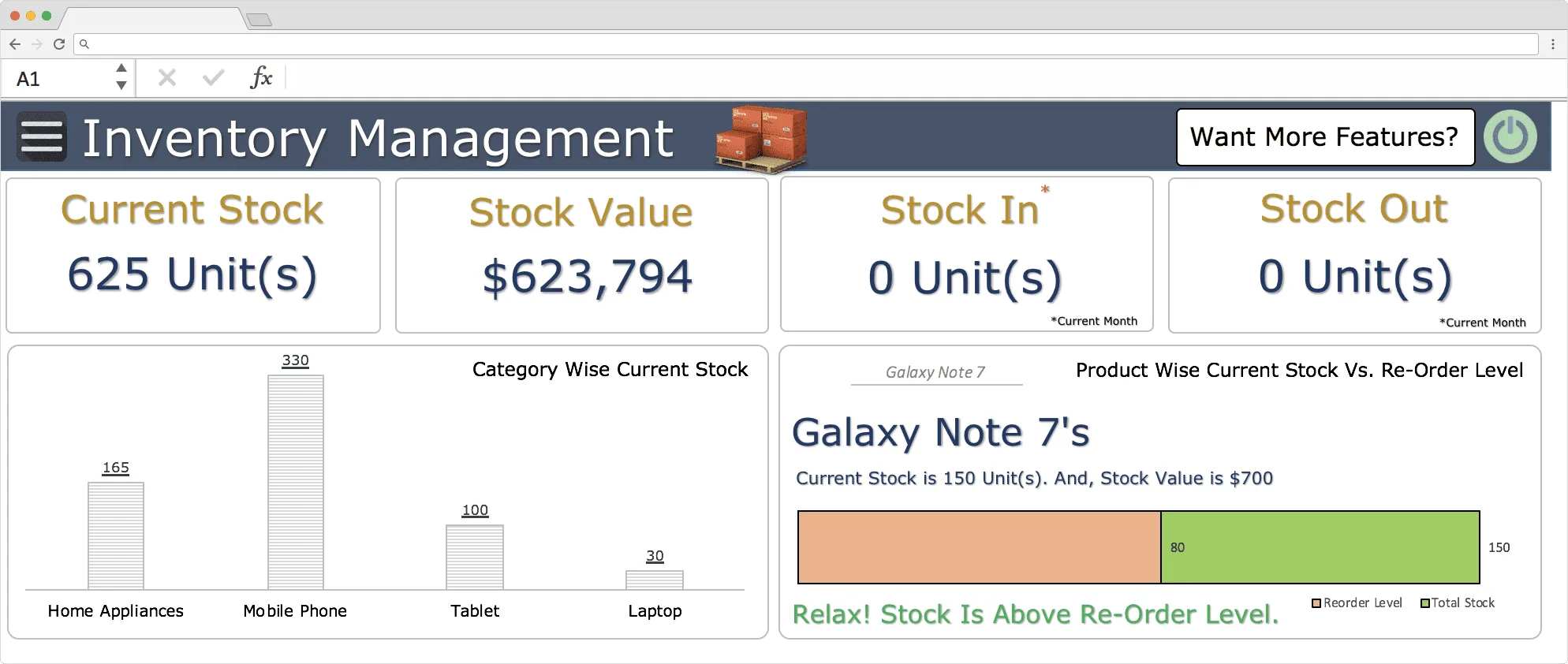 Home Inventory Template from Vertex42
This home inventory template is free from Vertex42 and a necessity for both homeowners and renters. This home inventory spreadsheet is primarily for home insurance purchases. You can log purchase information, serial numbers, model numbers, and photos of valuables in your home. You can easily tweak this template for office or warehouse purposes. Tracking home inventory is important. This will help ensure that insurance will cover you in case of fire, flood, or theft.
You are all set!
As you can see, there are many different inventory Excel templates available, for all sorts of business processes. With this selection of top 10 inventory tracking Excel templates, we hope you will find just the right fit to suit your inventory needs!