There are a variety of options available when it comes to creating a comprehensive inventory management system for your business operations. From simple spreadsheets to complex and expensive SaaS systems, organizations now have the ability to develop a custom solution that's right for them.
So does bigger mean better? Are the most complicated and costly solutions best for your company? Not necessarily. In this article, we show you how to create a fully customized and developed inventory management system just with Google products. This includes a step-by-step process on how to use Google Forms and spreadsheets for your inventory.
Combine Google Forms and Google Sheets to manage inventory
Many people don't realize the extent of power Google products have when they interact with one another. Not only do these tools optimize productivity and improve efficiency, they can be completely customized to fit around your stock management too.
In addition, this only costs a fraction of the price of a fully-developed inventory management system! Simply combine Google Forms and Google Sheets to create a full system from start to finish.
Furthermore, you also have access to hundreds of Google add-ons that further optimize your system!
Let's take a look at what Google Forms and Google Sheets have to offer as part of your system.
What are Google Sheets?
Google Sheets is Google's cloud-based spreadsheet tool that offers a variety of dynamic features. This web-based spreadsheet is free for anyone who has a Google account, and can be accessed from almost any device at any point in time.
Google Sheets is already a popular tool for inventory management. Even inexperienced spreadsheet users are able to successfully track incoming and outgoing items and calculate the stock on hand. Alternatively, more experienced spreadsheet users are able to create Google Sheets solutions that measure other metrics, such as the return on investment, turnover and gross margin.
Furthermore, many users also use Google add-ons on their Google Sheets to further optimize their inventory management systems. Discover more about these in our article on our Top 10 Google Sheets add-ons for inventory.
What are Google Forms?
Google Forms is another one of Google's tools that is completely free to account holders. It allows users to create free surveys that they can distribute both privately and publicly to their desired recipients. These forms are fully customizable to fulfill numerous objectives. For example, use these forms for pop quizzes for a class, customer feedback for companies, or even ways to sign up for an event.
With this complete flexibility, it's possible to use Google Forms in many ways to develop your inventory system. For instance, use a form to input inventory data that is directly sent to your spreadsheets for immediate management insights.
Now let's dive deeper into how exactly companies connect these two powerful tools to create their comprehensive inventory management system.
How are companies combining Google Forms and Google Sheets to manage inventory?
It is important to build your Google Forms and Google Sheets depending on the scale of your inventory. The complexity of your combination really depends on how and what it will be used for. For example, on a small-scale, use this combination to simply check-in or check-out items, such as books at a school library.
On the other hand, for huge inventory operations, use this system to track and manage entire warehouse operations from start to finish. As a result, you can send over data to different departments and connect entire processes.
In general terms, Google Forms acts as the solution to gathering recorded data, such as transactions, sales, incomings and outgoings. After that, this data is sent to Google Sheets where you track and analyze your entire inventory process. Let's take a look at how you can set this up.
1. First, create your inventory spreadsheet
Create a new Google Sheets spreadsheet and organize a template for each of your processes.
Sheetgo has a fully-developed, ready-made inventory management template that you can use. Simply copy the template and download it onto your Google Drive.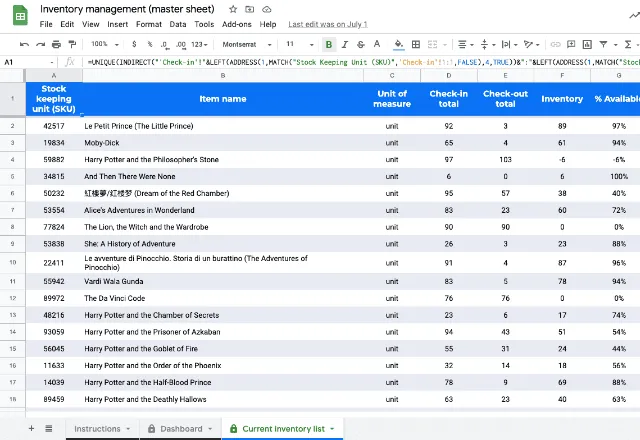 2. Create your form fields to automatically input data
Next, create your forms to input and record data. To do so, simply select Tools > Create a form. Here, create individual SKUs or product numbers to create individual entries.
On top of that, create actions like received, shipped, or returned to specify if items are going in or going out.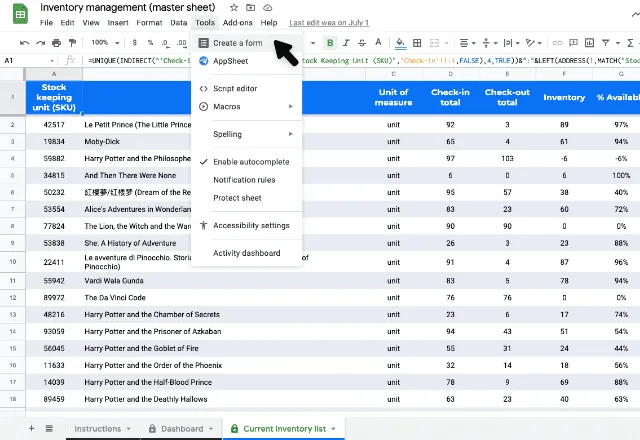 3. Share your forms to get your inventory management system running
Now that you have your various forms set up, begin to share these with members inside and outside of your organization.
As a result, you should receive instant updates into your main spreadsheet. Here's where you can now track and analyze the latest insights for your inventory!
Looking for an end-to-end inventory solution built on spreadsheets?
The Sheetgo inventory experts have built customized inventory workflows for dozens of companies. The system is entirely built on spreadsheets but automated and tailored to be adapted to your ever-growing customer demands.
The Supply Chain solution by Sheetgo allows you to:
Input data effortlessly: Record data accurately by using dynamic forms to register, check in, or check out items.
Expand your inventory management system: Add other workflows such as sales or finance to create an expansive data sharing system across the entire company.
Track items on any device: Use the Sheetgo barcode scanner to easily scan items and register their status from any device.
Monitor updates real-time: Visualize your inventory data in a dashboard to monitor your key metrics. With the smart automation schedule, Sheetgo transforms your raw data into actionable insights that are ready to share.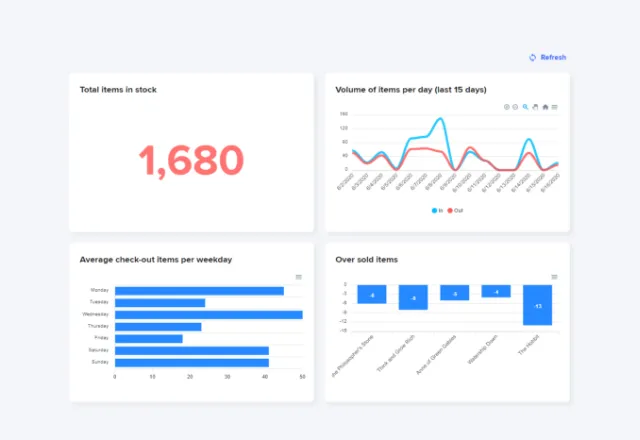 If you want to find out more about how to optimize your inventory management, check out our related articles below!
Editor's note: This is a revised version of a previous post that has been updated for accuracy and comprehensiveness.