Use OKRs to Measure Success
Objective and Key Results (OKRs) is a popular and effective method for setting objectives and goals and measuring performance. This method has gained a lot of notoriety. This because it is popular amongst big Silicon Valley names like Google, LinkedIn, Twitter, and Uber. It was developed by former Intel CEO Andy Grove and has been implemented by many successful companies to plan and evaluate organizational performance. Whether you are looking for a way to measure self-improvement, or make major strides in your business, follow the OKR method to track and measure your success! We have designed an OKR template in Google Sheets to get you fast-tracked for success. Let's break down the method, and get you started with our template tutorial.
Objectives
Before we introduce the template, first let's talk about setting objectives and goals. A cool spreadsheet won't help you achieve your goals if you don't sit down and take the time to break down the steps to get there. In other words, think of a goal as a destination, and objectives as the roadmap you need to achieve your goal. Objectives are the building blocks towards achieving goals.
Objectives should be SMART:
S – Specific
M – Measurable
A – Achievable
R – Realistic
T – Time-bound
By choosing SMART objectives and sharing them with your team or organization, you avoid any potential confusion. You should thoroughly account for all of the top-level goals of the organization, and each objective should be assigned to a responsible person or team. On top of that, it is best to have as much detail as possible when dictating tasks so that nothing is missed, shelved, or put on the wrong employee.
As a best practice, we recommend taking a top-down approach when setting objectives. So, first set company-wide goals, then divide responsibilities by department, followed by individuals. Remember collaboration is key, and you may find that it is best to make people from different departments work on the same objective. When assigning objectives to employees it is important to get their buy-in. Therefore we don't recommend that you dictate tasks and outcomes to your employees. Instead, have each member of your team adopt an achievable piece of the project through consensus. Having everyone onboard during the objective setting process will foster a sense of ownership for individual work, along with a sense of cohesion and community towards the end goal.
Key Results
Key results are the specific (numerical) goals that you must reach with each objective. For example, your objective is to be the online leader in your space. The key result might be to have the most monthly page visits as measured by Ahrefs. Key Results should be aspirational yet achievable. In other words, they should be sufficiently aggressive to push the individual to achieve them, but not so difficult that they will never be reached.
OKR Template in Google Sheets
Install the Sheetgo OKR template in Google Sheets by clicking the button below.
You will be asked to log in using your Google account. This will automatically create your Sheetgo account as well, after agreeing to the Sheetgo Terms and Conditions and authorizing Sheetgo to run the application on your Google Drive.
You will be redirected to the Sheetgo Web Application, where you will find the Company OKRs template. Take a look at the workflow design and description of the Template to get some extra information. To continue, click on the 'Use template' button.
Step 2. Open all spreadsheets
You can start using the template by clicking the spreadsheet icons in the Network View. The "Departments" folder is connected to the master spreadsheet "Company OKRs" using a consolidation, as seen on the image below.
Example
Step 3. Fill out the input spreadsheets
Inside your new OKRs folder in your Drive, you will now find the Master spreadsheet "Company OKRs" and a folder called "Departments". Inside this folder, find the separate OKR spreadsheets for each department. Send these to your Department heads in order for them to fill out their team's Objectives and Key Results.
These department spreadsheets each have a tab with instructions on how to make use of the template, and also a personal dashboard for them to easily track their team's performance.
Example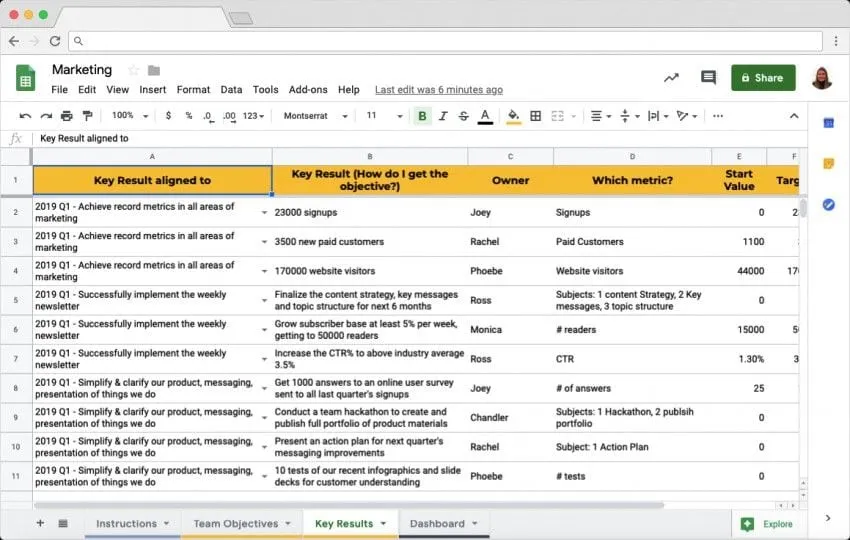 Step 4. Configure your template
Once every department has filled out their Objectives and Key Results, go back to the Sheetgo Web Application to update the consolidate connection between each of these department spreadsheets and the master spreadsheet "Company OKRs". This will bring all the information and progress per department inside the master spreadsheet where the overall team performance can be monitored on a dashboard. Take a look at the Actual Progress, or compare the Average vs Desired Progress per department.
Example
Congrats! 🙂
You've successfully set up your OKR template in Google Sheets. If you want to add more departments to your template, simply copy one of the department spreadsheets, make sure to store them in the same Drive folder, and enjoy using your automated Company OKRs monitoring template.