Many organizations use Objectives and Key Results (OKRs) for setting objectives or goals and measuring performance.
Developed originally by Andy Grove in the 70s, the method saw a rise in popularity after being adopted by tech giant Google. The OKR framework is arguably one of the catalysts that helped Google grow to its current size.
Meanwhile, the OKR framework has been adopted by many other fast-rising companies in the technology sector such as LinkedIn, Twitter, Dropbox, Spotify, and Uber.
What do OKRs actually mean for companies?
Every organization benefits from having clearly defined goals and metrics. This is where OKRs come in to help companies plan and evaluate organizational performance.
First, set clearly defined goals throughout the entire organization. Then, track the progress made towards completion to make sure these goals are being achieved.
The OKR method is designed to help teams:
Align targets across the entire organization
Set goals at the individual, team and company level
Reach ambitious milestones quickly
Encourage innovation
Is there a difference between KPIs and OKRs?
Both KPIs and OKRs are performance measurement tools. However, KPIs and OKRs are not the same things. KPIs (Key Progress Indicators) focus on reporting results. In contrast, OKRs are goal-oriented. Besides, OKRs are more specific and have results that can be measured in a numerical format.
Another difference is the time span. Once KPIs are set, they usually remain the same for an extended period of time. In contrast, OKR's are more short-term focused. As such, they track progress over a defined time period: usually a business quarter.
How can organizations track OKRs?
As mentioned before, the OKR framework is popular amongst tech companies in Silicon Valley. However, not only the tech giants benefit from using OKRs. Any company that works in a fast-paced business environment will find OKRs useful to achieve specific goals in short timeframes.
While many tools exist to help organizations manage their performance, there is no real need to invest heavily in expensive specialist software. Instead, create an effective OKR tracking system using an OKR template in Microsoft Excel.
Why use Excel to track OKRs?
Flexibility: Excel spreadsheets can be modified and changed according to your organization's needs and requirements. As such, there is no need for complicated software solutions or putting pressure on your IT department to build a customized system.
Accessibility: Whether you are working from a tablet, a desktop, laptop, or smartphone, managers and employees always have access to the workflow.
Compatibility: Microsoft Excel is easily compatible with other software that your organization might be using. Therefore, any related company data you already have is easily imported into Excel spreadsheets.
Ease of use: Many employees are familiar with spreadsheets and if they are not, it is easy to train them. Indeed, using an Excel-based template is ideal for beginners and advanced users alike.
What is an Excel-based workflow template?
Sheetgo's Company OKR template provides you with a complete system. The template workflow consists of separate Excel spreadsheets. These spreadsheets exchange data between them through Sheetgo connections.
Each employee manages their work privately. Besides, they can easily share their data with others in a few clicks. Consequently, companies are not bothered by slow spreadsheet loading because multiple people are working in the same file. Additionally, your data will remain private and secure.
Different teams submit different requests in their separate spreadsheets. The manager checks all sent requests and additional information in the master sheet.
In summary, an Excel-based workflow provides companies with outstanding organization, data privacy, scalability, and integration.
What you get with the OKR template in Microsoft Excel
When you install the Sheetgo OKR template, 7 Microsoft Excel files with pre-built Sheetgo connections are saved to your preferred cloud-based account:
Six Department spreadsheets in a folder. Rename and share these files with each team and make as many copies as you need for additional departments. The team uses their file to set their objectives and key results and to update their progress individually.
One Company OKRs master sheet for the manager(s). Data flows into this file from the Department spreadsheets, providing an overview of all Team Objectives and Key Results in tables and dashboard charts.
How to install the Company OKR template
Click here to install the template.
Log in to Sheetgo with your Microsoft account. As this template is based in Microsoft Excel, the files will be saved to your Onedrive or Sharepoint account.
Click Install on Onedrive or choose your preferred platform from the drop down list.
Please allow a few moments as Sheetgo creates the connections and saves a copy of the template files to your chosen account.
Company OKRs template
Google Sheets workflow template to track individuals' OKRs and progress per department.
Step 1: Share the department sheets
First open the Department files by double-clicking one of them in your main workflow. A new tab will open in OneDrive or your chosen cloud-based account. Here, you can find the different departments.
Next, select the relevant Department and click Share. Rename each department for the ones in your company. If you prefer working in Excel, simply click Open Desktop App after opening a file.
Step 2: Teams set their OKRs
The first step for each team is to agree on their objectives. Afterwards, enter these objectives into the Team Objectives tab.
Make sure that you give each objective a clearly distinguishable title to avoid confusion when allocating key results to each objective.
Keep in mind that objectives are not the same as goals. Goals represent a destination while objectives are milestones on the way to that destination.
Besides that, ensure that your objectives are S.M.A.R.T., that is to say: specific, measurable, attainable, realistic, and time-bound.
Step 3: Teams set their Key Results
In the Key Results tab, choose an Objective from the dropdown menu and enter how you will achieve that goal in Column B: Key Result. Remember that key results must be measurable.
Now type the name of the colleague responsible in Column C: Owner.
Then enter a Metric in Column D.
Finally, enter a Start Value and Target in Columns E and F.
The sample data contains some insight on what these values can look like.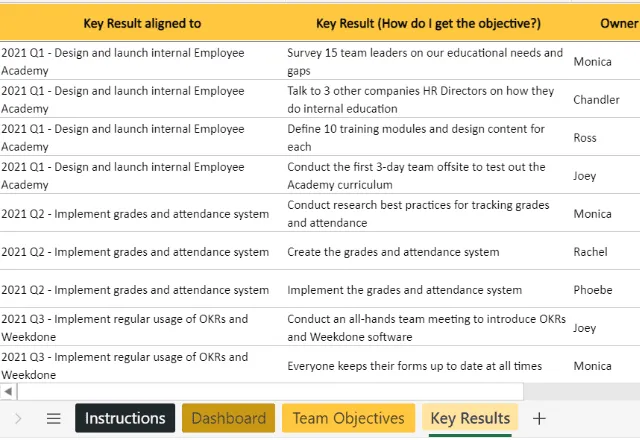 Step 4: Teams log OKRs
At this point, your colleagues are entering the progress towards their OKRs and have to fill out Column G: Current Value in the Key Results tab.
Step 5: Transfer the data
Once the template is set up and in use, it's time to pull the departmental OKR data into the master sheet.
To let the data flow into the master sheet, update your Sheetgo connections. Go back to the tab with your main workflow and then click Run.
Data now flows directly from the department files into the master sheet and dashboard.
Check how all employees are progressing in the Key Results tab.
Step 6: Automate your workflow
Data is regularly transferred, especially in busy companies that are growing rapidly.
Automation ensures you always have the latest OKR data from every department in your master sheet and dashboard.
Open the main workflow again and instead of Run, click Automate in the menu bar.
Choose your preferred transfer schedule and click
Save
to finish.
Check the usage summary at the bottom of the Schedule settings to get an idea of how many transfers you will be running per month.
How to add more departments
To add more department spreadsheets to your OKR tracking system, simply copy one of the department spreadsheets and add them to the same folder (named Sheetgo Templates > Company OKRs template) in your Drive storage.
Next time Sheetgo runs the workflow, the data from the new department spreadsheet will be included.
Congratulations!
Your automated OKR template in Excel is now up and running.
If you are looking for more workflow templates, check out the post on Sheetgo's Employee timesheet template in Excel.
Did you like this post?
If you enjoyed reading this post, share it with your friends and colleagues. And don't forget to take a look at the related articles below.