Want to learn how to level-up your Google Sheets workflow? Maybe your team is transitioning from Microsoft Office to G Suite and you are despairing at the thought of rebuilding all of your spreadsheets. Maybe you just want to become a Google Sheets power user.
Whatever your reason, there is one tool that can single-handedly supercharge your workflows. Google Sheets add-ons are third party integrations that work like apps for your spreadsheets.
How to access Google Sheets add-ons
Access add-ons for all the Google Workspace apps in the Google Workspace Marketplace.
From there, click on Works with Sheets to only see the Google Sheets integrations.
To access add-ons from the Sheets app directly:
Open a spreadsheet
Click the add-ons button in the navigation menu
Click the Get add-ons button
Search and install add-ons that work with Google Sheets
There are all kinds of add-ons in the Google Workspace Marketplace. They can make your spreadsheets work in ways that you've never imagined.
Today our focus will be on add-ons that improve your workflow, however. But first, let's define what we mean by workflow.
What are workflows?
Basically, a workflow is defined as a sequence of steps through which a piece of work passes from initiation to completion.
Workflows exist in every industry. This means that any process where work is completed can be called a workflow.
More often than not, a workflow is mapped, repeated, and refined to increase its productivity. Workflows can be mapped out using flowcharts and decision trees like the image below.
Here is where Google Sheets add-ons step in. They help streamline your workflows by creating a visual of your process.
But what's even more powerful is that they reduce your workload through workflow automation.
What is workflow automation?
Workflow automation is processing work without a person on the end doing the processing. Usually, it's done to remove repetitive and consistent steps (think of changing a file type or performing a calculation).
If your data passes through most of your workflow without human involvement, you save time. And we all know that when you save time, you save money. That's why workflow automation, along with all sorts of automation, has been on the rise in recent years.
Take a look at our list below. We compiled he top 10 workflow-improving add-ons for Google Sheets this year.
What are the top add-ons for improving workflows?
1. Sheetgo
With Sheetgo you can connect Google Sheets, Excel, CSV, and TSV files stored in Google Drive, Sharepoint, OneDrive, or Dropbox.
By connecting spreadsheets, you can build your own custom workflows that manage your everyday business processes for you.
Imagine that you want to send leads to your team of sales reps automatically, or combine financial data from multiple departments to generate reports.
Perhaps you have a small business and want to combine inventory and order data.
All of these processes can be automated with Sheetgo. Build a workflow from scratch or use one of the ready-made templates.
Sheetgo add-on
2. ProjectSheet Planning
Use ProjectSheet Planning to create a schedule and plan your important projects.
You can create and assign tasks and milestones, track progress, and link and chain tasks. On top of that, you can allocate resources and a budget to your workflow.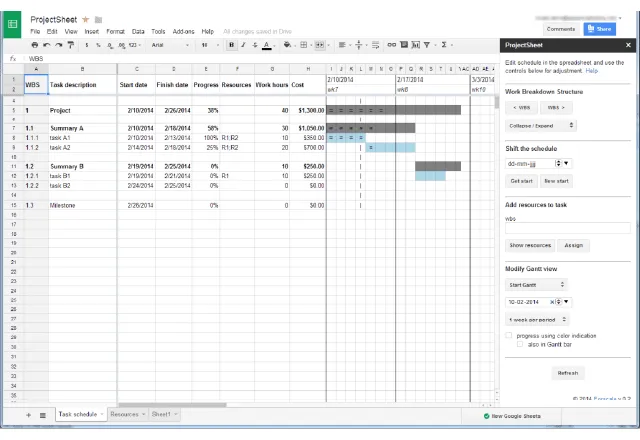 Projectsheet Planning is a powerful personal project management tool. It has a paid and a free version.
In the pro version you can assign a price per unit of time or resources and calculate your costs automatically, which surely is a time saver. It also protects you from undervaluing your work.
3. Yet Another Mail Merge
You might guess from the name of this add-on that there are many mail merge tools out there. So why should you use Yet Another Mail Merge?
In short: they have more than one million active users and are one of the highest rated add-ons in the Workspace Marketplace.
Now what does this add-on do exactly? Basically, it sends bulk emails from right within a spreadsheet! Whether it's a customer mailing list or notices for employees, automating the way you send out emails saves time and generate insights.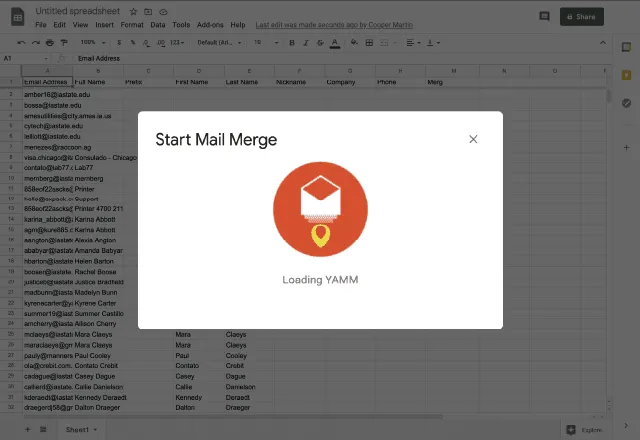 YAMM also tracks email receipts and opens, which are displayed on an intuitive dashboard within your sheet.
4. Power Tools
Next up is Power Tools. It is a popular add-on that allows you to quickly and efficiently transform the look and functionality of your spreadsheets.
The add-on has a powerful toolbar that improves the user experience of Google Sheets. You can quickly alter text, numbers or dates. On top of that, you can also merge, compare, or combine different sheets.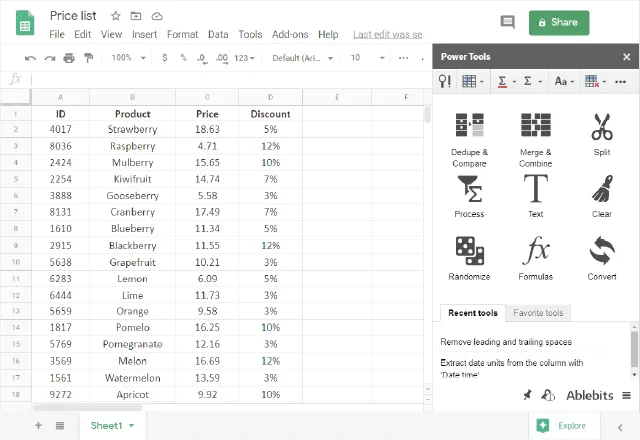 This add-on makes functions in Google Sheets a breeze. Their toolbar makes complex formulas as simple as pressing a button.
In other words, it's a great addition for anyone who's still getting used to spreadsheets.
5. LucidChart
LucidChart is a flowchart builder. You can create beautiful and enlightening flowcharts, logic trees, and other useful charts.
Their Google Marketplace add-on connects your Lucidchart account with your Google account and inserts charts into your Google Drive files.
Lucid Chart works with Sheets, Docs, and Slides.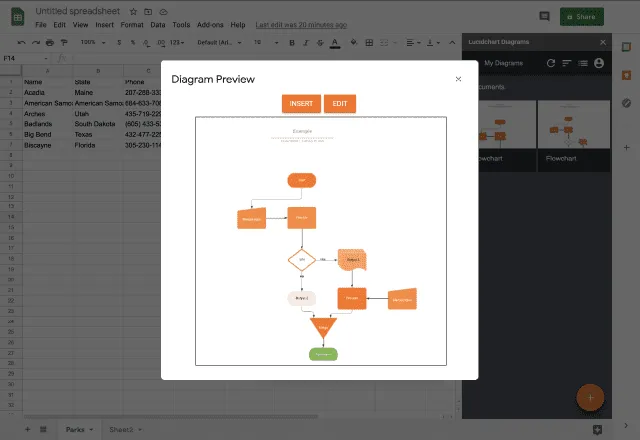 Lucidchart visualizes your workflows. That's how you'll never forget your process. Simply embed it into your spreadsheets.
6. AppSheet
AppSheet allows you to create apps based on your spreadsheets. Their app-building platform uses column headers and spreadsheet data to create a no-code app that you can share with teammates or clients.
Once the add-on interprets your data, it creates an app on their platform where you can adjust functionality and create polished apps.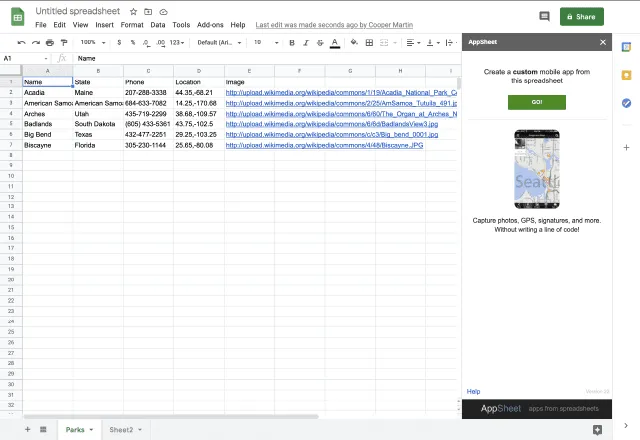 7. Form Workflow Plus
Simplify the approval processes in your workflow. Form Workflow Plus combines the power of Gmail, Forms, and Sheets to create a simple approval process.
Team members simply fill out a Google Form with the information they need approved (think creative work, timesheets, or time off requests).
That information is then synced to a Google Sheet where the team lead can get an overview of everything that's been submitted.
Finally, team leads receive an email that links to the Form Workflow Plus platform.
Here, they can approve, deny, hold, or return a workflow submission and send a message back to their team members.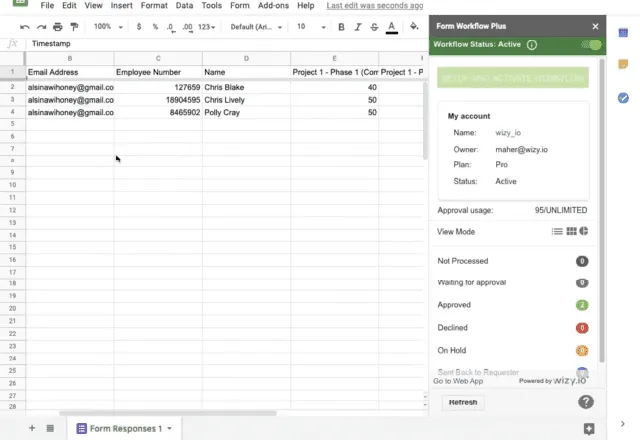 8. AutoCrat
AutoCrat creates Google Docs from your Google Sheets.
It is possible to automate the process by telling the add-on to run at certain time intervals, or when data is added through Form submissions.
It allows you to automatically fill client's contracts. As well, you can trigger customized emails whenever a new client fills out a form.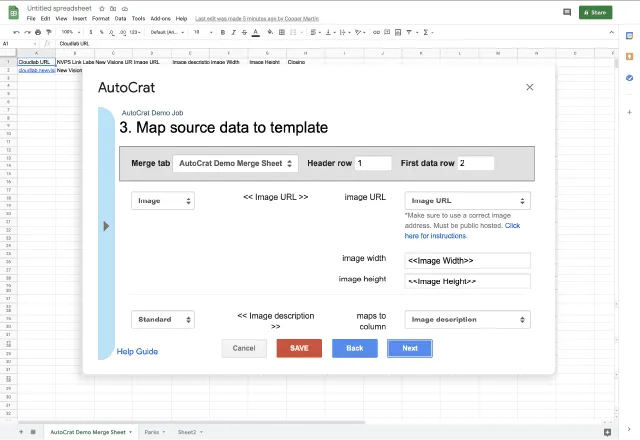 9. MailMeteor
MailMeteor sends templated emails from your personal email address.
First, list your contacts and their information like name, position, or a personal greeting in a spreadsheet.
Next you create a template in the MailMeteor platform and lastly, send the emails from your personal Gmail account.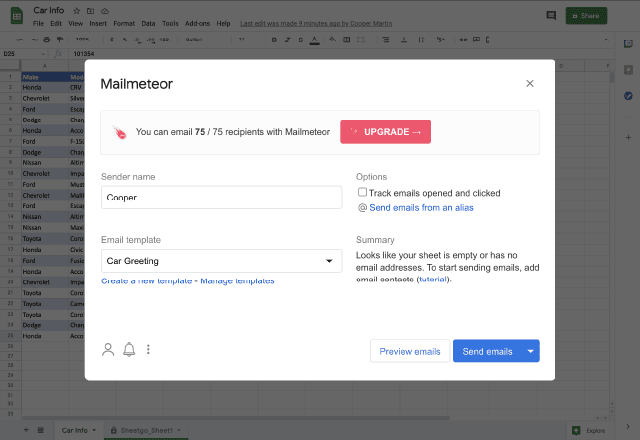 10. Presence for Meet
Presence for Meet integrates Google Meet and Google Sheets, letting you track and record meeting attendance and time in a spreadsheet.
With virtual classrooms becoming more and more common, this add-on is aimed at teachers, but it can be used by anyone running a team of people in a digital setting. It's very easy to use.
Simply enter the meeting invitees and the meeting code into your linked Google Sheet and attendance will automatically be tracked.
Get more out of your workflows with Google Sheets
That's it. With these ten add-ons, your Google Sheets is loaded with potential. It won't take much learning to supercharge your workflow.
To become a true Google Sheets power user, check out our blog's spreadsheets section where we've written a lot about Google Sheets functions, tips and tricks.