Do you routinely need to convert Google Sheets files to Excel? Often find yourself copy-pasting data from one file format to the other? A few years ago, nearly everyone used Excel to crunch their numbers and store their company's data. But now that Google Sheets is growing in popularity, it's becoming more common to work across both Microsoft and Google platforms.
When it comes to spreadsheet software, opinion is fairly divided on which option is best. Everyone has their preferred spreadsheet format, so even if you use Google Sheets, it's pretty likely that you'll work with colleagues, clients, suppliers, or customers who use Excel. For these reasons, many people need a simple way to export data in Google Sheets to Excel.
Working with Sheets and Excel
Google Sheets is brilliant for real-time collaboration. It's simple to share a spreadsheet, and anyone can access their data from anywhere, at any time. As a bonus, Google Sheets is free with a personal Google account.
Nonetheless, Microsoft Excel still has its die-hard fans — and for good reason. Many heavy spreadsheet users like Excel's advanced functionality and robust data processing power. In some cases, employers insist on Excel for security or standardization reasons.
Switching back and forth between the two file formats takes time and mistakes happen along the way. As it's cloud-based, Google Sheets automatically saves all changes. This means that whenever you open the file, you will always see the latest data. If you need to ensure that this information is regularly updated in an Excel file, manually saving new versions is time-consuming and unreliable.
You can solve these problems by connecting your Google Sheets files to Excel. This allows you to transfer Google Sheets to Excel automatically, with your data syncing at regular intervals.
How to export Google Sheets to Excel manually
Converting each file manually is straightforward from inside a spreadsheet.
Open the Google Sheets file you want to export.
Go to File > Download  > Microsoft Excel (xlsx.)
The Excel file downloads onto your computer automatically.
Pretty simple? Yes, and this method works well for ad-hoc file conversions.
But every time you want to update the data in the Excel file with fresh information from Google Sheets, you'll need to repeat the process. Then you'll need to manually save the file to the correct folder, or email a copy to the right colleague.
To save time, you can connect Google Sheets to Excel and sync data from one spreadsheet to the other automatically.
Why sync Google Sheets to Excel?
Export Google Sheets to Excel automatically.
Eliminate routine manual work —no need to download and save files.
Ensure your Excel files are always up-to-date.
Transfer selected data from Sheets to Excel, or sync an entire tab (sheet).
Move data back and forth between Google Sheets and Excel.
Prevent file conversion errors.
Share data cross-cloud, without sharing the same spreadsheet.
Send data to automated dashboards and reports.
How to convert Google Sheets to Excel automatically
Sheetgo is a no-code automation platform that allows you to transfer data between different spreadsheet formats automatically.
In a few clicks, you can link Google Sheets to Excel and send data from one spreadsheet to the other.
Whenever you make changes to the data in the Google Sheets file, it will be updated in the connected Excel file.
Here's how it works:
Step 1: Open Sheetgo
Click on the blue button below to open Sheetgo.
Sheetgo
As you can see, you have the option to sign in with your Microsoft, Google, or Dropbox account. You can connect files stored on any of those cloud storage platforms.
In the following example, I'll show you how to sync a Google Sheets file stored in Google Drive to an Excel file stored in OneDrive.
Step 2: Select your Google Sheets file
Inside Sheetgo, click on the blue Connect button to start building your Google Sheets to Excel conversion system.
Give your Untitled workflow a name at the top of the screen. Here I'll call it Google Sheets to Excel.
Under Select source data, click on Google Sheets.
Click +Select file to locate the file inside your cloud storage.
Select the file and it appears inside Sheetgo.
Under File tab, make sure to select the correct source tab (sheet) from the dropdown menu if your spreadsheet contains multiple tabs.
Step 3: Select your Excel file
When you have selected your Google Sheets source file and tab, scroll down and click the blue Continue button.
Under Send data, select Excel file.
Option A: Send data to an Excel file you're already using
Select Existing file
Locate the file from inside your cloud storage folder.
Note that your destination Excel file must be available online in order to connect it to Google Sheets.
If you're using the offline (desktop) version of Excel, this is not a problem. You simply need to backup and sync your desktop Excel files to a cloud storage platform such as OneDrive. If you need guidance, follow the tips below.
Are your files stored on your computer?
If you want to connect files that are stored locally (on your computer) you can set up an automated system to back up and sync files from your desktop to your online cloud storage service.
This enables you to create automated data flows using Sheetgo. It also keeps your files secure and allows you to access them from anywhere. Learn more.
Option B: Send data to a new Excel file
If you want Sheetgo to create a new XLSX for you, click New file. By default, this file will be saved to the main folder in the cloud storage platform containing your source file. To create the file in a different folder, or on a different platform, click Change destination folder.
Sheetgo will transfer your Google Sheets data to a new worksheet in the destination Excel file.
The name of this worksheet is displayed in the New File Tab box. By default, the name of the tab name is Sheetgo_SourceTabName. 
In this example, I want to send data from my Google Sheets file (stored on my Google Drive) to a new Excel file stored on OneDrive.
If you're creating a new spreadsheet, remember to give it a name in the File name box. Here I'll name it Imported inventory data 2021.
Create the connection
Click on the blue Finish and save button to create the connection. Sheetgo will now convert Google Sheets to Excel.
Sheetgo transfers the data from the selected source tab in your Google Sheets file to the new tab in your destination Excel file.
Click on Workflow to see how your files are connected.
Check out your imported data
From the Workflow or Files menu, double-click on the Excel file to open it in a new tab in your browser.
You will see that it contains a new tab (worksheet) with the imported data from Google Sheets.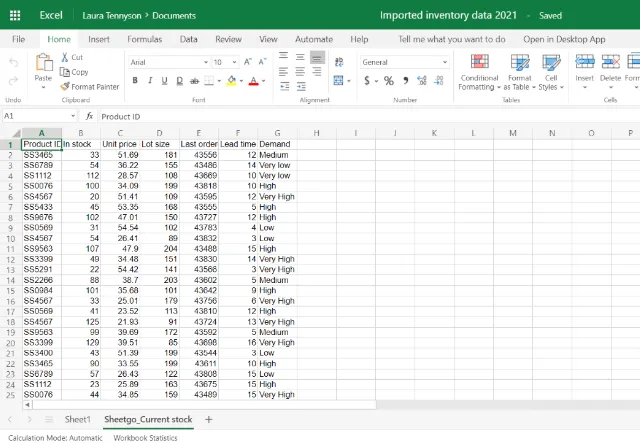 As the name of the worksheet indicates, this is a Sheetgo connected tab. Every time you update the connection, the data in this sheet will be refreshed with the latest information from the Google Sheets file.
For that reason, it's best not to edit or work on the data in this tab. We recommend you use formulas to transfer the data to another tab where you can manipulate and process the data. Learn more about how to edit your imported data.
Step 4: Update the connection to sync the files
Now that you have created the connection, you can update it at any time.
Open Sheetgo, select your workflow from the list on the left, and click Run on the menu bar.
This will refresh the data in the destination Excel file with the latest information from the Google Sheets source file.
Step 5: Automate the workflow
To make sure you always have the latest data in your Excel file, you can automate your Google Sheets to Excel connection.
Open the workflow inside Sheetgo and click Automate on the menu bar.
Schedule automatic updates as often as you need them.
Choose how frequently, and at what times of the day or week, you want Sheetgo to update the connection.
Want to export data from multiple Google Sheets files?
If you want to consolidate (combine or merge) data from multiple Google Sheets files into one Excel file, just add another file to the connection.
After you have selected your first Google Sheets file, click +Add another source file.
Select the additional file from your cloud storage.
Select the correct source tab. This tab must have the same name as the first source tab.
Click Finish and Save.
To add another source file after you have already completed the connection, open Sheetgo and choose your selected workflow.
Go to Connections > ⋮ > Edit connection.
Under Source data, select +Add another source file.
Note that the tab name must be the same in every source file, in order to consolidate the data correctly.
If you want to merge data from a large number of Google Sheets files, it can be more efficient to consolidate an entire folder. Check out our complete guide for more help on merging Google Sheets data into one.
Your automated Google Sheets to Excel converter is up and running
That's how you convert Google Sheets to Excel, syncing the two spreadsheets so that your Excel files automatically update when someone makes changes to Google Sheets.
Want to do this the other way around? Read how to upload Excel to Google Sheets automatically.
Did you like this post?
Thanks for reading! If you found it useful, please share it via the social media buttons the left and check out our other spreadsheet tutorials below.