Amazon has come a very long way in terms of its product offer. By now, it has a very wide selection of products, including pretty much anything you can think of. It's also a great way for third-party sellers to offer both new and used versions of many of these products. That's where Amazon price trackers come in. They are a great tool to use to carry out a quick price comparison to determine the price you can sell your products to outcompete other sellers.
As a seller, you need to keep a close eye on the prices of competitors, as well as your own. Using these tools combined with Amazon Seller Central, you can create flat files containing information on product prices and characteristics for an easy comparative overview. There is a range of solutions available online, but which one is best for you?
Without further ado, let's look at the best tools available to gather summarized price histories for multiple products. Then, let's see how you can use Sheetgo to combine your flat files for a customized price-tracking solution.
What are Amazon price trackers?
A price tracker is a website, app, or add-on that provides historical price data for products sold on Amazon. Most of these tools allow you to search by ASIN, product link, or keywords. Each tracker provides different functionality, but all provide information on the product's price history.
These tracking tools tend to be aimed at buyers looking for a good deal, however, you can use their functionalities as a seller, too. For example, you can set up notifications to warn you when Amazon – or other sellers – raises or lower prices beyond a specific target value.
Why use Amazon price comparison tools?
Amazon sellers need a flexible and responsive pricing strategy. This requires keeping a close eye on the competition and market demand.
There are many benefits to using a price-tracking solution:
Keep frequent track of competitors' pricing and sales: These tracking tools allow you to keep a close and constant eye on other sellers' product pages. This means you can continue to monitor key data whenever and wherever you want.
Respond to pricing changes in real-time: You can receive instant notifications when a specific seller has adjusted their prices or a new seller has appeared. This allows you to adjust your own prices in real-time to respond to your competition.
Avoid manual errors: There's no need to copy and paste the data yourself, reducing the risk of any data errors that may cost you a sale.
Save time: Using a tracker ultimately saves you a huge amount of time from scouring each product page and manually copying the data into your own files. Simply add the URL of the product page and the data appears!
Now that you know what a price tracking tool does and how it can benefit you as a seller, let's explore the top 3 online price trackers available today.
Top 3 Amazon price trackers for 2022
1. Camelcamelcamel
Camelcamelcamel's tracker offers basic functionality but is completely free. You can search for products using the ASIN, URL, or keywords. It provides a price history chart, including Amazon prices and third-party new and used prices. Additionally, you also get details on the price history and the product itself.
You can also set up 'Price Watches' for individual products. These allow you to specify a product, the type of seller, and your target price. When that price is reached, you will receive a notification via email.
Get the Camelcamelcamel price tracker here.
2. Keepa
Keepa's price tracker is a more complex solution for tracking product prices. The freemium subscription allows you to search by ASIN, URL, and keywords. In addition to tracking prices for Amazon and third-party sellers, you can also keep track of Lightning and Warehouse deals.
In terms of tracking, you can specify the range of historical data and the duration of the tracking. The free service also provides a list of 'variations' – similar products with slightly different characteristics.
The subscription to advanced data services costs $19 a month and offers additional features for sellers. These include the Product Viewer, Top Seller List, and Category Tree, which let you drill down to specific products and prices.
Get the Keepa solution here.
3. AMZ Insight
The AMZ Insight price tracking tool targets sellers more directly. In addition to product tracking, they offer Buy Box tracking, competitor tracking, keyword ranking, and the possibility of searching for profitable niches.
While they offer more functionality than other similar tools, it definitely comes at a price. Monthly subscriptions start at $39 monthly for a researcher account, with 100 credits. Tracking uses up 1 credit, so you can track 100 products with a basic account.
Get the AMZ price tracker here.
By combining these tools with the Amazon Seller database, you can extract a comprehensive overview of all of your competitors' product pricing and information to help determine your pricing strategy. However, the way this data is managed is far from ideal.
From both trackers and the Amazon Seller Central reports, your data will be fragmented into multiple files of data. Even when you import this data into spreadsheets, you're still left with individual files. This makes it extremely difficult and time consuming to switch between the various files to compare all prices.
Luckily, you can use Sheetgo to automatically combine these files into one comprehensive spreadsheet. Let's go into more detail below.
How to use Sheetgo to merge your pricing data
To solve the problem outlined above, you can use the Sheetgo merge feature to combine all of your product pricing data into one single spreadsheet, for a comprehensive overview of data that saves you hours of time and effort when determining your pricing strategy.
With Sheetgo, not only have you access all of your pricing information, but you can seamlessly keep track of the original sources of your data. This means that when you identify key parts of your data, you have a clear reference to the original source.
Use the following steps to create your own comprehensive pre-tracking system inside the Sheetgo web app!
Step 1: Install Sheetgo
Signing up for Sheetgo is easy! Simply click on the blue button below and sign in with your Microsoft, Google, or Dropbox account.
Sheetgo
Step 2: Designate a folder for flat files
Next, you want to import all of your Amazon data into spreadsheets to create flat files. Then, add them all to a single folder.
You will use this to merge these files into a single spreadsheet.
Step 3: Create a new workflow
On the homepage of the Sheetgo web app, click on + New workflow.
From the Explore page, where it says From New connection, click on Create connection.
Step 4: Add your source folder
You will be asked to select a source for the data.
Choose the Files in a folder option.
Click on + Select folder to browse your folders. You can select a folder from online drives like Google Drive, OneDrive, Dropbox, etc.
Choose the folder where you added all of your flat files.
Once you have selected the folder, click on Settings at the bottom to expand the options.
Step 5: Identify the source
In the extended settings area, under Identify Data, activate the Add new column button to keep track of the original source file.
You can choose how to identify the data from a dropdown list, including source file location, source file name, and source tab name.
Once finished, click Next.
Step 6: Merge files
Under the Process section, click on Merge.
This will combine all of your flat files into a single spreadsheet.
Step 7: Choose a destination file
Now it's time to choose where your combined data will be stored. Under the Send to section, select to send your data to a Single file.
Here, you can choose whether to send the merged data to a new or existing spreadsheet.
Here, I will create a new file for my data. Create a new file name and file tab name.
Once finished, complete your workflow by clicking Finish and save.
Step 8: Run the workflow
Now that your workflow is complete, it's time to run the connections to update your new spreadsheet with all the data.
Click on the Workflow menu, and select Run in the bottom-left corner.
Step 9: Open your file and filter your data
In the merged file, you can add as many filters and conditions as you need to focus on different aspects of the data.
Customize your spreadsheet to provide you with the exact data points you need to carry out your pricing strategy.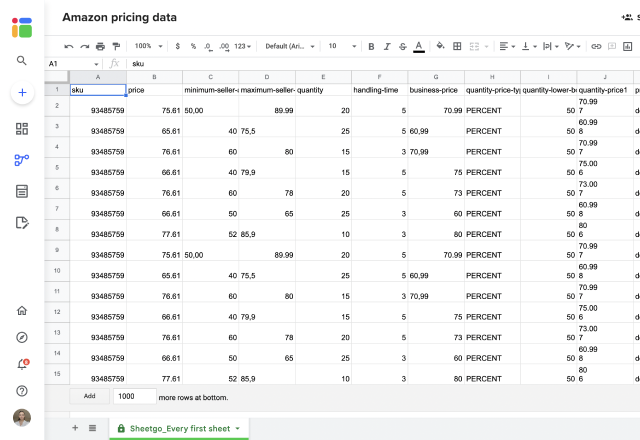 And there you have it! Using the top price tracking tools and the Amazon Seller Central, you can get all the pricing data you need as flat files, in order to position your own prices at a competitive edge. By using Sheetgo to merge and filter these flat files, you can have access to all your information in one place, whilst also having direct references to all of your original sources.
Looking for a way to help monitor your Amazon product inventory? Why not check out our article on how to create an automated Inventory management template in Google Sheets?Alternatively, take a look at some of the related blog posts below!