Google Forms is a powerful and easy-to-use data data collection tool which is part of Google Workspace. It is a widely used tool for creating different types of forms, including surveys, questionnaires, and quizzes. If you want to make the most of this form builder tool and all its features, check out this step-by-step guide on how to create a Google Form.
A step-by-step guide on how to create a Google Form
Benefits of using Google Forms
There are many benefits of using Google Forms. Some of these benefits include:
Price:

Google Forms is free to use and includes 15 GB of storage per user. 

User-friendliness:

You don't need to be tech savvy to create a Google Form. Due to its user-friendly interface, you will be able to create forms regardless of your level of expertise.

Integration:

Google Forms is part of the Google Workspace suite. Therefore, it integrates seamlessly with other Google Apps. You can easily link it to Google Sheets and transfer all the data to a spreadsheet.

Accessibility:

You can access Google Forms from any computer or mobile device with an internet connection.

Collaboration:

You can easily share your forms or invite other users to collaborate on it.

Flexibility:

It's a very flexible tool that can be used for multiple purposes: quizzes, questionnaires, surveys, feedback forms, and many more.
Different use cases for Google Forms
The possibilities are endless. You can use Google Forms for multiple purposes and across all departments. Some of the use cases include:
Customer service:

Create forms to collect feedback from customers. 

Questionnaire and surveys:

Create questionnaires and surveys to collect information for your research or project.

Job applications:

Build a job application form to collect data from applicants.

Purchase order forms:

Build custom order forms to collect orders for your products or services.

Lead generation:

If you want to generate leads, you can create a contact form to collect data from leads.

Quizzes:

Build engaging quizzes to assess your students' performance. 

Wait lists:

Create a waitlist form to collect and manage lists of potential clients.
Google Forms and its features
Google Forms offers a wide range of options you can choose from. Whenever you add a question, you can choose the type of question that best suits your needs.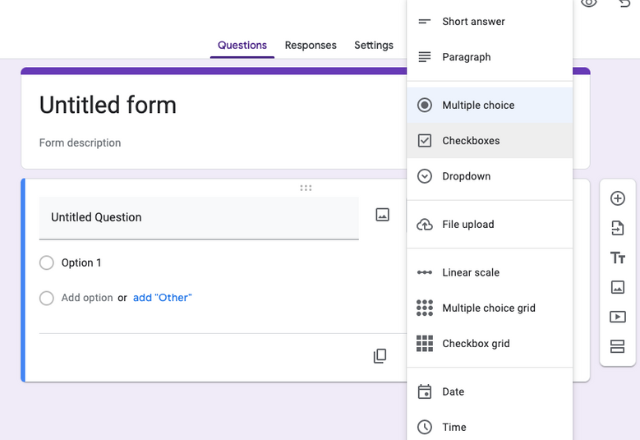 Short answer:

Get short and open-ended answers from respondents.

Paragraph:

Collect more detailed and descriptive answers from users.

Multiple-choice:

Create multiple-choice questions and let respondents choose one or more options from a list.

Checkboxes:

Allow users to choose items from a list by selecting the boxes.

Drop-down:

Let respondents choose the answer from a dropdown menu.

File upload:

Allow respondents to upload files and documents.

Linear scale:

Ask users to rate a question within a predefined range.

Multiple-choice grid and checkbox grid:

Compare and analyze answers with a table format. Respondents can select an answer for each row. The checkbox grid lets users select multiple options for each row.

Date and time:

Users are able to select date and time.
Step-by-Step Guide: How to create a Google Form
Step 2: Create a new form: choose a template or start from scratch
Select Blank to create a new form from scratch. Alternatively, click Template gallery and choose from the multiple pre-designed forms.
Step 3: Choose a title and write a description
Edit the title and write the instructions to help the respondents fill out your form.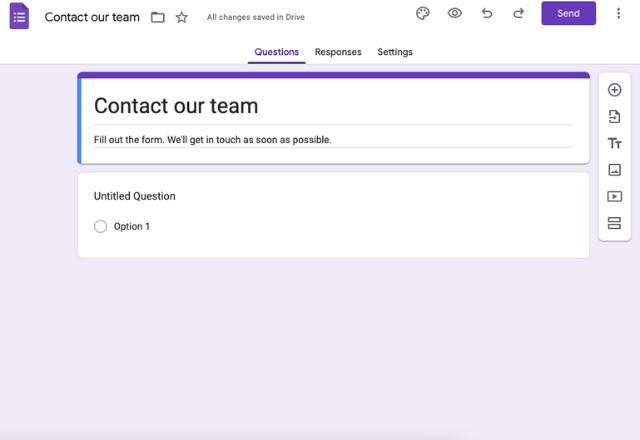 Step 4: Add questions
Click the + button to add a new question. 
Choose one of the 9 different question types: short answer, paragraph, multiple-choice, checkboxes, drop-down, file upload, linear scale, multiple-choice grid, checkbox grid, date and time. 
You can also add images and videos by clicking on the icons in the right sidebar.
If you want to create a new page, click on the Add section icon in the right sidebar. When you add a new page, respondents will have to fill out the first section before moving on to the next.
Step 5: Customize the form theme and design
If you want to customize your form to your liking, click the color palette icon in the top bar menu.
Customize the text style by choosing the font type and the font size for the headers, the questions and the text.
You can also customize the header by choosing one of the images available or uploading a photo from your collection.
Last but not least, choose a background color.
Step 6: Change settings
Click settings to customize your forms. You can choose from different settings to design custom forms that will suit your needs.
For example, you can turn your forms into a quiz. This allows you to assign points, set answers and provide feedback automatically. 
You can also manage how responses are collected. You are able to choose if you want to collect email addresses, send users a copy of their answers and allow respondents to change their responses after submitting the form. You can limit the form to 1 response If you don't want to let respondents fill out the form twice.
Step 7: Share the form
Once you've finished setting up your form, click the Send button to share your form.
You can send your form via email by adding the email addresses, customizing the subject and the message, and clicking the Send button. 
Alternatively, you can click the link button and get a shareable URL you can send to respondents.
Step 8: View and manage responses
Click Responses to view and manage all responses. If you click Link to Sheets, you can transfer the data to a Google Sheets file.
Take your data collection to the next level with Sheetgo Forms
You have successfully created your Google Form.
If you want to use more advanced features and take your data collection to the next level, you can create automated workflows to collect data from a form and transfer it to a spreadsheet. With Sheetgo Forms, you can:
Create forms automatically from your spreadsheet data;

Enable data validation to ensure users enter only valid data;

Build forms that will trigger automated workflows based on form responses;

And many more.
Check out this head-to-head comparison between Google Forms and Sheeto Forms and find out which of these tools is the best fit for your business.