6 Google Sheets templates your business needs in 2019
Making sure your company grows to its biggest possible potential is a challenging task. Luckily, there are many useful tools available for us to incorporate into our business workflow. The ever-growing technology allows us to manage huge amounts of data with just the click of a button. But, let's be honest, sometimes it can get very overwhelming to face these massive amounts of information. Let alone report from them.
This is why we set out a handful of templates below, that will help you in not only registering your data but also closely monitoring it on a relevant and customizable dashboard. Take a look at these Google Sheets templates and find exactly what you need to boost your business just that extra bit more!
1. Automated income statement template
Also known as the Profit and loss statement, the Income statement is one of the most important financial statements because it is indispensable for your business. The income statement shows the company's revenues and expenses from a particular period. It indicates how the revenue is transformed into net profit, after deducting the expenses, interests, and taxes.
This Google Sheets Income statement template is made to let you easily register your income and expenses, and automatically transforms this data into a monthly income statement that will show you the exact state of affairs on a monthly basis.
2. Invoice generator template
The creation of invoices is a heavy and repetitive task, especially when your business requires many different suppliers. Use this Google Sheets invoice generator template to automatically generate your individual invoices into PDF, using a single template that will automatically populate your supplier data into the file. Simply fill out the spreadsheet with your supplier and invoice information, and let the template do the work!
3. Inventory management template
It is highly important to manage your inventory levels in the most efficient way possible. Because the more efficient your production process, the lower your carrying costs and the more customers you will be able to acquire and serve. This Google Sheets inventory management template has a simple but highly useful interface and allows you to keep track of your stock in an automated way.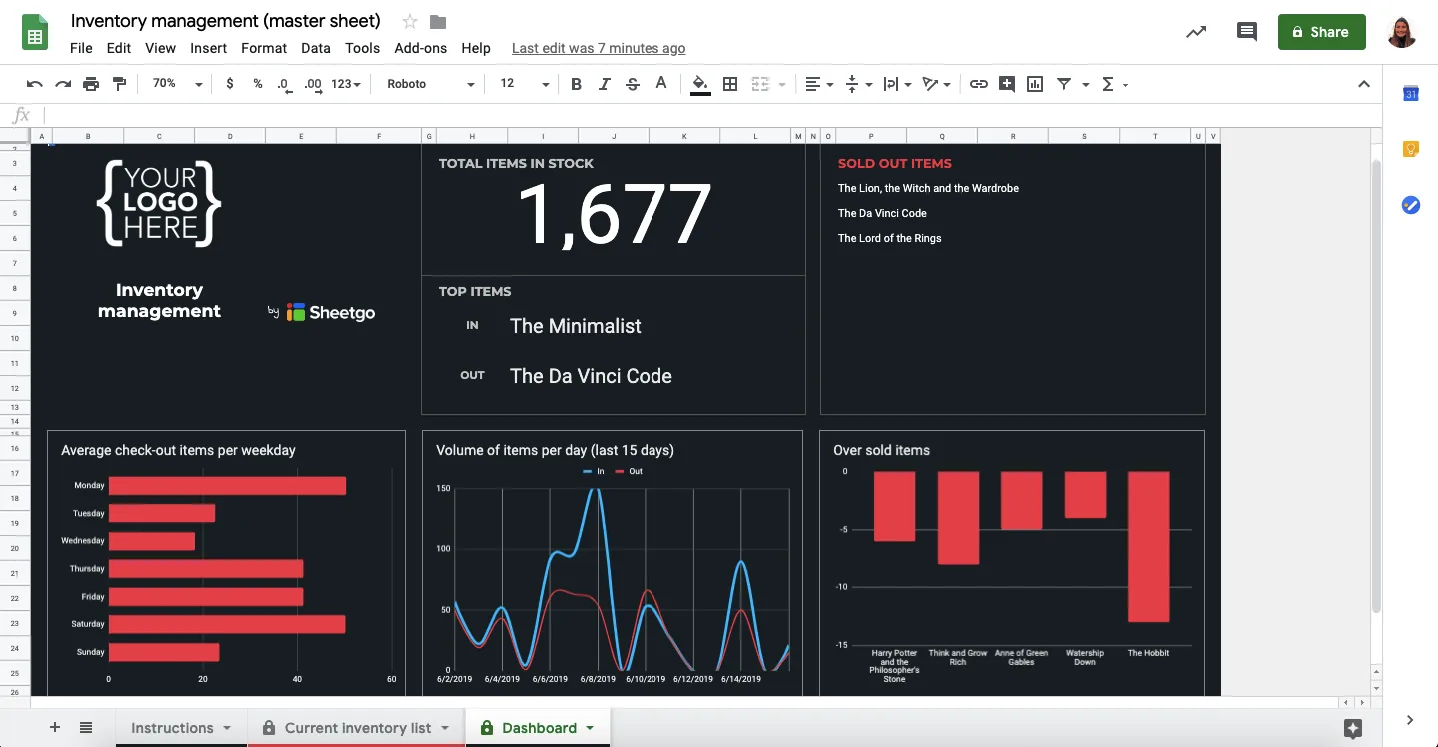 4. Company OKRs template
No better way to track your company performance by using the Objective and Key Results method. The way we achieve things is by setting goals and strictly monitoring the process towards reaching that goal. This Google Sheets Company OKRs template consists of individual department spreadsheets to input their OKRs and a dashboard that helps you easily monitor the progress of each of those departments in reaching your company goals.
5. Cash flow template
Cash is king! This phrase has been used so many times, simply because it is true. Cash plays such a huge role in a company's life cycle and a healthy business monitors its cash balance very strictly. Use this Google Sheets cash flow statement template to input all accounts receivable and accounts payable and analyze your cash balance in a monthly cash flow chart.
6. Marketing KPIs template
Last, but certainly not least, we created a Marketing KPIs template in Google Sheets to keep track of all your marketing channels in a single spreadsheet. It can get very complicated to manage content marketing, SEO, SEM, email marketing, and social media at once. This is why we've created this template so you can easily monitor the Key Performance Indicators of each of these important marketing channels.
There you go!
6 simple and incredibly useful Google Sheets templates that will help you save time by automating your repetitive manual tasks! Check out our Template gallery for even more useful templates.