Making sure your company grows to its biggest possible potential is a challenging task. Luckily, there are many useful tools available for us to incorporate into our business workflow. The ever-growing technology allows us to manage huge amounts of data with just the click of a button. But, let's be honest, sometimes it can get very overwhelming to face these massive amounts of information. Let alone report from them.
This is why we set out a handful of templates below, that will help you in not only registering your data but also closely monitoring it on a relevant and customizable dashboard. Take a look at these Google Sheets templates and find exactly what you need to boost your business just that extra bit more!
Why use Google Sheets templates
The greatest and most widely available tool for data manipulation is Google Sheets. Compared to other spreadsheet softwares it is one of the best options. Unlike other programs, Google Sheets is free, cloud-based, multi-user friendly, and — because it's part of G Suite — integrates nicely with other Google products like Gmail.
However, Google Sheets alone isn't enough to keep up with the fast-paced business world. To do that, you need more than just a spreadsheet; you need a spreadsheet with superpowers.
Spreadsheets with superpowers
For Google Sheets, templates are as close as you can get to super-powered spreadsheets. They're basically prebuilt spreadsheets designed to do specific tasks. Templates combine formatting and functions to make spreadsheets perform in a certain way. That saves you from having to build something yourself.
Another reason templates are great is, it provides the structure for growth. When tracking your business processes, it's hard to know where to start. All of the templates in our list give you the framework to get a hold of your business and develop with it. Over time you can adjust, add to, or improve upon the functions of the templates in this list to suit your business as it achieves growth.
Below is our list of the top 6 Google Sheets templates your business needs and how they can take your business from just keeping up to supercharged. Want to get started straight away? Click here to browse all of Sheetgo's automated templates.
1. Automated income statement template
Income statements are indispensable for your business. This is the sheet that tells you if you're profitable or not. Also known as the profit-and-loss statement, the income statement compares expenses and revenue over a certain period of time, usually monthly. It takes money-in and money-out and shows the net earning of your business. It's important to keep an eye on your total income while you track more nuanced expenses like interest, taxes, and uncategorized expenses.
This Income statement template lets you register your income and expenses, and does the calculations for you. Avoid wasting time crunching numbers and get back to the things you love about your business. No more errors in your numbers. No more running it twice, just in case you missed something. This template takes the mathwork out of keeping track of your company's profitability. You no longer have to spend long nights with your nose in a pile of receipts. Record all of your expenses and revenue, or upload them as a CSV file, and you're done. It's as simple as that.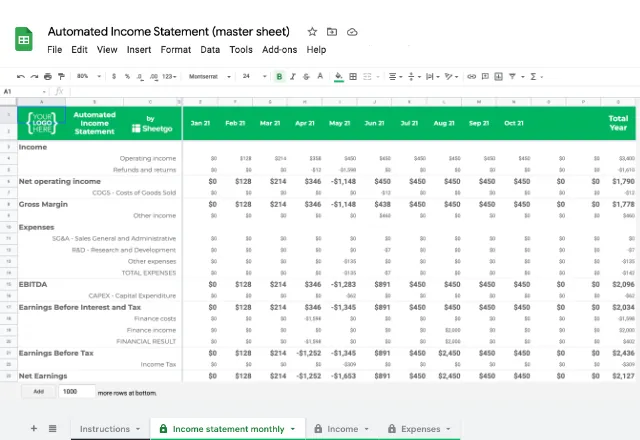 Income statement
Track income and expenses and generate an automated statement report.
2. Invoice generator
For any business, invoices are a constant hassle. Especially when you're creating them for services from various clients. Use this Automated invoice generator to simplify the process. Follow the instructions in the article linked above and you'll be able to create custom invoices from your clients' raw information and export them as Google Docs & PDFs, before sending them out via Gmail automatically. All from Google Sheets.
This is a very powerful tool if you work with invoices. Design your template once and never bother with it again. Simply fill in the information for the person you're sending the invoice to, and their custom invoice is created instantly when your workflow runs.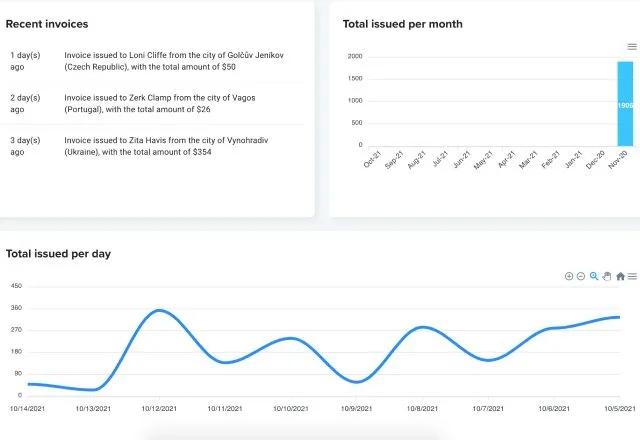 3. Inventory management template
Keeping your inventory manageable while sustaining all your customers can seem like a magic trick. If you're not efficiently tracking all the data related to your stock, you're losing money to overhead and carrying costs that could be spent bringing in new customers.
This Google Sheets inventory management template comes with a powerful dashboard to help visualize the different areas of your inventory strategy. Generate insights without having to lift a finger with this template.
Your money is precious. Don't keep it locked away in imprecise stock numbers. Upgrade your inventory report with this great template. Serve more customers with better supply distribution.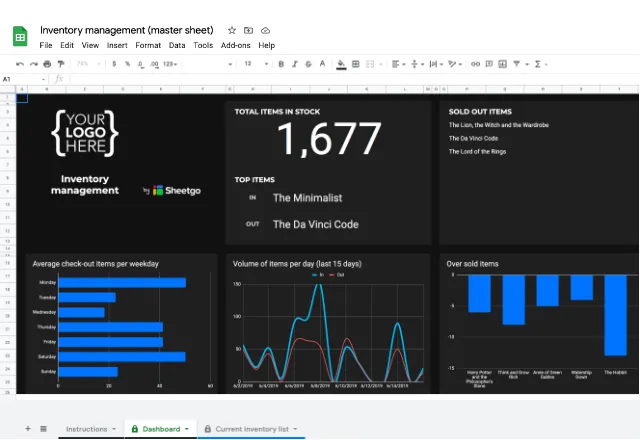 Inventory management
Spreadsheet-based workflow template to check items in and out and monitor stock levels.
4. Company OKRs template
OKRs (Objective and Key Results) are a great way to promote goals for your teams or employees. Over the past five years, teams have begun to adopt quarterly, monthly, or even weekly OKRs. To see how your teams are performing, you need a sturdy tracking system in place. If you don't have the time to build an OKR tracking system, your teams might be stuck reporting for no reason. Decentralized OKR reporting across your organization means the insentive to set and achieve goals diminishes.
Use this Company OKRs template to take advantage of a detail-oriented OKR tracking system without wasting time on building it yourself. Each of your team members reports on their OKRs. That data is then synced to a master sheet where you or your team leads can get a better picture. Making it easier for you to adjust and pivot for underperforming areas or to push over-performing departments even further.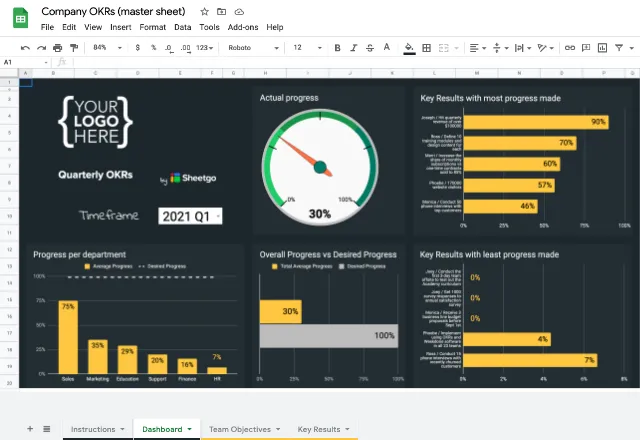 Company OKRs template
Google Sheets workflow template to track individuals' OKRs and progress per department.
5. Cash flow template
Cash is king! Money plays a huge role in how you run your business. A healthy organization monitors and maintains its cash-on-hand very strictly. To keep your numbers precise, you need a system that does the math for you. There is no room for mistakes when it comes to your balance sheet.
This Cash flow statement template lets you track accounts receivable and accounts payable and automatically generates a monthly cash flow report. Not only will this save you from creating calculation errors, but it also generates an intuitive dashboard that makes decision-making simple.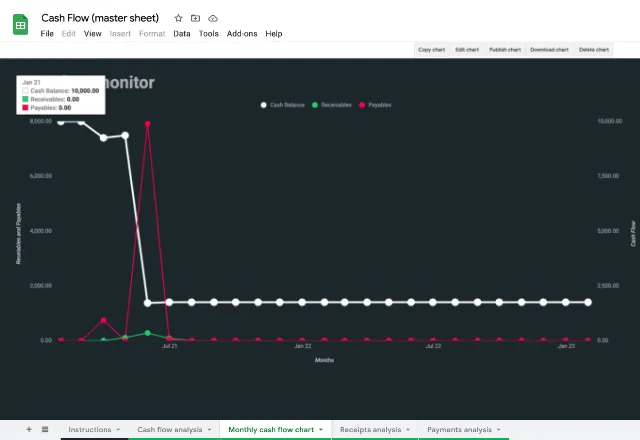 Cash flow template
Spreadsheet-based workflow template to track payments, receipts and your cash balance.
6. Marketing KPIs template
Last, but certainly not least, is this Marketing KPIs template. Track all of your marketing efforts through this single spreadsheet system. Tracking all the different marketing channels your company uses can be tricky. This single spreadsheet system can combine SEM, SEO, email marketing, content marketing, and social media marketing among many others. Each channel has their own KPIs (Key Performance Indicators).
That's why it's important to keep track of them in one place and gain awareness of their progress. Do so with this great dashboard and reporting system. Whether you have different team members assigned to different channels, or it's just you and you need to keep your head on while you manage everything, this dashboard is for you.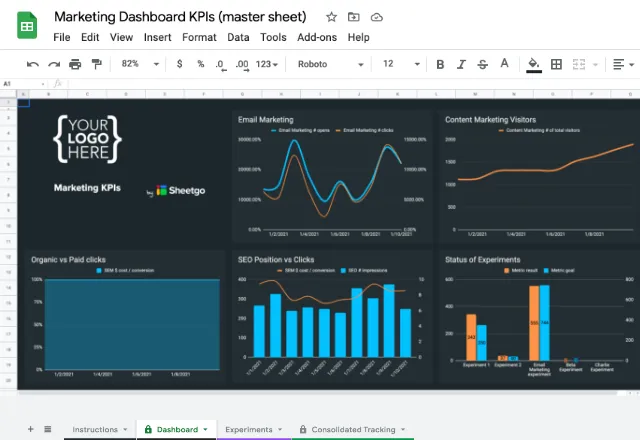 Marketing KPIs template
Template to track your marketing KPIs and different channels in your automated dashboard.
Final thoughts
There you go! Six amazing Google Sheets templates. Automating repeated tasks and manual data entry is one of the quickest ways to increase production in your company. Find more templates in our template gallery.
Once you have a robust system of templated spreadsheets in place, your business will be free to do the things that make money instead of the clerical work of reporting financials and growth metrics.
If you're interested in using these templates, but some of your team is using Excel, reach out to one of our experts for a demo. Sheetgo's premium option lets you use data in Excel and Google Sheet files. It automatically updates with your master spreadsheet for seamless teamwork across platforms.