Working from home, or working remotely, can come as a big shock if you haven't done it before. And if you're a manager, maintaining team cohesion and keeping projects on schedule poses an even bigger challenge.
Luckily, the recent growth in cloud-based software (tools that you access via your internet browser, rather than those that you install directly on your computer) is enabling all of us to do our work anywhere, at any time. Plus it's helping us to stay connected to colleagues and even recreate the feeling of working together, side by side. Here we'll show you how to use Google Sheets-based templates to share data and boost remote work productivity in your team.
Want to get started straight away? Take a look at Sheetgo's Google Sheets-based templates here and boost your productivity.
Using Google Sheets to boost remote work productivity
If you've got important Excel files stuck on your desktop back in the office and you're now sitting at home, this might be the time to switch to Google Sheets. Although Microsoft also offers online spreadsheet software (Excel Online, part of the Office 365 package) it hasn't quite caught up with Google Sheets. Sheets, like the other G Suite apps, was built as cloud software. It's intuitive, light and flexible.
For remote teams, the key strength of Google Sheets (along with Google Docs and Slides) is its collaborative functionality. Google Sheets allows multiple people to view and edit the same spreadsheet at the same time. Depending on how you set the permissions access controls, you can allow people to view the spreadsheet, leave comments and/or edit (change) the data inside the sheet. All they need is the link (URL) to the file and a Google account.
Collaborating in Google Sheets means you no longer need to send files as attachments. And because the data is updated in real-time, you never need to contact your colleagues to check figures. You will always be viewing the latest information and changes are saved automatically.
Increase team connectivity
Although Google Sheets is collaborative by design, you can take data sharing to another level by connecting spreadsheets in an automated Sheetgo workflow. Sharing files is great, but very often you may need to restrict who can access certain data. Aside from data privacy concerns, too many "hands" touching the same spreadsheet will increase the risk of errors. In larger organizations, or when sharing information with external stakeholders, it might not be feasible to share the same spreadsheet with everybody.
You can create a streamlined workflow of connected spreadsheets to automate any business process and get your remote team working together more productively. Here are our top 10 templates for collaborating across time and space— and boosting remote work productivity.
Project & performance management
Although it's fairly easy to replace the daily team meeting with a video call, keeping track of who's doing what is not so simple when your team is geographically separated. The biggest problem is effective communication. It's not unusual for remote workers to spend a large chunk of time simply discussing what they are doing. "Let me know when you've finished X". "Send me the file when it's ready." "What's the ETA for the project." You can cut back on all many of these time-consuming and tiring virtual conversations by replacing them with an automated, spreadsheet-based system.
1. Plan and track projects in a remote team
Use Sheetgo's project management workflow template to allocate tasks and receive status updates from your colleagues automatically. You organize and control the project, timescales, priorities, and tasks in your master spreadsheet. Your master sheet is connected to multiple individual spreadsheets (one for each of your team members) via Sheetgo connections. When you add new tasks to the master sheet, the data is sent to the appropriate colleague automatically. Each team member has the autonomy to manage their own work, and keep track of progress in their own spreadsheet. When they complete a task, the data is sent back to you automatically.
Monitor progress in the automated dashboard
No new software, just spreadsheets
Ready-to-use template
Customizable
Project management
Google Sheets workflow template to allocate tasks, get status updates and track progress.
2. Track remote work productivity
When you don't have a team working under one roof, it's a challenge to gauge how long is being spent on specific tasks. Sheetgo's Timesheet Management template allows you to keep tabs on how long each project is taking.  As a result, you can re-allocate resources or adjust schedules and plans if needed.
Here's how it works: You plan the breakdown of projects and timeframes in your master sheet. The data is sent automatically to your team members' personal spreadsheets, via Sheetgo connections. They simply update the status of each task and the data flows back to your master sheet. You retain a full overview of who is doing what, plus how long it's taking them.
Ready-to-use automated workflow
No need for status updates via email
Give staff autonomy to manage their own time
Get an at-a-glance overview in your dashboard
Timesheet management
Google Sheets-based workflow template to track how long your colleagues spend on tasks.
3. Monitor team performance and OKRs
It was a trend that started in the tech industry, but today a huge range of companies in every sector use the Objectives and Key Results  (OKRs) performance measurement system to set targets, motivate teams and align goals. When your team is working remotely, especially in a large organization, it's hard to monitor how everyone is progressing towards their OKRs.
Use Sheetgo's Company OKRs template to organize and track OKRs for each individual, team, and department. Every department has its own spreadsheet which they update. The data flows directly into your master spreadsheet via Sheetgo connections. You get an up-to-date overview of progress across the entire company in the automated dashboard.
Automated OKR tracking
Keep tabs on individual and team performance
No software, just spreadsheets
Company OKRs template
Google Sheets workflow template to track individuals' OKRs and progress per department.
Education
Schools and educational institutions can shift their classes online with the help of video software, messaging tools such as Slack and Microsoft Teams and course management systems like Moodle and Google Classroom.
But as every teacher knows, there's a lot more work that goes on behind the scenes besides the actual teaching. From planning a syllabus, to tracking grades and creating reports, education involves a huge amount of administrative work. If you are a teacher working from home or an administrator organizing a team of remote staff, you can lighten the admin workload with user-friendly and affordable, spreadsheet-based systems. With Sheetgo, you can connect one spreadsheet to another in a streamlined, automated system, eliminating emails, calls or the risk of lost information.
4. Manage student attendance remotely
Use Sheetgo's attendance management template to record student attendance and share the information with administrators. With this user-friendly system, every teacher fills out their own spreadsheet, marking which students are present or absent at each class using the simple tickboxes and dropdown menus. Each teacher's spreadsheet is connected to the administrator's master sheet, via Sheetgo connections. The data flows automatically from the teacher's spreadsheet to the administrator's spreadsheet, giving school managers an instant overview of attendance across the school and saving teacher's precious time.
Simple and automated attendance tracking
Save time on communication, emails and calls
Share and manage student data remotely
Attendance template
Spreadsheets based workflow template to record and analyze student attendance.
5. Share student grades data
Record all your students' grades in one secure place and share that data with school administrators automatically using Sheetgo's Gradebooks Management template. In this user-friendly system, teachers log student grades for each assignment in their own spreadsheet. Sheetgo connections transfer the data to the manager's master sheet automatically, where the automated dashboard provides an at-a-glance overview of achievement levels per class or assignment.
Audit assignments, students and teachers
Eliminate emails and copy-pasting
Customize the template to suit your school
Gradebooks management
Spreadsheets workflow template with teachers to track student grades for different classes.
Finance & Accounting
When you're not working in the same office, data sharing and communication becomes more cumbersome. Sending emails and spreadsheet files with attachments is an option, but it's pretty inefficient as files can be out of date and checking or querying specific figures takes a lot of back-and-forth communication. Google Sheets has a powerful sharing function, but when you're handling sensitive financial data, it's not always feasible to share the entire spreadsheet with others. You can copy-paste data from one sheet to another but that raises the risk of manual error and it's a real drag on time. 
With Sheetgo's automated templates, you can push and pull data between spreadsheets in highly-controlled and streamlined workflows, to boost remote work productivity. By keeping data in separate, but connected, spreadsheets you can share information across your distributed team instantly while retaining control over data access, ensuring lighter sheets and better data.
6. Monitor cash flow in a remote team
Finding and collating data is one of the biggest drains on productivity, whether your team is in the office or working remotely. Many of us experience more delays when colleagues are working in other time zones or simply working on a different schedule. Use Sheetgo's Cash flow template to keep tabs on your cash flow more easily with an automated workflow, pulling data from your receipts and payments departments or the responsible colleagues.
Monitor cash flow with connected spreadsheets
Lighter processing with separate sheets
Get accurate data in the automated dashboard
Cash flow template
Spreadsheet-based workflow template to track payments, receipts and your cash balance.
7. Compare your budget vs actual spending
Remote budget tracking is easy if you use an automated system. Connecting spreadsheets enables you to collect and analyze data compiled by colleagues, no matter where they are located. Sheetgo's Budget vs. Actual template pulls income and expenses data from separate spreadsheets into your master sheet. The automated dashboard gives you an immediate overview of income and whether each project is on budget or not.
Automated data collection from across the company
Better budget control
No back-and-forth communication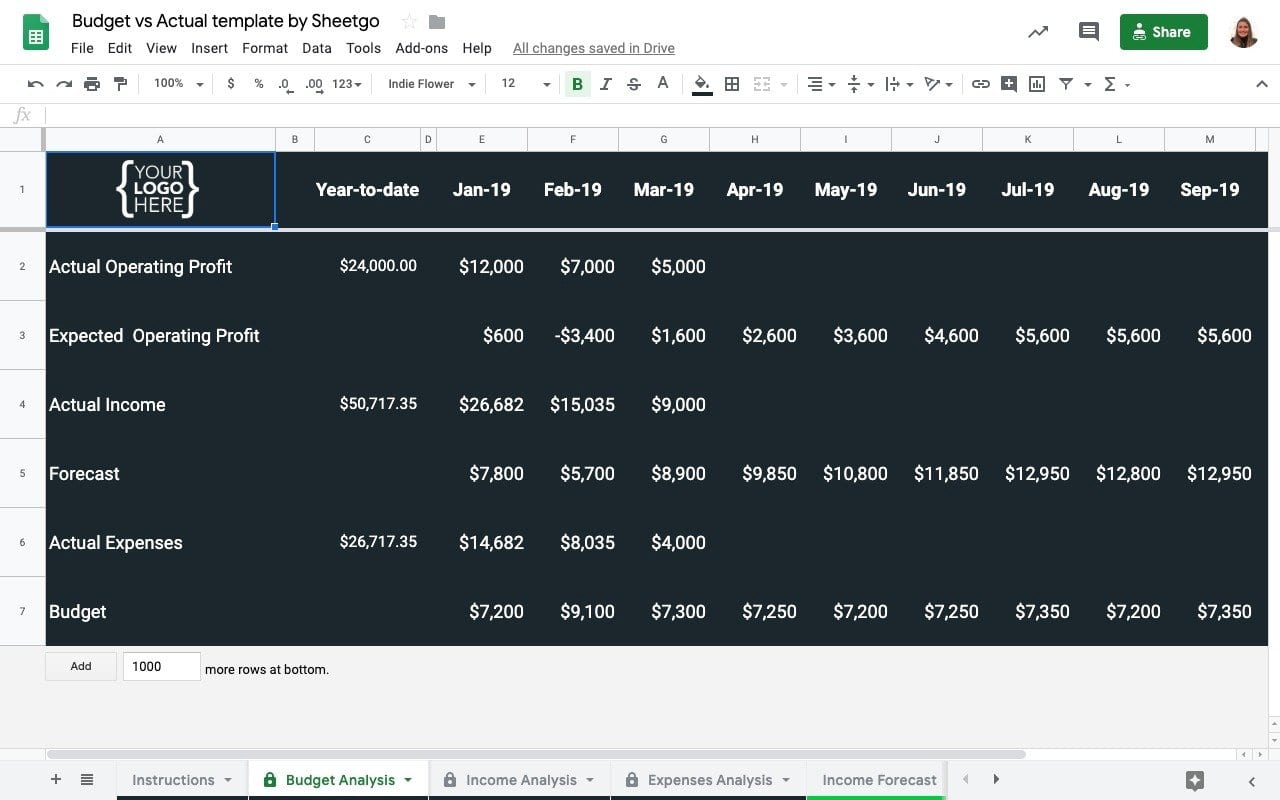 Budget vs Actual template
Workflow template to track income & expenses, comparing actual spending vs budget.
8. Manage staff expenses
"Don't forget to submit your expenses by Friday." Accountants and financial administrators — you'll never have to type these words again with Sheetgo's Expenses tracker template. This template connects multiple spreadsheets allowing your colleagues to record, monitor and submit their expenses without ever sending you an email. You receive expenses submissions from all of your colleagues automatically and track costs in the automated dashboard.
Receive and track expenses automatically
Each employee gets their own dashboard
No more emails or lost attachments
Expense tracker template
Spreadsheets workflow template with your colleagues to register and analyze expenses.
 9. Income statement
As your company grows, the number of departments you're managing tends to increase exponentially. More departments often means more laborious data management processes (and often more errors and duplication). Generate an automated income statement without having to manually collect any information from different departments, using the Sheetgo Income Statement template. Pull income and expenses data from Sales, Marketing, Admin, IT and your other departments directly into a master sheet with an automated dashboard.
Calculate EBIT automatically
No emails, calls or searching for data
Customizable template with formulas
Income statement
Track income and expenses and generate an automated statement report.
10. Monitor the performance of multiple business units
If you're an investor, board member, advisor or consultant, it can be a headache keeping track of multiple projects at once. Sometimes you need a financial overview of your entire portfolio in one place. Sheetgo's Business Unit Analysis template connects multiple spreadsheets, pulling data from discrete business entities into one central master sheet and dashboard. The system is flexible and can be customized to track different KPIs or to combine data from various projects or sub-divisions.
View KPIs for all your business units in one place
Pull data from remote colleagues
Get instant data in the automated dashboard
Business unit template
Workflow template to monitor income/expenses for different units or projects.
More tips for remote work productivity
Transitioning from a "real" to a virtual office is a challenge that many teams across the world are grappling with. Aside from the logistical and practical issues, keeping the team connected requires many communication and cultural shifts. For more tips on working remotely, check out or post on how to keep your team connected when working from home or multiple locations.