Google Sheets is a great option for those who deal with a lot of information. This is because Google offers a range of features specifically designed to optimize collaboration and productivity. One of these many features is edit history. Edit history allows you to revisit the different versions of your spreadsheet, which can be used for a variety of reasons. For example, you may want to return back to a version that was particularly useful and effective. Alternatively, you may want to restore your last version after accidentally deleting something – it happens to the best of us! In this article, we will show you how to view the edit history in Google Sheets as well as other edit history tips, so you can use this feature to your advantage.
Google Sheets edit history
As a cloud-based platform, Google Sheets is a great spreadsheet program to use when inputting and updating a large amount of data. Google Sheets's edit history feature is particularly helpful when it comes to this. Edit history can help you to pinpoint specific data inputs that you may want to revisit. Furthermore, if your data is being automatically updated, the edit history feature can help you to revisit a specific date to identify certain data updates. In short, edit history is a great tool to pinpoint and explore specific aspects of dynamic data.
Let's take a look at an example of how the edit history feature can be used. Here's a snapshot of a file that a sales manager uses to store sales information all the way from Jan 2015 till the current month. This data is updated every month. In order to look at data updates from a specific month, we can use the edit history feature.
There are two ways you can access the edit history feature; the menu option and the keyboard combination. Let's go through a step-by-step of these options:
1. Using the menu option
You can view a history of your changes to a Google Sheets file using the menu option. To do this, simply navigate to File > Version History > See version history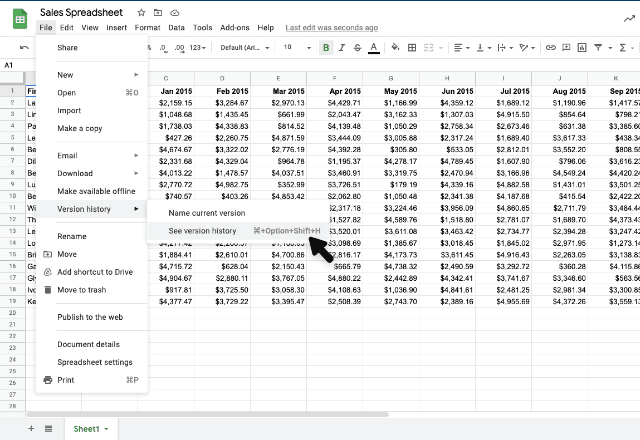 From here, a sidebar should appear on the right side of your screen listing all of the available versions of your file. Each version is clearly labeled with the date, time, and editor of the changes from when it was last saved.
If you would like to identify which particular areas of your file have been changed, make sure you have the 'show changes' checkbox ticked. This will highlight the changes made to the previous version. In this example, cell A2 is highlighted, because we changed the first name from Lance to Laney.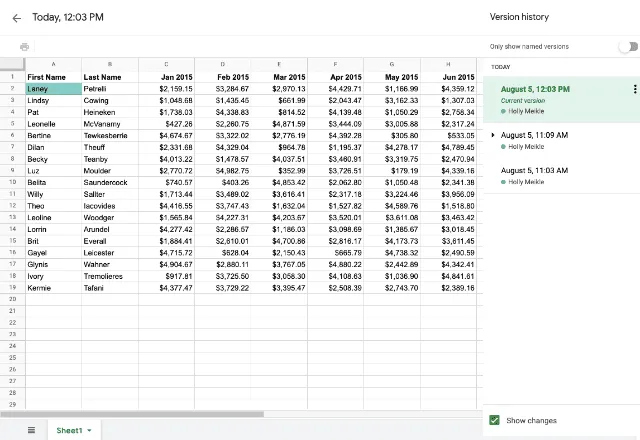 Moreover, the edit history feature also allows you to permanently restore a past version of your file. To do this, simply select the past version you would like to restore and click the restore this version button located at the top of your screen. This will now permanently become your current version.
Now let's take a look at the alternative way to use the edit history feature using a keyboard shortcut.
2. Using the keyboard combination
As an alternative (and perhaps the quicker option) to access the edit history of your Google Sheets file, you can use the following keyboard combination:
Ctrl + Alt + Shift + H or, for Mac, Cmd + Alt + Shift + H
This will take you straight to the sidebar where you can access past versions the same as above.
3. Naming your versions
As mentioned previously, each version of your Google Sheets file is labeled, by default, after the date and time it was last saved. However, if you are constantly editing your file, or you have frequent data updates, these versions can become very difficult to track and identify. Instead, we recommend that you rename your various versions in order to quickly and easily find the right one you need. Luckily for us, Google Sheets has already provided an easy way to do this for both your past and current versions of your Google Sheets file.
In order to rename your current version, you can go directly through the navigation menu by choosing File > Version history > Name current version.
However, you can also name your current version and past versions by using the previous menu option or keyboard combination to access the edit history sidebar. Here, simply select a version of your file, click on the 'more actions' menu (the three dots icon), and then choosing Name this version.
4. Making copies
Google Sheets also offers the opportunity to create a copy of an old version of your file that doesn't interfere with your current version. This is a great option if you would like to regain access to an older version of your file without losing the current one. To do this, access the edit history sidebar, click on the 'more actions' menu on your desired version, and select Make a copy.
And there you have it! The edit history feature on Google Sheets is a fantastic tool that allows you to track, identify and manage all of the past versions of your spreadsheet files. This is particularly beneficial to those dealing with spreadsheets that require automatic updates of data frequently.
The edit history feature also allows you to restore, rename and make copies of your past versions in order to have complete control over your spreadsheets.
Check out the following blog post to learn how to easily track changes in Google Sheets, and record your values historically using our Sheetgo Append feature. Alternatively, you can find out more about other Google Sheets features and Google Sheets how-to's in the articles below!
Editor's note: This is a revised version of a previous post that has been updated for accuracy and comprehensiveness.