Google Sheets has become more versatile because of the capability to tightly integrate with the Google Apps ecosystem. A few years ago, conducting surveys was a daunting challenge. Thanks to the current cloud-based Google suite of applications, everything has just become a breeze. In this article, we demonstrate how to create a form and forward submissions to Google Sheets.
Create a form
Open up Google Forms home page. We have a provision to create a new form from a blank template. Alternatively, we can also use a template from the template gallery.
For this example, we will use the blank template. And, simply create a customer satisfaction survey form to understand the pulse of customers who visited a small restaurant.
Once done with the form, we are ready to send this form to the customers.
Configure submissions
But before that, we need to configure the form such that the responses are captured in a Google Sheets destination file. Click on the RESPONSES tab, and then on the menu options (three vertical dots), and then choose Select response destination.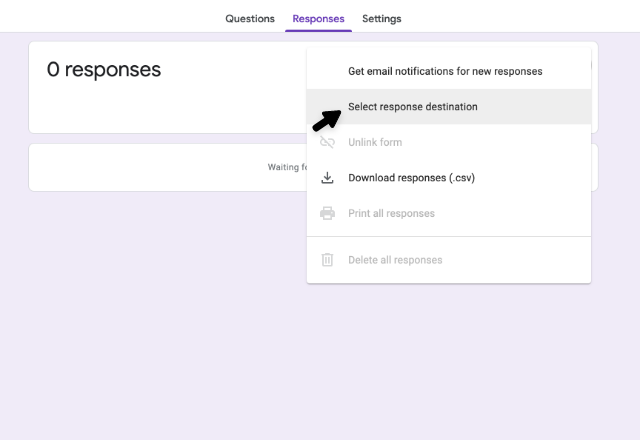 We can either create a new spreadsheet to capture the responses or use an existing one. Let's try creating a new file, so we choose the first option and then click CREATE.
On performing the previous step, the Google Forms application creates a new spreadsheet and links the form to that sheet. In the future, if we want to unlink the form with the spreadsheet, we click on the RESPONSES menu options (three vertical dots) and choose Unlink form. Now that the above configuration is done, we will click on the SEND button. We get a pop up that offers various options (email, link or embed) that we may use to send the form. Here, we will opt to send via the email, key in the email addresses and click SEND button at the bottom.
Once the users start filling out the forms, the spreadsheet that we linked to this form automatically stores the users' responses.
Congratulations! We successfully learned how to create a form and forward submissions to Google Sheets! These responses are automatically recorded onto the Google Sheets destination file. Of course, unless the users stop responding or we unlink the file from the form. 
Learn in the following blog post how Google Forms can help you manage your inventory process.