Google Sheets is one of the most popular tools used by businesses today thanks to its most valuable feature – its collaborative ability. With Google Sheets, not only can you share your files with anyone you wish, but you can also grant specific permissions. This allows you to control exactly how much responsibility your team members have in viewing and editing the spreadsheets, at any time, any place. In this post, we will explore the different Google Sheets permissions, and when you might want to use them.
Why use the Google Sheets permissions?
The Google Sheets permissions give you extra control over the way you share your files.
It can also be extremely useful to:
Maintain data privacy: If you're sharing a Google Sheet outside of your organization, there may be some data that's private and cannot be shared anywhere else. Using a certain permission level for members outside of your business will help to avoid any risk of data leaks.
Optimize feedback: You can grant a level of permission where other members can only comment within your Google Sheets. This is a great way to view and manage feedback and suggestions before making concrete decisions and changes.
Avoid human error: We all know how frustrating it can be when multiple team members edit a spreadsheet at the same time, often leading to the accidental loss of important data. By granting different permission levels, you can control who has the power to delete or edit important data.
Now that we understand just a few of the reasons why Google Sheets permission levels are important when it comes to sharing your spreadsheets.
Let's explore in more detail exactly what each permission level does.
What are the different Google Sheets permission levels?
Google Sheets offers four different permission levels; ownership, edit, comment, and view. There are many different situations in which you would benefit from using all four permissions when dealing with Google Sheets.
Let's say I'm the owner of a Google Sheets file that's dedicated to our sales data from this quarter. I'd need some of my Sales team members to edit in order to add the sales information to the spreadsheet. I'd want members of other departments like Finance to comment on the data to provide insights into how these sales compare to our previous quarter.
Finally, I might want to give our CFO view access in order to take a quick look over the file and make sure that they approve of our work.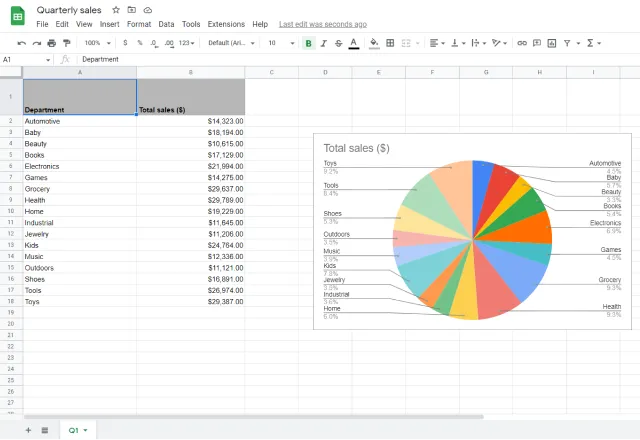 1. Ownership
The Ownership level in Google Sheets is given to the person who created the file by default. With this permission level, you can do almost anything in the file, including viewing the content, adding or modifying comments, deleting comments, or even deleting the entire spreadsheet. There is only one person who has the ownership permission level, and you cannot assign this permission to anyone else.
In order to confirm whether you have ownership, open your spreadsheet and head to File > Share. The pop-up should clearly indicate whether you have ownership with the title "Owner" next to your name.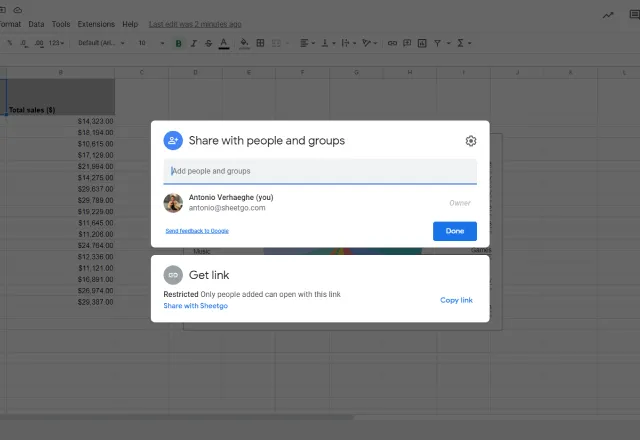 2. Edit
The Edit permission in Google Sheets allows you to modify the content within the spreadsheet. This includes adding content, editing content, or even deleting content. You can also add or reply to comments. Finally, you can also choose to share the Google Sheet with others.
Let's say I grant edit access to some of my Sales team members. This means that they can edit any of the data in the 'Total sales' column, or even add data for an entirely new department. They can also comment on cells containing data they aren't confident is up-to-date, or choose to share the spreadsheet with another Sales team member.
To grant Edit access to someone, head to File > Share. Search for their name or email address in the search field, and click on their profile when it appears. Then, in the dropdown to the right of this search field, click on the Editor permission status. Finally, add a customized message if you wish, and finish by clicking Send.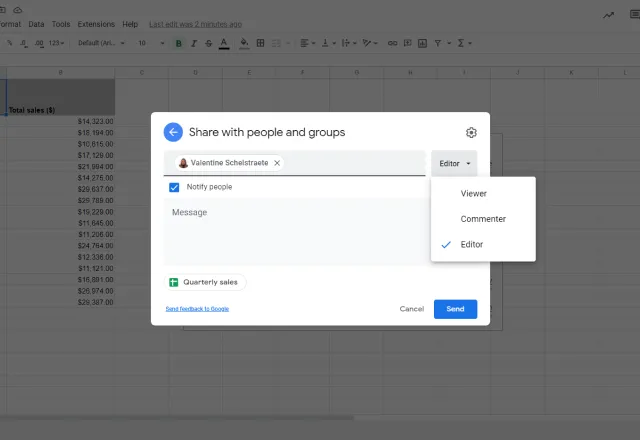 3. Comment
The Comment permission level slightly reduces the amount of freedom a user has within Google Sheets. At this level, you can only view the Sheet and add comments through the commenting feature. You can also reply to other people's comments. If you want to share the file with someone else, you must send a request to the original owner of the Sheet, who will then grant access.
In my use case, I may grant Comment permissions to people outside of my department who may have some suggestions or interesting insights that may relate to my data. For example, if I granted this permission level to the Finance department, they could add comments that included the insights from the last sales quarter, which would be useful to help compare our results. They may also request to share the spreadsheet with another one of their Finance members who has specific insights that would benefit our spreadsheet.
In order to grant the Comment permission level to people, head to File > Share. Then add the user's name, and click the dropdown menu in the top right corner and select Comment. Again, you can add a customized comment and finish by clicking Send.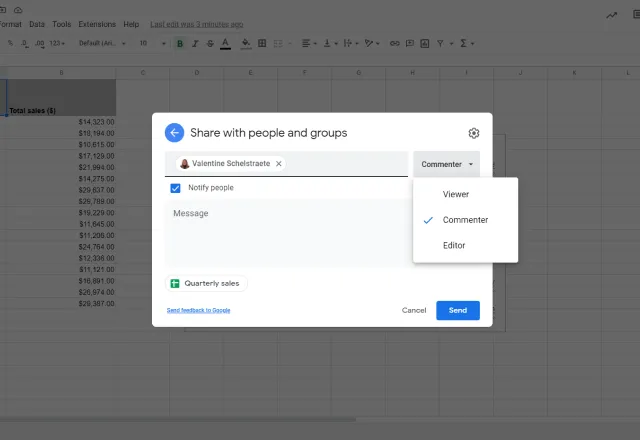 4. View
The View permission is the lowest level of permission in Google Sheets. It only grants the user the ability to view the document. They cannot edit, comment, or share the file. They can, however, request the owner to grant them permissions as necessary.
The View permission level in my use case is perfect for members outside my organization who need to access the Google Sheet, or perhaps members within my company who only need to oversee the operation. For example, I may grant View permission to the CFO, so that they know exactly what we are doing without having anything to add to it.
Much like the previous permissions, access the permission pop-up by heading to File > Share within your spreadsheet. Add users via their name or email, then select the View permission level. Finish by adding a customized message (optional), and pressing Send.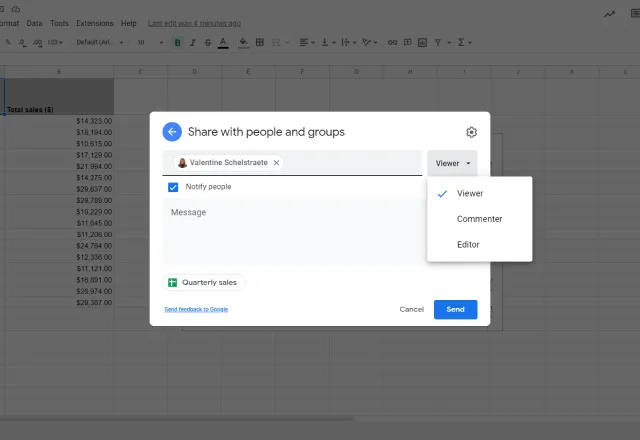 How do I set permissions in Google Sheets?
Granting different permission levels in Google Sheets is easy; simply open your spreadsheet, and head to File > Share, and add your team members.
From this blog post, you should now be able to understand the differences in permission levels within Sheets and know how to implement them into your own operations. If you would like to learn more about how to make the most of Google Sheets, why not take a look at our post on How to find and replace in Google Sheets?
Alternatively, check out our related blog posts below!
Editor's note: This is a revised version of a previous post that has been updated for accuracy and comprehensiveness.