Google Sheets has already made data management pretty easy to handle. We can share the spreadsheets across teams and grant necessary access permissions to effectively control who can view and edit the data. But Google Sheets stepped it even further. I can also get notified if someone edits my Google Sheets file! We explain how to configure Google Sheets notifications in this article.
Why get Google Sheets notifications?
We tend to use Google Sheets to make use of the collaborative framework it offers. More often than not we let other people access our files and make changes. If not for the notifications, we will have to access the file ourselves and check for the changes manually in the version history. But that doesn't keep us abreast of things going in the Google Sheets file. Some of us may want to immediately get notified of any changes that any of the other users make.
To configure Google Sheets notifications, we navigate to Tools > Notification rules, as depicted in the image below.
Example
On doing that, the Set notification rules windowpane pops up. For the purposes of demonstration, we choose the configuration as below and click on the Save button, and then on the Done button in the subsequent window.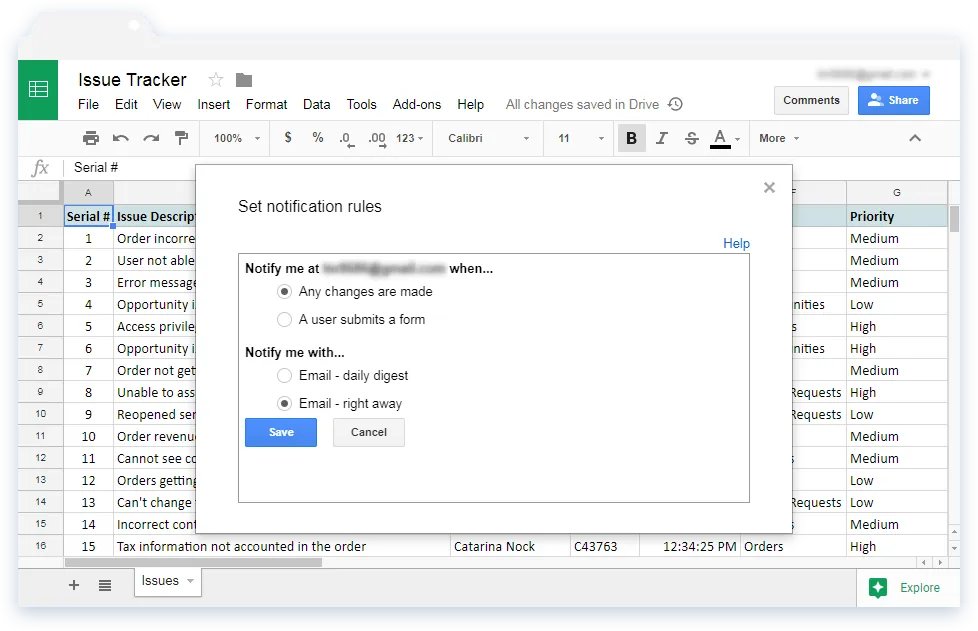 Once this configuration is set, you receive an email notification. This happens automatically when the other user added a record at the end of the file. We can readily see the changes made to the file using the Click here hyperlink provided in the email.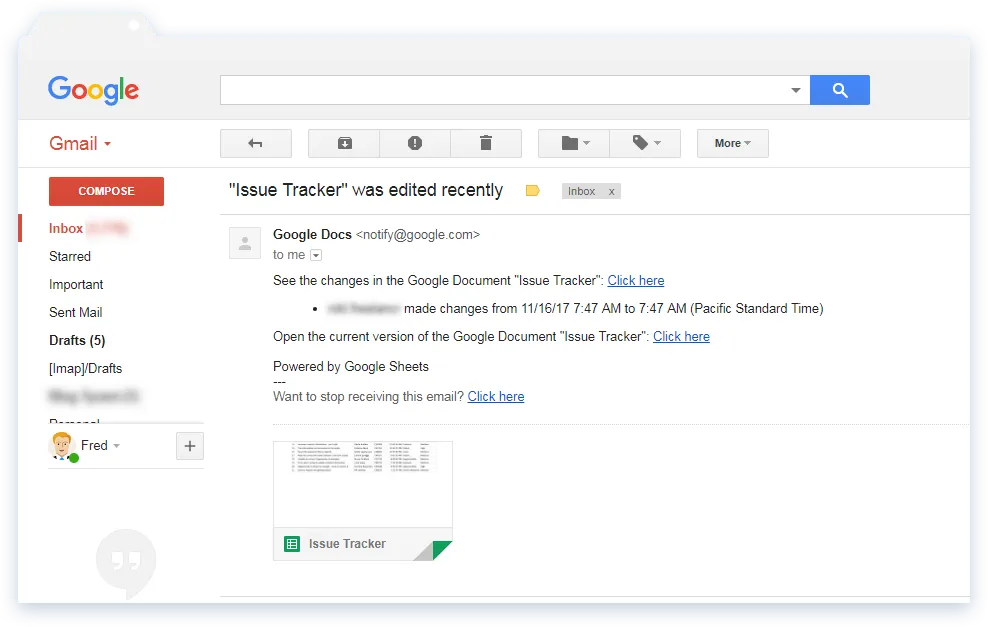 If we have very few changes made to the file, it would be okay to get notified every time someone edits the file. However, if there are many changes being made, there's a better way to organize these notifications. It is through the Email – daily digest option, which we depict in the image below. To modify the existing notification rule, we use the same navigation (Tools > Notification rules) again, and click on the Edit option against it.
There you go!
This is how you set up Google Sheets notifications. Finally, we can also choose to get notified when a user submits a form that feeds into the corresponding Google Sheets file. In the future, we may want to remove these Google Sheets notifications rules. We can do so either by navigating to Tools > Notification rules and then clicking on Delete option against a rule that we want to be removed. Or, we can use the Click here option adjacent to the text Want to stop receiving this email? within the email notification.
To finish, feel free to read through the following blog post to find out the exact differences between Google Sheets notes and comments.