Whether you are 19 or 59 or dealing with money personally or professionally, a solid budgeting system is essential. With Google Sheets being a popular tool optimized for all types of data management, there are now so many Google Sheets budget templates available to help simplify and improve your overall budgeting experience.
Not only are there a huge number of different budgeting templates available for you to explore, but these are much more affordable and accessible than advanced budgeting software. In fact, most downloadable templates are Google Sheets are completely free! And thanks to Google Sheet's impressive functionalities, you won't be missing out on powerful features.
We've compiled a list of our top 6 Google Sheets budget templates for 2022, so you don't have to. Simply download the template, customize it to your liking, and begin your budgeting!
Top 6 Google Sheets budget templates in 2022
1. Budget vs. Actual template by Sheetgo
This Budget vs. Actual template by Sheetgo is the perfect solution for any individual looking to monitor incomings and outgoings in both a personal or professional capacity. This Sheetgo template allows you to compare your budget with what you've actually earned or spent that month.
The template is made up of 4 input tabs and 3 analysis tabs. First, simply input your estimated spending and earnings into the Income Forecast and Expenses Forecast tabs. Then, input your actual spending in the Income Actual and Expenses Actual tabs. The template will then process this data into actionable insights into the 3 analysis tabs, each focussing on Budgeting Analysis, Income Analysis, and Expenses Analysis. From these 3 tabs, you have a clear visualization of all your data, making it easier to extract this data and use it to make better-informed budgeting decisions.
This template is completely free to download and can also be customized to suit your exact needs.
Get a free copy of the Sheetgo Budget vs. Actual template here.
2. Monthly Budget template by Google Sheets
Looking for an easy-to-use budgeting template to manage your everyday spending? The Monthly Budget by Google Sheets could be the one for you. Comprising just 2 tabs, this template couldn't be simpler.
Input your incomings and outgoings into the Transactions worksheet, using the Category dropdown to organize your data. In the Summary tab, you'll have a complete overview of your monthly spending, including a start balance and end balance, total spending per category, and a planned vs. actual budget.
This is a fantastic option for new Google Sheets users or individuals who don't want to spend any more time or manual effort on their template. As a result, this does mean that the Summary tab is locked from editing, so you cannot customize the template to your needs.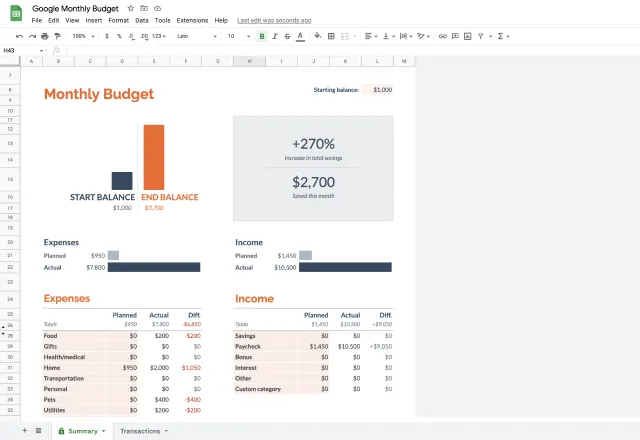 Download the Google Sheets Monthly Budget template here.
3. Annual Business Budget template by Intuit Quickbooks
If you're a startup or small business with a strict yearly budget, then check out the Annual Business Budget by Intuit Quickbooks. You can even find this template as part of Google Sheets' template gallery.
This template works by taking your initial annual budget or starting balance, then adding your incomings and outgoings in the relevant tabs. Then, in the Summary tab, the template will map out a comparative chart of your overall budget. As a result, you can easily monitor your current finances and, more importantly, forecast future months in the year.
Get the Intuit Quickbooks Annual Business Budget template here.
4. Budget Tracking Tool template by The Measure Of A Plan
The Budget Tracking Tool template by The Measure Of A Plan is an impressive, comprehensive template that will handle every aspect of your budgeting. This template includes several in-depth tabs of structured data.
You can customize the categories of your budget to personalize the template to your needs. Then, fill out the Income and Expenses tabs as usual. You also have a tab for Budget Targets to mark any change in your budgeting throughout the year. All of this data is then processed into your Dashboard tab, where you have a clear visual overview of several key metrics, both from your overall spending, as well as within your established categories. You even have other analytical tabs to compare your historical budgeting data and your actual spending to your budget targets!
As mentioned above, this is a really comprehensive template that may be too advanced for some Google Sheets users. However, if you need an all-in-one budgeting template to cover all the bases, this is a great option.
Install the Budget Tracking Tool template by The Measure Of A Plan here.
5. 50/30/20 template by Tiller
Have you heard of the 50/30/20 method? This is a technique for budgeting that claims to make your budgeting more effective by splitting your spending into percentages in three categories:
50% = needs (the essentials)
30% = wants
20% = freedomThis 50/30/20 Google Sheets template by Tiller allows you to put this popular budgeting method into action.
Simply add your total income and essential spending into the relevant cells, and the template will calculate exactly how much you can spend in each category (needs, wants, freedom). You can then use this information to build on your budgeting strategy.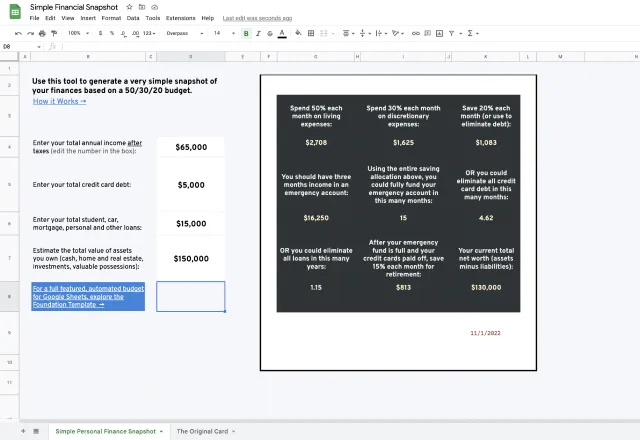 Download the Tiller 50/30/20 template here.
6. Family Budget template by SmartSheet
SmartSheet's Family Budget template is a great solution for those looking for an easy way to monitor household spending from one place.
The template allows you to input multiple sources of income in your household. What's more, there are multiple cells dedicated to different categories of spending, including necessary expenses (rent/mortgage, healthcare, groceries), discretionary expenses (dining, clothing, activities), and investment expenses (401k, IRA, stocks).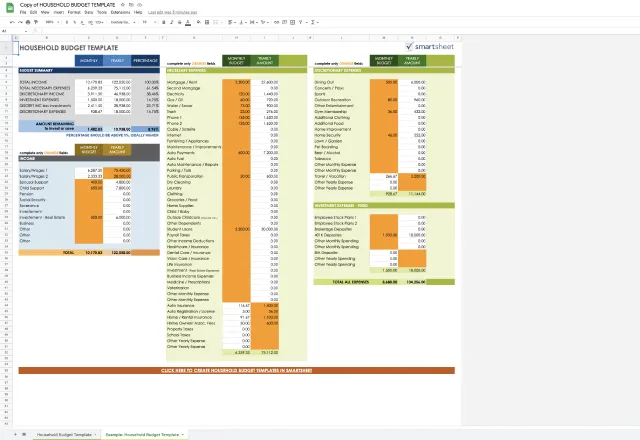 Get a copy of the SmartSheet Family Budget template here.
What are budget templates?
Budgeting templates are pre-made systems inside spreadsheets that already set up the structure you need to manage your budgeting data. First, download the template and input your data into the relevant cells. Next, adjust the settings according to your needs (such as removing columns or rows that aren't relevant to your needs or including specific formulas). After that, you'll have a fully functional budgeting system directly within your Google Sheets!
There is a plethora of budgeting spreadsheets available online today. There are hundreds of different budgeting subjects, techniques, and formats available in both personal and professional circumstances. Here are just a few examples to give you an idea of what's out there:
Examples of personal budgeting templates
Student budgeting
Personal budgeting
Family budgeting
Wedding budgeting
Event budgeting
Examples of professional budgeting templates
Monthly department budgeting
Startup business annual budgeting
Cash flow budgeting
Labor budgeting
Operating budgeting
Why use budget templates in Google Sheets?
Most of us have a Google account and use the various Google Workspace apps every single day. Google Sheets is a powerful spreadsheet tool with fantastic features and functionalities that completely transform our data. What's more, it's completely free!
Here are some of the major advantages of using budget templates in Google Sheets:
Familiar tool: Google Sheets is a tool most of us are already familiar with. Instead of wasting time learning how to use complex budgeting software, you can save time and work inside Google Sheets as usual.
Multiple functionalities: Google Sheets offers so many wonderful features and functionalities, from useful formulas to incredible visualizations. You can easily level up a basic budgeting template with these.
Affordable: The majority of downloadable templates in Google Sheets are completely free! Not only will you save huge amounts of money upfront, but you're not tied to a long-term investment.
Customizable: Google Sheets templates are designed with personalization in mind. You can easily adjust the template to your needs. That can be adding or removing aspects or optimizing them further with formulas, graphs, and charts.
Simple budgeting templates in Google Sheets
And there are the top 6 budgeting templates for Google Sheets in 2022! Google Sheets is a fantastic solution for managing your budgeting, as well as other financial processes. With accessibility and affordability like this, opting for Google Sheets templates over complex budgeting software is a no-brainer.
It's important to remember that no template is one-size-fits-all. That's why Sheetgo offers several finance-related templates in both Excel and Google Sheets to help simplify your money management! Browse the Sheetgo finance templates here.
Looking for a more personalized financial solution? Explore our financial solutions page to discover how our Sheetgo experts can help you build a fully-automated, tailor-made financial management system specifically for you!
Prefer working in Excel? Read our article on the Best Free Budget Templates in Excel for 2022. Alternatively, take a look at the related articles below!