Budget vs. Actual analysis is a bit like a financial reality check for your business. Formally referred to as "budget to actual variance analysis," this process involves comparing how your planned budget (what you wanted to spend) compares with what you've actually earned and spent.
Taking the time to carry out a budget vs. actual analysis is essential if you want to evaluate the overall performance of your company, but it also helps you to create better forecasts in the future.
If there are significant differences between the two figures (favorable or unfavorable variance) this acts as a red flag to management to take action and identify the issue. A favorable variance means income was higher than expected, or outgoings were lower. An unfavorable variance means that income was lower than forecast, or outgoings were higher.
A big variance is often the result of a one-off issue. This may be due to external factors, e.g. disruption in the supply chain might have forced the company to spend more on an expensive alternative. On other occasions, variances can signify more serious issues within the company. A significant disparity between the budgeted income and actual income could indicate a weakness in one sales department, for example.
Why carry out Budget vs. Actual analysis?
This process is really helpful to:
Check if the company's growth expectations were correct
Increase profitability by evaluating departments, products and services
Help managers and investors predict the future performance of the business
Improve spending control and accountability
Spot trends—positive and negative
The greatest challenge of budget vs. actual analysis (and a reason many small and medium-sized companies don't do it well—or do it at all!) is gathering all the necessary data.
It can be an incredibly time-consuming process trying to pull together information from different departments. And after that, someone has the tricky task of analyzing it all. For this system to work effectively, it also requires different teams to record their data accurately and in a comparable, accessible format.
What's a Budget vs. Actual spreadsheet template?
There's plenty of specialist FP&A (financial planning and analysis) software out there for budgeting, forecasting and analysis. But if you're running a startup or SME there is actually no need to invest in expensive software. Most likely your income and expenses data is already stored in spreadsheets—and a spreadsheet is the perfect place to analyze it too.
We'll show you exactly how to do this, simply and quickly, with a free, ready-to-use Budget vs. Actual template.
We've created the template for you in Google Sheets, so you can
Compare forecasted and actual income—per individual service or item
Compare forecasted and actual expenses—per item or cost
View the variance as a percentage: calculated automatically and displayed in dashboards
All in one, easy-to-use spreadsheet. We've already written the formulas for you.
How do I use the budget vs actual spreadsheet template?
Our free budget vs. actual template is ready-to-use so you can start entering your data straight away. Check out the first tab in the spreadsheet: there you will find full instructions, but we'll outline the steps here for you too.
Step 1:
Starting in the instructions tab, select the year you want to analyze from the dropdown menu.
Step 2:
Enter your data in the green Income Forecast and Expenses Forecast tabs. This is where you register your planned receipts and planned payments.
Step 3:
Do the same for what you actually received and what you actually spent—in the Income Actual and Expenses Actual tabs.
That's it!
Check out your automated budget vs. actual analysis in the black Budget Analysis, Income Analysis and Expenses Analysis tabs. You now have a simple, automated budget vs. actual analysis generator.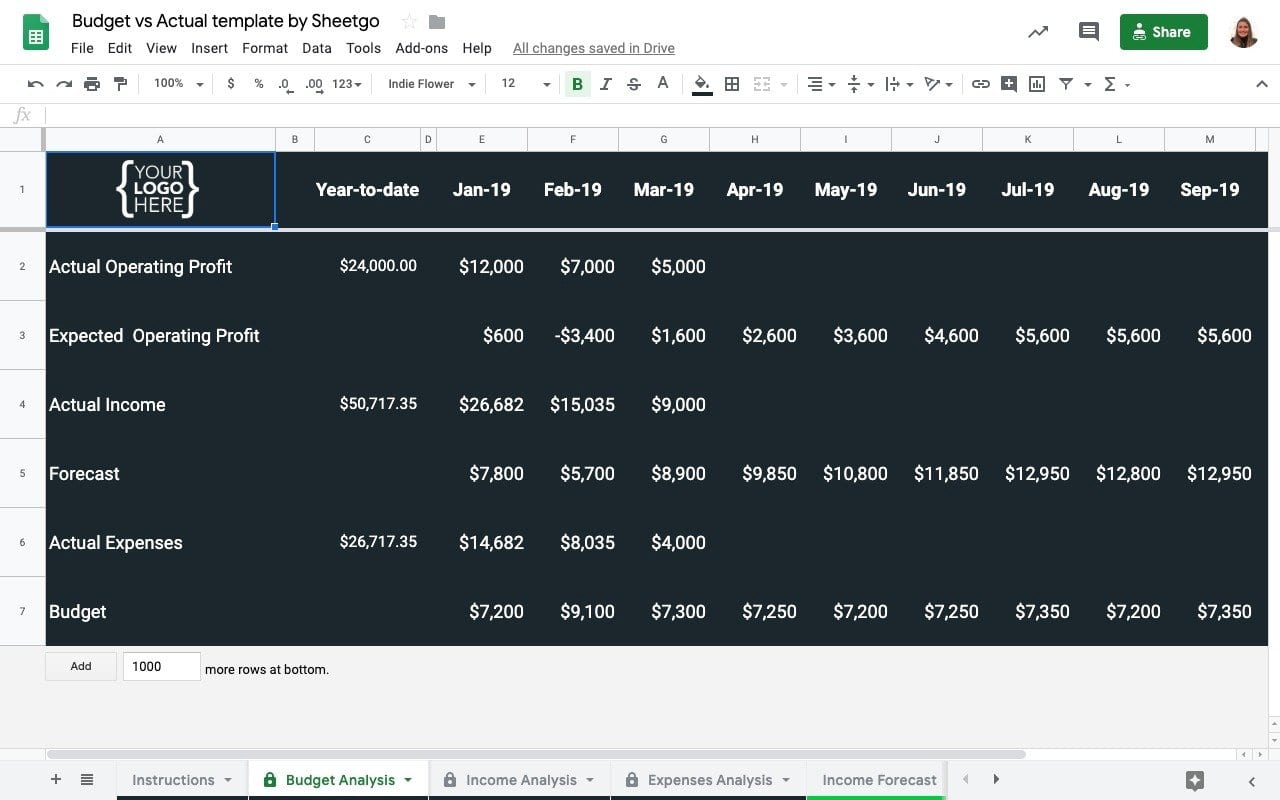 Do different colleagues control receipts and expenses?
If you're self-employed or operating a small business, it's likely that one person has access to all spending and revenue data, and that the same person compiles information for analysis. But as your team grows, you might need a more flexible and collaborative solution.
Spreadsheets are the perfect tool for accounting tasks such as budget vs. actual analysis: spreadsheets are accessible and easy to use. You probably already store your financial data in Excel or Google Sheets files anyway, so it makes sense to use a spreadsheet to analyze your figures.
But when you're working in a larger team, or with larger sets of data from multiple sources, spreadsheets can get messy. Manually copy-pasting data is a time-consuming task, prone to errors. And too many "hands" on one spreadsheet can also lead to mistakes in calculations.
Keeping data sets separate has many benefits, such as better security and privacy and cleaner, simpler work systems for staff.
Wouldn't it be great if your spreadsheets could talk to one another? With Sheetgo, they can.
Create an automated Budget vs. Actual Analysis system
Sheetgo is a connection platform for spreadsheets in Google Sheets.
Sheetgo powers connections between them—allowing data to flow from one to the other, in an automated system.
Use Sheetgo to automate your financial workflows. This means:
An automated Budget vs. Actual analysis system
Colleagues enter income and expenses data—in their own spreadsheets
Colleagues get automated budget analysis dashboards
You see data flowing into your master sheet—with automatic updates
You save time on data entry, copy-pasting and unnecessary communication
Congrats!
Instead of manually collating financial data from across your company, you now have an automated Budget vs. Actual Analysis system. Looking to automate other financial processes in a spreadsheet-based system? Check out all our finance automation templates here.