Budget vs Actual analysis is a bit like a financial reality check for your business. Essentially, it involves comparing your budget with what you've actually earned and spent.
Taking the time to carry out budget vs actual analysis will give you a better understanding of your company's current performance. In addition, it will help you to create better forecasts in the future.
If there are significant differences between the budgeted figures and actual figures (termed "favorable" or "unfavorable variance") this can flag up potential problems. A favorable variance means that income was higher than expected, or outgoings were lower. In contrast, an unfavorable variance means that income was lower than forecast, or outgoings were higher.
An unfavorable variance is often the result of a one-off issue. This may be due to external factors. For example, supply chain disruption might force the company to spend more on an expensive alternative. On other occasions, variances can signify deeper problems in the company. A significant disparity between budgeted income and actual income could indicate a weakness in your sales department, for instance.
Gathering data for analysis
The greatest challenge when creating a variance report (and a reason why many SMEs don't do it well — or do it at all!) is collecting all the necessary data.
Firstly, pulling together information from different departments is time-consuming. Secondly, someone has the tricky task of analyzing it all. For this system to work effectively, you need each department to record their data accurately in a compatible, accessible format.
There's plenty of specialist FP&A (financial planning and analysis) software out there for budgeting, forecasting, and analysis. However, if you're running a startup or SME there's no need to invest in expensive new tools.
It's likely that you already manage your sales, income, and expenses data in spreadsheets. A budget vs actual spreadsheet template in Google Sheets can help you transform that data into an automated budget tracker.
Why use Google Sheets for budget vs actual analysis?
Flexible: Google Sheets allows you to manage and analyze all your financial data in the way that suits you. Whenever you need to change the system you can simply adapt the spreadsheets — without accounting software or IT support.
Accessible: Cloud-based and updated in real-time, administrators and managers can access and update Google Sheets at any time, from anywhere.
Compatible with everything: All software packages integrate with Google Sheets, so if your company has data stored in other programs, you can easily import that information.
Easy to use: Your colleagues probably already use spreadsheets and Google Sheets is intuitive and user-friendly. As a result, the system is easy to maintain and onboarding your team is quick and simple.
How to get started
The Sheetgo budget vs actual spreadsheet template is a Google Sheets file that allows you to monitor budgets, analyze profitability, and control spending.
It's suitable for companies of all shapes and sizes, providing teams with a user-friendly way to collect and share income and expenses data. At the same time, it generates automated reports for accountants and company directors.
What you get with this template:
When you download the Sheetgo Budget vs Actual spreadsheet template, a Google Sheets file is saved to your Google Drive:
Three Expenses worksheets: analysis, forecast and actual. These expenses might include fixed monthly costs, one-off purchases, or other outgoings.
Three Income worksheets: analysis, forecast and actual. Every time an invoice is paid, you can log it in this spreadsheet.
One Budget Analysis worksheet. Here you'll get an automated analysis of forecasted and actual income and expenses data from across the company.
How to use the Budget vs Actual spreadsheet template
Click here to get a free copy of the template.
How the template works
This worksheet contains the initial instructions on how to use the template. Before filling out the spreadsheet, select the operating year in the dropdown menu.
Fill out the Income tabs
First, complete the Income Forecast worksheet with your data, entering how much income each category is due to generate each month.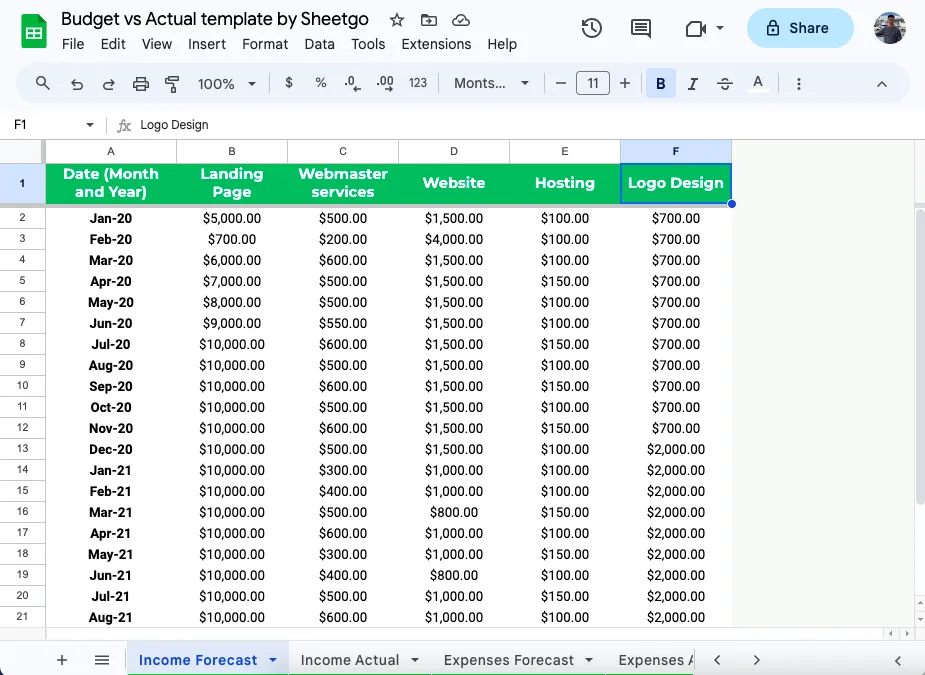 Next, you should fill out the Income Actual tab.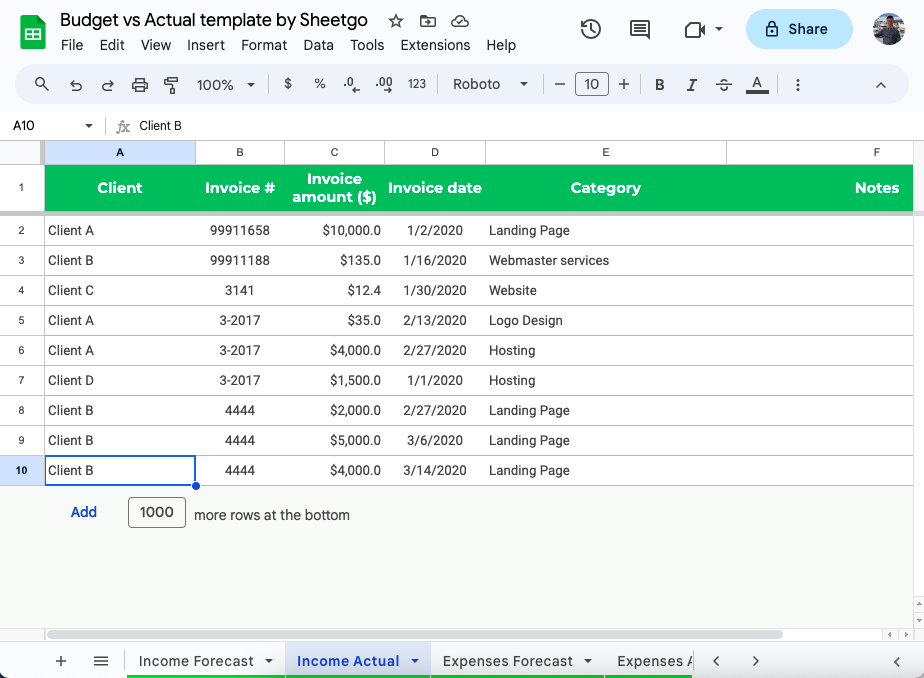 Check out the automated Income report
Once you start entering data into the Income Forecast and the Income Actual tabs, the template automatically generates a report in the Income Analysis tab.
Fill out the Expenses tabs
The other input worksheets in the workbook are the Expenses tabs.
Here you should record the budgeted expenses and the actual amount spent.
In the Expenses Forecast tab, you should enter the monthly budget for expenses.
In the Expenses Actual tab, you should enter the actual amount spent, every time a bill or invoice is paid.
The template automatically combines the budget and actual data to generate Expenses Analysis report.
Check out the Budget Analysis
After filling out all the worksheets, the template  will automatically combine the data from all the tabs to generate the Budget Analysis report.