Every business has many financial processes they must track and manage in order to make important decisions for the future. From cash flow and income statements to investments and expense tracking, there are a lot of aspects to keep up with! Creating a finance dashboard is one of the most effective solutions for handling your business' finances. There are many finance dashboard templates available for organizations to keep track of everything in one place. In this article, we share our top 5 best finance dashboard templates in 2023 that you can implement into your financial management operations immediately.
What is a finance dashboard?
A finance dashboard is an intelligent tool that merges all of your financial data. It turns it into a clear, visual representation of your financial operations that you can access in one place. Some dashboards can also input, track and project your financial KPIs. You can refer to those KPIs when creating financial reports or making important business decisions.
Additionally, they are extremely flexible and customizable, so you can really adapt them to your organization's situation and goals. Ultimately, a finance dashboard is a great tool to help you save time and money when analyzing finances.
What should be included in a finance dashboard?
The great thing about finance dashboards is that they are often customizable, meaning that you can implement specific features that work best for your business.
However, there are some key features that a finance dashboard should have so that it's effective for any business.
Visual representation: The visual representation of your data is perhaps the most essential feature of a finance dashboard. This because it helps you easily understand your finance situation and predict future insights. The dashboard should include a variety of graphs, tables and charts for clear visualization.
Intelligent analysis tools: Without analytical tools, your cannot turn your data into useful insights that shape future decisions. Finance dashboards should include a variety of analytical features that calculate important results for your business.
Projections: Understanding your past and current financial data is very helpful. But the main reason to include a finance dashboard as part of your finance management process is to predict and plan for the future. Therefore, a dashboard should include accurate predictions to be used for important future decision-making.
Automatic data transfers: Finance dashboards are here to make your life easier. Providing automatic data transfers is essential for saving your time, so you can focus on tackling the "what next?" part of your business.
We now understand what a finance dashboard is and its essential features to optimize results. Let's now take a look at our top 5 finance dashboard templates in 2023.
1. Sheetgo
Sheetgo has a variety of finance-related dashboard templates that you can immediately incorporate into your financial operations: budget vs actual, income statement, expense tracker, business unit, and cash flow. Sheetgo's templates are part of intelligent workflows that connect to your data sources and receive live, automatic transfers for the latest financial insights of your business.
Furthermore, these templates are fully customizable too. As a result, you can add, merge and even create your own unique combination of data for several financial processes all in one place!
2. Sisense
This Business Intelligence (BI) platform offers a variety of finance dashboard templates that businesses can implement for specific financial areas. Sisense provides templates for retail banking to crowdfunding businesses. They include specific analytical features to make the most of particular KPIs for your business.
Moreover, Sisense has the capability to automatically turn these insights into ready-made financial reports. You can share these, along with the dashboard itself, with members both inside and outside of your company.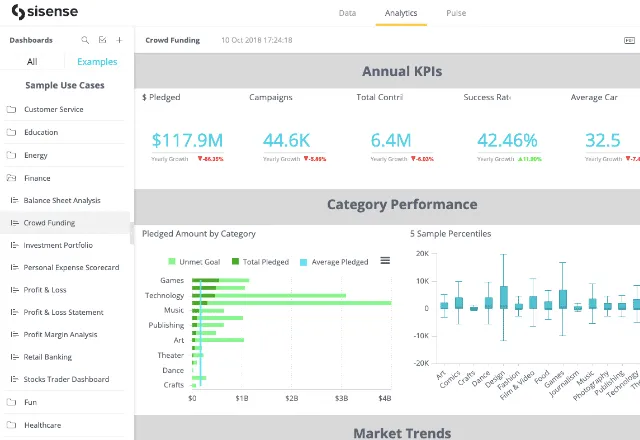 3. iDashboards
iDashboards has 250+ templates to choose from to build and customize the perfect financial dashboard for your business. With a user-friendly drag-and-drop interface, it requires no programming experience to create an intuitive dashboard that covers each aspect of your financial operations.
Furthermore, iDashboards allows you to import your financial data from multiple sources including Excel, BigQuery, Salesforce, Google Sheets and more.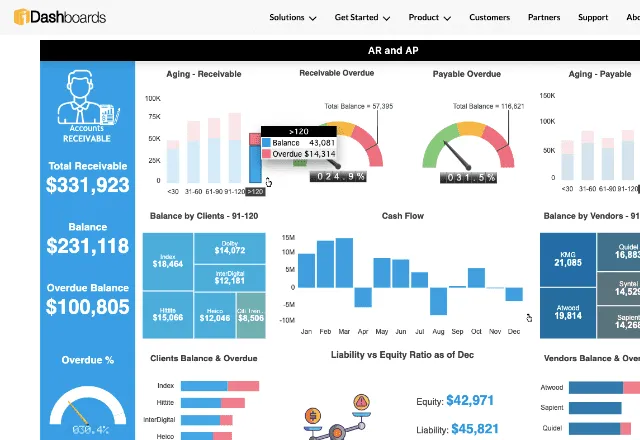 4. DataPine
You might be overwhelmed with the number of templates some companies offer. If you're looking for high-quality dashboard templates that simply focus on one process only, then DataPine may be for you. DataPine offers 5 professional finance dashboard templates that cover different levels of the financial functions, all the way up to a CFO appropriate dashboard.
These dashboards include built-in alarms that immediately notify you of any data anomalies, avoiding the tedious process of identifying issues yourself. Instead, it allows you to focus on actionable insights only.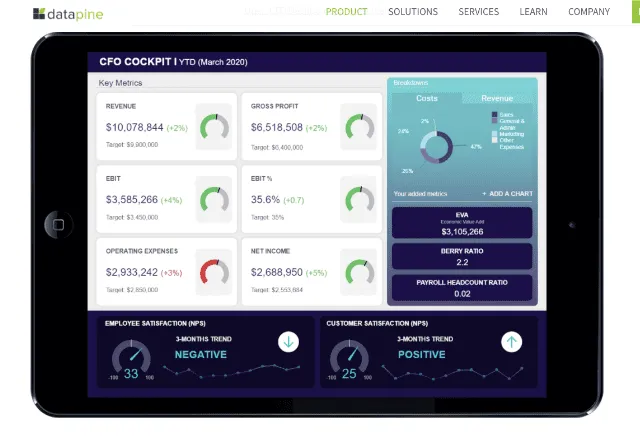 5. Bold BI
This company offers a variety of finance dashboards. These range from an overall finance analysis on your key KPIs, to more specific dashboards focussed on a specific function, e.g. profit and loss. Bold BI focuses on a clear visual representation of your data. As a result, you can easily understand your financial status and identify key areas that may need improvement.
Bold BI also allows you to download your finance dashboard insights into a PDF or Excel report. This is perfect for sharing with various members within your organization.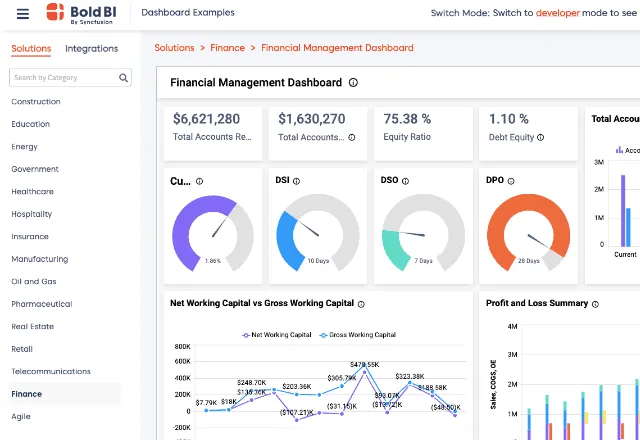 Finance dashboard templates
And there are our top 5 best finance dashboard templates of 2023! Finance dashboards are the best tools to use within your finance-related operations. Receive up-to-date insights and effective analysis of your finances. Sheetgo not only offers dashboard templates for your finances, but also for other areas of your business. This includes inventory, project management, and marketing.
Looking for an all-in-one solution to control your finances? Check out our spreadsheet-based solution to automate your financial management and track all your business transactions.