Need to make an income statement?
For small to medium-sized businesses (SMBs), creating an income statement can be a time-consuming and costly process. Also referred to as a profit and loss statement (or PnL), revenue statement, operating expenses statement, income statements are used to measure the performance of the company, to secure financing and to calculate and pay taxes. Using an income statement template is one way you can make this task simpler and quicker.
An income statement is one of the three main financial statements that every company must maintain. It summarizes your revenues and expenses over a period of time. It differs from a cash flow statement in that it is based on the accrual of expenses and revenues for accounting purposes rather than payment. You can present it to managers and investors to communicate profit and loss over a certain period of time (different from a balance sheet which summarizes your assets and liabilities).
Why should I use a template?
Normally, companies have to manually input data into accounting software or spend time collecting all their information before sending it to external accountants … and then wait for the accountant to process it. Wouldn't life be easier if you could do it yourself – using spreadsheets, the tool you already know?
We thought so too and that's why we created a free income statement template so you can:
Generate an income statement – quickly and easily
Visualize and report financial data
View your profit and loss
Calculate taxes
Save time and money
All in one spreadsheet.
If you can use spreadsheets you already have all the skills you need to create your own income statements.
Using our ready-made, standalone template, you just enter the data, and our spreadsheet template does the work. Easy. We've already written the formulas for you.
Free Sheetgo standalone template
No need for accountancy software
Easy to use – in Google Sheets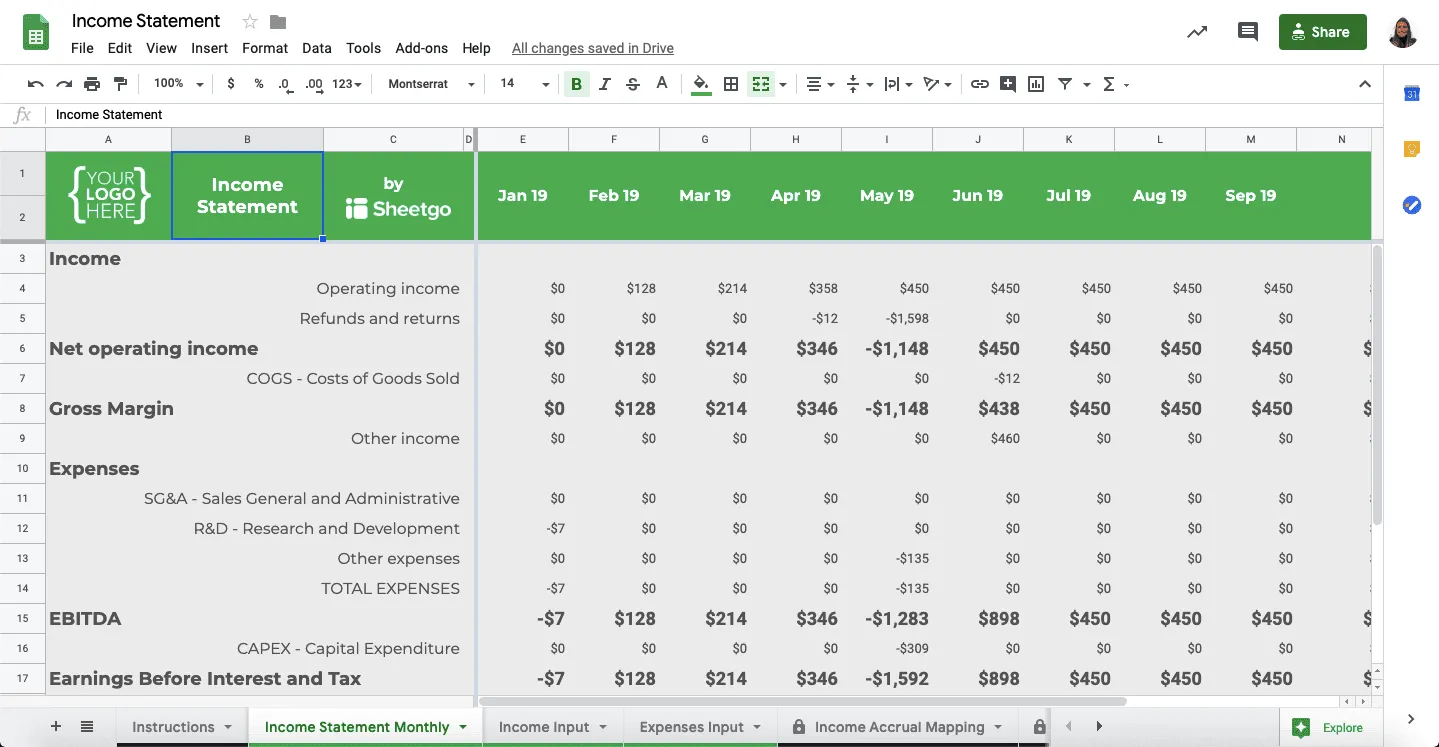 How do I use the income statement template?
OK – let's get you started. Our free Sheetgo income statement template is ready-to-use, so you can start entering your data straight away.
What you'll need:
We've created the template for you in Google Sheets so all you need is a Google Account.
Step 1:
Click on the button below to get a copy of the template
The template is saved to your Google Drive and the template opens automatically
Step 2:
Fill out your income in the Income input tab.
Fill out your expenses in the Expenses input tab.
The template calculates your income statement automatically. You have a clear overview of your income statement in the Income statement monthly tab.
Note that there are three protected (black) tabs in this template. These give you further analysis of your data but should not be edited.
Are you working in teams?
Do you manage your income statement together with colleagues? Does someone else control the income and/or expenses input? Then I have good news for you! – You can use this exact same template as a collaborative workflow.
Spreadsheets are a brilliant, universal tool for managing your finance department – everyone has free access to spreadsheets and they're easy to use. But they rely on time-consuming manual work and that can lead to copy-paste errors and other mistakes. Imagine if your spreadsheets could "talk to each other" …
With Sheetgo, they can. If you're confident using spreadsheets, you can use Sheetgo to automate your spreadsheet workflows. This means you can:
Create workflows by connecting different spreadsheets
Import data from multiple spreadsheets into one master sheet
Collaborate in teams
Get automated updates
Save time
Reduce manual errors
Sheetgo's automated income statement template consists of a master sheet and 2 input sheets: the income and expenses inputs. Your colleagues can use these to input the company income and expenses. The Sheetgo connection will then automatically bring this data inside your Income statement spreadsheet, just like that! Read more about automating your finance department.