For small to medium-sized enterprises (SMEs), creating an income statement can be a time-consuming and costly process. Also referred to as a profit and loss statement (PnL), revenue statement, or operating expenses statement, an income statement helps you measure the performance of your company. On top of that,  it can be used to secure financing as well as to calculate and pay taxes.
An income statement is one of the three main financial statements for reporting. It summarizes company revenues and expenses over a specific period of time. It differs from a cash flow statement in that it is based on the accrual of expenses and revenues for accounting purposes rather than for payment. Finally, there is the balance sheet, which summarizes your assets and liabilities.
Essentially, an income statement shows directors and investors whether or not the company made money during that accounting period.
Normally, you have to manually collect and enter data into accounting software to create an income statement. Many small companies send that data to an external accountant … and then wait for the accountant to process it.
Using an income statement template enables you to generate your own income statements automatically, in-house, with the data you already have.
Why use Google Sheets to create an income statement?
Flexible: Google Sheets lets you manage and analyze your financial data in the way that suits your business. Whenever you need to change the system you can simply adapt the spreadsheets — without accounting software or IT support.
Accessible: Because Google Sheets is cloud-based, your accountants or admin staff can access and transfer their data at any time, from their phone or laptop.
Compatible with everything: Every piece of software on the planet integrates with Google Sheets. This means that if your company has data in other programs, you can easily import that information straight into Google Sheets.
Easy to use: Most people in your company probably already use spreadsheets and Google Sheets is user-friendly for beginners. As a result, the system is easy to maintain and onboarding your team is quick and simple.
How to get started
This spreadsheet-based workflow template is a pre-built system that allows you to pull together real-time income and expenses data from across the company. The template merges this data to generate an automated monthly income statement, as well as income and expenses reports.
The template can be used by companies of all sizes. It provides teams with a user-friendly way to collect and share income and expenses data while generating automated reports and dashboards for accountants and company directors.
Sign up for Sheetgo and start generating your

income statement

automatically
What's a spreadsheet-based workflow template?
A regular spreadsheet template is a single file containing pre-built charts and formulas. In contrast, a Sheetgo workflow template is an interconnected system. It consists of multiple Google Sheets files that transfer data between them.
This allows team members to work in their own private spreadsheet while sharing data with managers automatically. As a result, accountants and company directors get an automated income statement, without having to gather and collate data manually.
A spreadsheet-based workflow template gives you:
Organization and data privacy: Each file is dedicated to one task, for better data protection and accuracy. Instead of working in a large shared spreadsheet, colleagues record financial data in their own personal spreadsheet. Sheetgo connections export this data to the manager's master sheet automatically.
Scalability: You can build upon your Google Sheets-based system as your company grows. It's easy to expand the workflow by connecting more spreadsheets, without redesigning the system or switching to a new solution.
Integration: Google Sheets is compatible with everything, so accountants and managers can easily import and combine data from other software packages. In a couple of clicks, you can connect data from Operations, Sales, or other company workflows to create an integrated financial management system.
Generate automated income reports from your spreadsheet data: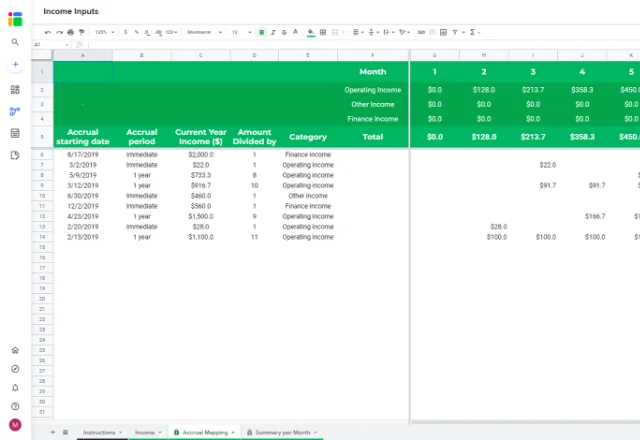 What you get with this template:
When you install the Sheetgo Income Statement template, three Google Sheets files with pre-built Sheetgo connections are saved to your Google Drive:
One Expenses Inputs spreadsheet. Share this file with the person(s) responsible for payments. These expenses might include taxes, purchases, salaries, and other outgoings.
One Income Inputs spreadsheet. Share this file with the person(s) responsible for processing invoices. Every time the company receives money, they log it here in this spreadsheet.
One Automated Income Statement master sheet, for the CFO, accountant, or administrator. Here they get an automated income statement, an expenses report, and an income report.
How to install the workflow template
Click the blue button below to get started.
Login to Sheetgo with your Google, Microsoft, or Dropbox account.
Click Install template.
Wait a few moments while Sheetgo creates copies of the files and connects them.
How the template works
The income statement master sheet opens inside Sheetgo.
To open the Income Inputs or Expenses Inputs file, click Workflow in the sidebar on the side of the screen.
How to use the income statement template
Step 1: Set up the master sheet
Firstly, you need to select which year you want to create a statement for. In the Income Statement master sheet, go to the Instructions tab and enter the year in the Initial Input box.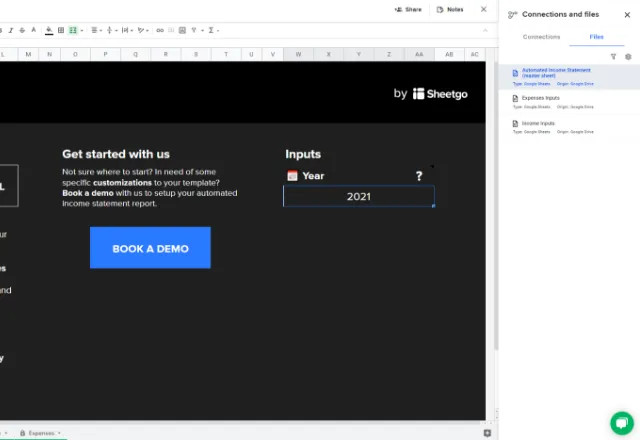 Step 2: Configure the Income Inputs sheet
Secondly, open the Income Inputs file by clicking on Workflow on the side of the screen.
This is the spreadsheet where your colleague(s) responsible for processing invoices can enter company income.
In the Instructions tab, enter the year.
Note that the Income tab contains sample data to show you how the template works. You or your colleague can simply delete this data or overwrite it.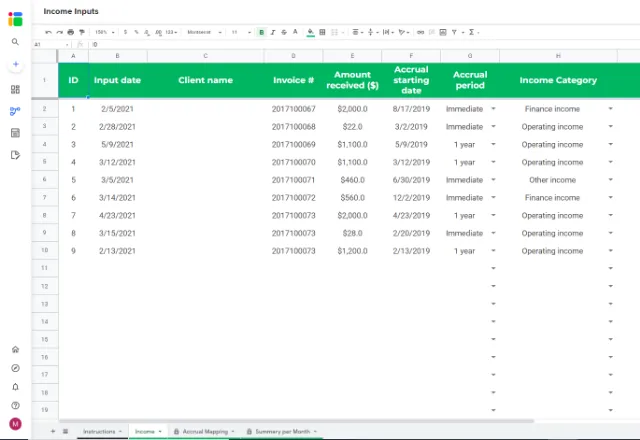 To share this spreadsheet with your accountant or the person responsible for processing invoices and income, click Edit in new and the file will open in a new tab in your browser.
If you want to automate the data entry process, you can connect other spreadsheets to this file using Sheetgo connections. You can also use Google Forms to ensure data validation and gather data from other departments without sharing this file.
Once your colleagues have started entering data in the Income tab, the template creates automated income reports in the Accrual Mapping and Summary per Month tabs automatically.
As you can see, these tabs have a padlock icon to remind you not to edit this data.
Start generating your

income statement

automatically
Step 3: Share the Expenses Inputs sheet
The other spreadsheet in the template is Expenses Inputs.
In this file, your colleague should enter all invoices paid in the Expenses tab.
As with the Income Inputs sheet, you can also connect Google Forms or other spreadsheets to this file. If you have other departments and colleagues processing payments, this will enable you to gather and collate that data automatically.
Again, you can share the Expenses Inputs sheet with your colleagues by clicking Edit in new > Share.
The template uses the data in the Expenses tab to automate an Expenses report in the Summary per Month tab.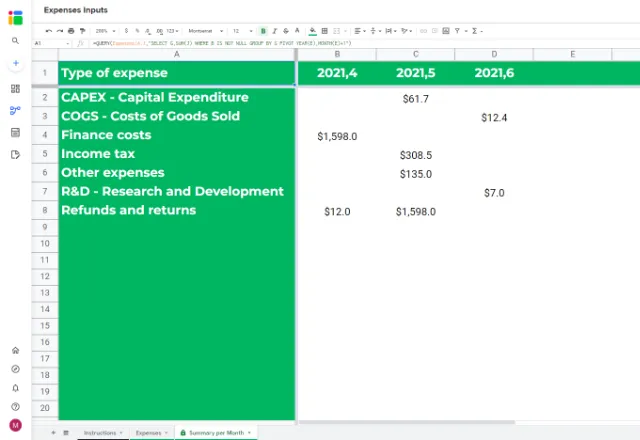 Step 4: Transfer the data
Once you have shared the Income and Expenses Inputs sheets with your colleagues and they have started to log payments and receipts, you need to bring this data back to the Automated Income Statement master sheet.
To do this, click Run and Sheetgo will update both the connections in the workflow.
The Sheetgo connections import data from the Expenses and Income Inputs spreadsheets into the master sheet.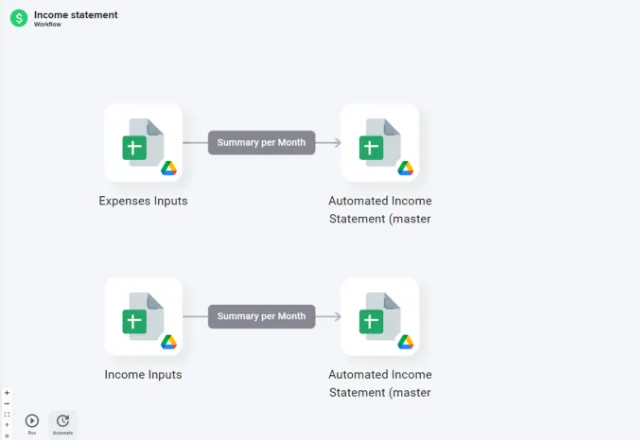 The template creates an automated
Expenses report
and a separate
Income report
.
The pre-written formulas in the template use this data to generate the automated Income Statement.
Step 5: Automate the workflow
Now that the template is up and running, you can schedule automatic transfers.
This will ensure that your Income Statement, Expenses/Income reports always contain the latest data from the Input spreadsheets.
Data will flow at regular intervals without you having to open a spreadsheet or open Sheetgo.
Go to Workflow and click Automate.
Choose how frequently you want Sheetgo to transfer the data: from once an hour to once a month.
Customized finance automation
By connecting Google Sheets, Sheetgo allows you to automate all your data processing tasks and generate automated reports and dashboards.
If you're looking for a more complex financial management solution or you need help customizing the income statement template for your business, book a meeting with our automation experts.
Share with your manager
If you think this automated income statement template could be useful in your company but you're not an accountant or manager, share this post with your colleague so they can set up the system.
Start generating your

income statement

automatically