People all over the world are creating business solutions with Google Sheets add-ons. If you haven't tried any Google add-ons yet, you are probably wasting a lot of time doing tedious, manual work in spreadsheets. You may also be missing out on innovative ways to operate in your finance department.
Think about the invention of the electronic spreadsheet and the changes it had on the way financial departments do business. Before electronic spreadsheets existed, spreadsheets were all created by hand (can you imagine the nightmare?).
Electronic spreadsheets have allowed users to quickly record and organize numbers. As their capabilities have been improved, we've been able to sort and move data quickly and efficiently. These days, it's not just up to the program developers to give is access to new tools. Google Sheets allows third-party developers to create advanced tools that transform the way we use spreadsheets.
If you've been using spreadsheets like it's 2011, it's time to try add-ons and modernize the way you manage data. Today we are going to break down five of the best add-ons for finance.
How to Access Google Add-ons:
It is really simple to get add-ons for Sheets. The easiest way is to click on the link for the add-on. This will take you to the Google web store. Now just click the Free button to install the add-on to your Sheets account. Alternatively, you can get the add-on by following these steps:
Open a spreadsheet
Click the Add-ons button in the navigation menu
Click the Get Add-ons button
A window will pop up for you to browse
Click on any add-on to get more details about it
Click the Free button to get an Add-on
Our top 5 Finance add-ons
Take a look at our the following 5 Google Sheets add-ons and how you can use them to improve and automate your finance processes:
1. Sheetgo
Sheetgo created an add-on for Google Sheets with which you can connect any kind of data between different spreadsheets and databases. Use the Sheetgo add-on to automate data transfers between different sources, and monitor your financial data with ease.
With Sheetgo, you can also use one of these financial templates: budget vs actual, income statement, expense tracker, business unit, and cash flow. Each template also comes with a dashboard where you can visually monitor and track all key company metrics.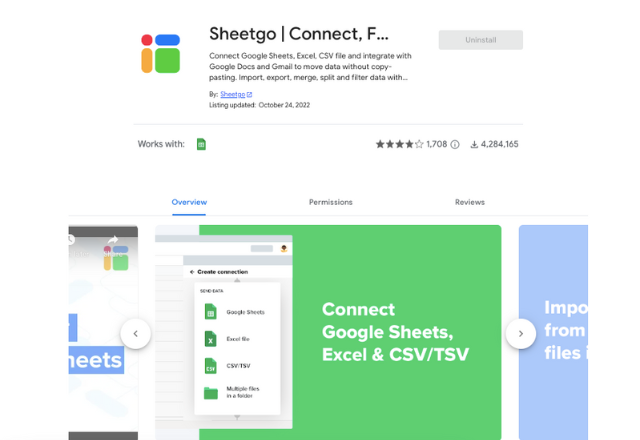 2. Bkper Sheets
Bkper Sheets is a Google Sheets add-on for teams that use the G Suite. This add-on is great for any kind of finance department. So, Bkper can be used by schools, businesses, start-ups, or non-profits. Bkper integrates with various Google apps to make it easy to collaborate with team members.
Use spreadsheets to automatically update financial information in Bkper. You can assign spreadsheets to different team members with different levels of permission to view, edit, or comment. Many finance teams find this a great way for employees to create and manage expense reports anywhere, from any device.
The information is updated to Bkper real-time, ready to be accessed. You can also attach pictures or locations to transactions. In addition, Bkper also integrates with Google Docs and Forms for more top-level management and automation.
Get the add-on here:
Bkper
3. Awesome Table
Awesome Table is appropriately named. It allows people with little technical expertise to create beautiful visual representations of data. Gone are the days where you need to have advanced spreadsheet skills to make a graph or create cohesive attractive reports.
But that is just the beginning. Awesome Table also integrates with Google Sites, WordPress, Drupal, and many other CMS. You can use it to take spreadsheet data and make it into an interactive address book, a map view, or a card view and those are just a few examples.
There are several different awesome-table add-ons you can get to increase the visual appeal of your spreadsheets, making your financial data more interesting and accessible for team members.
4. Solver
Solver for Excel has now come to Sheets. The Solver for Excel developers have created this add-on with specific solutions for finance in mind. They are leaders in using spreadsheet analytics to optimize financial operations.
Whether you need optimization solutions for investments, budgets, cash management, or economic inventory management, Solver has a solution for you.
5. Wisesheets
For investors seeking to find better investment opportunities faster, Wisesheets is an invaluable Google Sheets add-on. It provides essential data like stock financials, dividend, ETF, and live data, all at your fingertips.
Moreover, Wisesheets features an assortment of adaptable templates such as stock watch lists, DCFs, and screeners. And If you prefer, you can even construct your own from scratch, making it a customizable tool for your unique investment strategies.
Bonus: Liveflow
LiveFlow revolutionizes financial data management by integrating seamlessly with your accounting software, such as QuickBooks, Xero, and more. It effortlessly synchronizes your financial data into customizable, real-time Google Sheets. This powerful tool enables you to automate your financial reports, track expenses, and monitor income with unparalleled ease.
With LiveFlow, you gain access to a variety of templates tailored for different financial needs – including profit and loss statements, balance sheets, and cash flow analysis. Each template is accompanied by an intuitive dashboard, offering a clear and comprehensive view of your vital financial metrics, ensuring you stay on top of your business finances.
Editor's note: This is a revised version of a previous post that has been updated for accuracy and comprehensiveness.