Spreadsheets are great ways to keep track of finances. Whether it's a home or business budget, tracking stocks and investments, or managing payments and invoices—using a spreadsheet can help you keep it all organized. Google Sheets is a particularly great tool to use thanks to its range of analytical capabilities. These can help take your finance management to the next level. However, if you are not a spreadsheet expert or you don't know where to start, it can be hard to design a data structure that makes sense. That's where finance templates can help.
It's extremely important to structure data in a way that makes it easy for users to manage and monitor. Not only does this help save time and manual effort, but it guarantees accurate data results. These can then help you make important finance-related decisions. Luckily, there are a wide range of finance templates available today that you can use directly within Google Sheets.
You can use these finance templates exactly how they come, or customize them to fit the way you work.
Without further ado, let's explore in more detail the benefits of using finance templates. Furthermore, we'll show you the top 5 finance templates for Google Sheets that you can implement today.
What are finance templates?
Finance templates are a ready-made structure you can use inside a spreadsheet to help manage your finances. They provide an easy way to break down different aspects of your financial data, usually by incoming and outgoing payments.
Often, finance templates are created with a specific financial process in mind, such as:
Income statement
Monthly budgeting
Cashflow
Department budgeting
Event budgeting
Stock portfolios
And much more
What's more, some templates not only offer the ability to customize the template to your needs, but they can also provide functionalities to create a report based on the data. This gives you better visualization of your overall financial information.
Let's take a look at the benefits of using a template in your spreadsheets to keep track of your finances.
Why use a template to monitor finances?
Finance templates have multiple benefits for users, especially if you're not an advanced user of Google Sheets:
Save time and reduce manual effort: No need to create a template from scratch; simply download the template and easily plug in your personal data.
Affordable alternative to software: Avoid spending money on complex software that calculates your finances – harness the power of spreadsheets to do the same job.
Pre-made calculations for useful analytics: These templates already provide you with pre-made calculations to find useful insights such as percentage changes, net income and more.
Easy visualization for reporting: Optimize your data in a more visual format with the use of Google Sheets' own functionalities including charts and graphs.
Customize to suit your needs: Google Sheets templates are easy to adapt to your needs, simply add or delete certain rows or columns or rename cells.
There are so many finance templates on the market; it can be difficult to find the best one for you. That's why we have narrowed it down to our top 5 finance templates on the market, each providing a unique solution depending on your finance needs.
Best finance templates for Google Sheets
1. Income Statement Workflow Template from Sheetgo
If you're looking for a finance template that can do everything for you, look no further than a Sheetgo template. Sheetgo provides fully-automated solutions based on connected spreadsheets that automatically transfer, manage and analyze your data for you.
The Income statement template by Sheetgo is a ready-to-use, spreadsheet-based template in Google Sheets. This template is made up of 3 spreadsheets; Income Inputs, Expenditure Inputs, and the Automated Income Statement master sheet.
Simply add your income data to the Income Inputs sheet and your outgoings into the Expenditure Input sheet. You can share these individual templates with the team members responsible. From there, Sheetgo will automatically transfer the data from both spreadsheets into the master sheet. Your raw data will be turned into useful insights, including your total income and expenses, earnings before taxes and income after tax.
What's more, the master sheet is designed as a comprehensive income statement which is ready to download and share. Once everything is complete, you can schedule automatic updates for your template. Whenever new data is added to the Income or Expenditure sheets, the master sheet is automatically updated with the latest insights.
Sign up to Sheetgo for free to get access to the template. If you need further instructions on how to use a spreadsheet-based workflow, check out this post on how it works.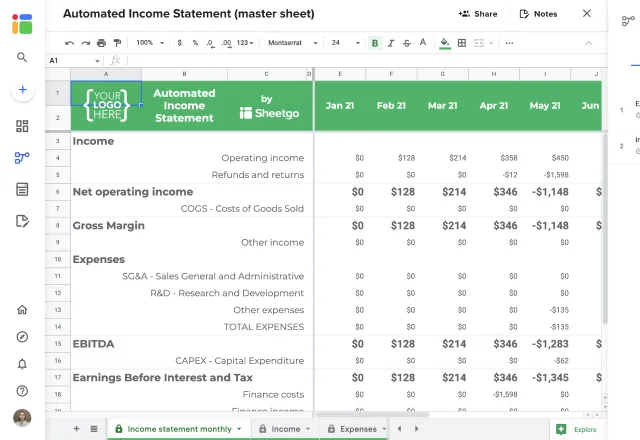 2. Stock Portfolio Tracking Template by OldSchoolValue
If you need a stock portfolio tracking solution, OldSchoolValue is a good option. This multi-page template helps you monitor transactions like purchases, sales, dividends, and stock splits. What's more, you can monitor your stocks in a portfolio, and then manage and consolidate data. This template also makes use of the Google Sheets analytical capabilities. With this, you can visualize important data through the form of pie charts, bar charts and more.
This template opens up directly within your Google Sheets as a view-only file. Click File > Make a copy to make your own copy and get started.
3. Department Budget Template by Smartsheet
Looking for a way to manage budgeting of different departments in one place? Smartsheet provides a simple finance department budget template that you can use to get started tracking current and previous year finances for your business.
The spreadsheet is clearly divided into specific categories of expenses for your department. These include General Expenses, Marketing, PR and Research. Manually plug in numbers for last year and the current year for each section. The spreadsheet will automatically calculate the percentage difference. You'll then also have a final percentage difference for the total amount of expenses between the previous year and this year.
You can easily change the item names, or delete row or columns to customize this template to your department's needs.
This template opens up directly within your Google Sheets as a view-only file. Click File > Make a copy to make your own copy and get started.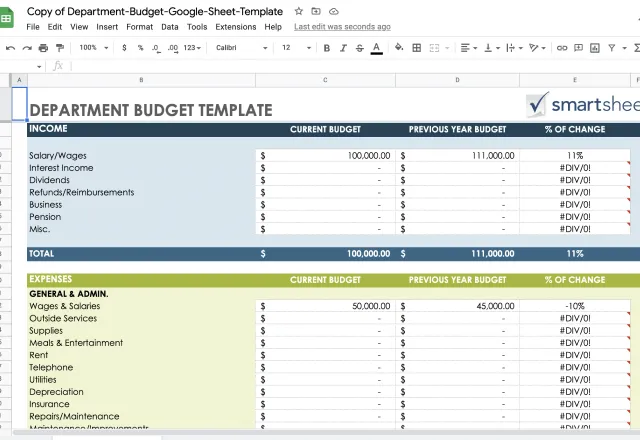 4. Expense Report Template by Google Sheets
If you want to keep things simple and straightforward, Google Sheets offers a few budgeting templates for Google Sheets users within their template gallery.
Simply open up Google Sheets, and click Template gallery. Under the Work section, you will find several ready-made templates, including Google's own Expense report template. Here, simply add your personal details at the top of the spreadsheet, then input your various expenses.
The template will automatically calculate your total expenses for you. What's more, everything is formatted as a report, making it easy to download then print or send.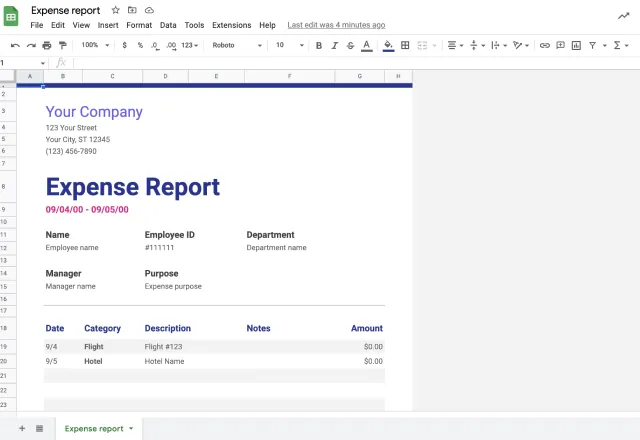 5. Discounted Cash Flow Template By Wisesheets
If you're looking for a comprehensive financial template that incorporates discounted cash flow analysis, Wisesheets has got you covered. The Discounted Cash Flow (DCF) template by Wisesheets allows you to analyze the intrinsic value of any public company or stock by considering its future cash flows and discounting them to their present value.
This template provides you with live and historical key metrics, including data from the income statement, cash flow statement, and balance sheet, along with the performance of other competitors. With the DCF template, you can easily customize assumptions and watch as the template automatically calculates the intrinsic value of the company.
Using this template, you can gain valuable insights into a company's financial health and make better stock investment decisions faster. Whether you're a seasoned investor or just starting out, the DCF template by Wisesheets can be a powerful tool in your financial analysis arsenal.
To access the Discounted Cash Flow Template by Wisesheets, visit their website and create a Wisesheets account. Once you have an account, download the Wisesheets add-in for Google Sheets. Next, download the Discounted Cash Flow Template from the WISE templates menu of the link below. Once you have it, simply customize the assumptions and company ticker and let the template do the rest.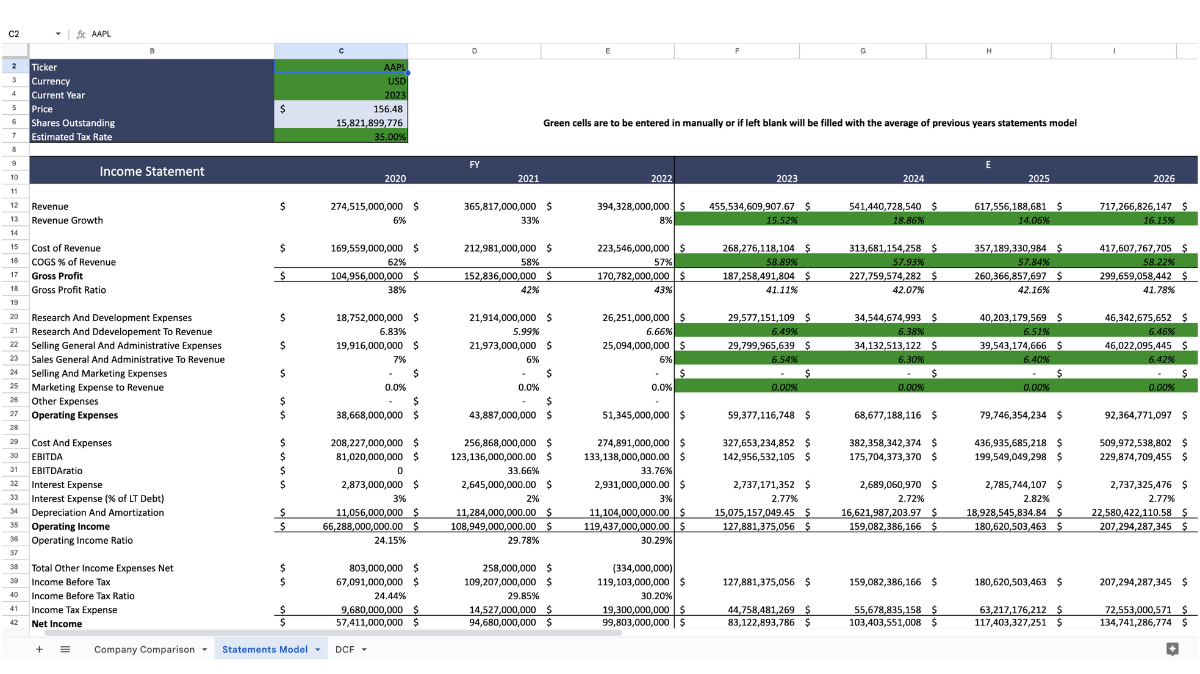 Top Google Sheets finance templates for 2023
And there we have it, our Top free Google Sheets finance templates! Although all of the above templates are simple and easy to download for an immediate solution, Sheetgo takes financial templates to the next level with spreadsheet automation. You can have a self-sufficient workflow that updates your financial templates for you, saving you both time and manual effort.
If you'd like to learn more about other Google Sheets financial templates by Sheetgo, why not check out our blog post on the Budget vs. Actual spreadsheet template?
Alternatively, take a look at some more finance-related articles below.
Editor's note: This is a revised version of a previous post that has been updated for accuracy and comprehensiveness.