Spreadsheets are great ways to keep track of finances. Whether it's a home or business budget, tracking stocks and investments, or managing payments and invoices—using a spreadsheet can help you keep it all organized. If you are not a spreadsheet expert, it can be hard to design a data structure that makes sense. It is important to structure data in a way makes it easy for users to manage and monitor. If you are not sure where to start when creating spreadsheets for finance, you can try using a template. Use finance templates exactly how they come, or customize them to fit the way you work. Let's get you started using templates for Google Sheets.
How to Use Google Sheets Templates:
There are two different ways to access Google Sheets templates for sales.
Open Google Sheets
Click Template Gallery
Click on any template and it will automatically open into a new Google Sheet, with instructions on how to use it.
Keep in mind, that using the Sheetgo web app or add-on for Google Sheets, you can import data from an Excel file. The latest version of Sheetgo preserves formatting. So, if you find the perfect template out there online that is an Excel template, you can simply save it as a .xlsx or .csv file, and change it into a Google Sheets file using Sheetgo.
Let's take a look at the best templates.
First, let's take a look at what is in the official Sheets Gallery
Here are some examples of the finance templates currently provided by Google: Expense Report, Profit & Loss template, and Annual Business Budget. They range from simple to complex. These will come in handy for individuals and small business. You can customize the colors, fonts, and general formatting to make them fit your personal brand. There are currently only around 25 templates, a lot of them are geared towards finance. Keep an eye out for new additions as companies are starting to add handy templates into the gallery as well.
You can also check out some finance templates available from other sources:
Income statement template of Sheetgo
If you are looking for a way to easily monitor your profit and loss statement, try our ready-to-use, automated Income statement template in Google Sheets. Follow the instructions in this blog post or directly get a copy of the template by clicking the button below.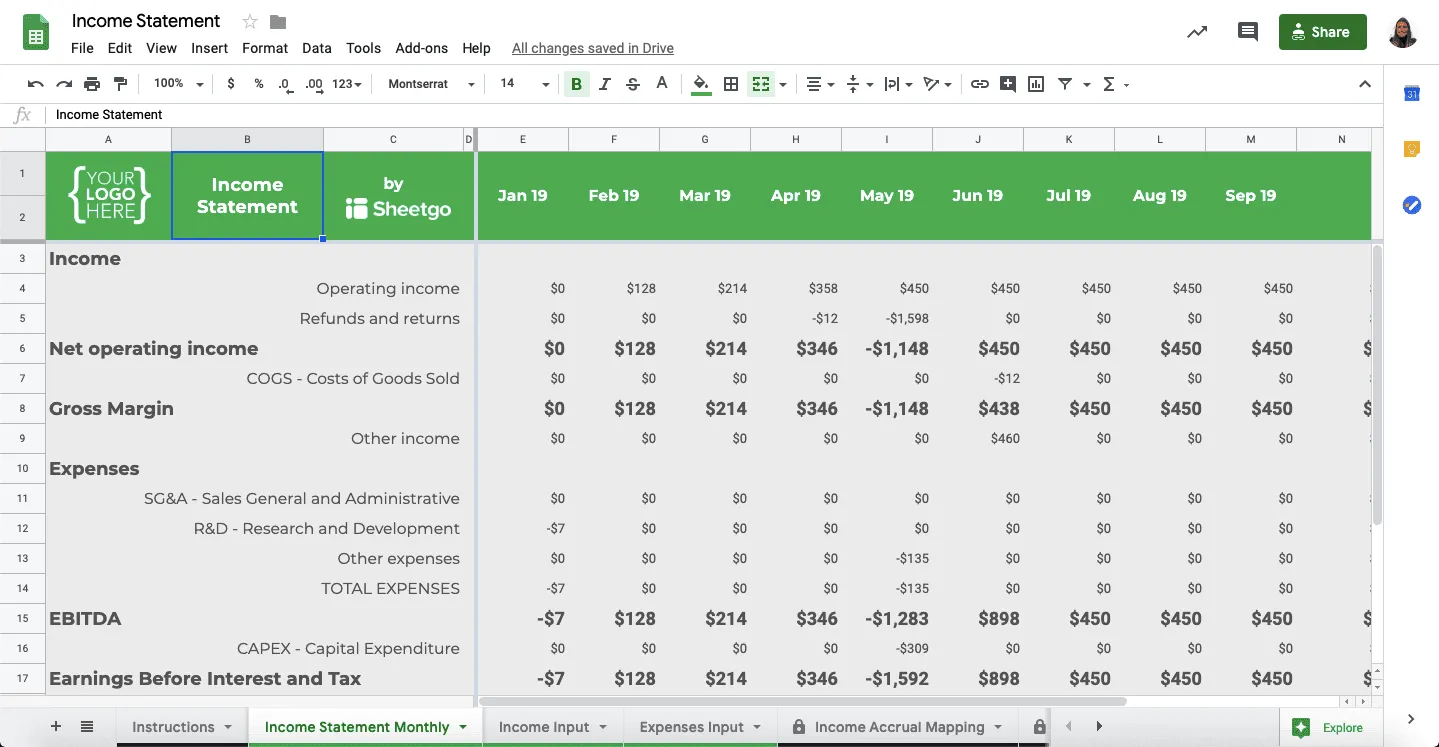 Stock Portfolio Tracking Template
This multi-page template by OldSchoolValue is perfect for tracking a stock portfolio. You can monitor transactions like purchases, sales, dividend, and stock splits, monitor your stocks in a portfolio, and manage and consolidate data. To get this spreadsheet and start tracking your investments click here and the template will open in Google Sheets. It will be View Only. You will need to click File → Make a copy to make your own copy and get started.
Department Budget Template
Here is a simple finance department budget template that you can use to get started tracking current and previous year finances for your business. Plug in numbers for last year and the current year, and the spreadsheet will automatically calculate the percentage difference. Change the item names or delete to customize this template.
Example
Template Gallery Add-on:
Vertex42 creates great Excel tutorials and templates. You no longer have to try and import the templates from Excel to Sheets, or worse, try to recreate them yourself. Vertex42 created a Google Sheets add-on called Template Gallery and it is awesome. There are a TON of templates available through this add-on that aregreat for personal and professional finances. Note that this is different than the gallery described above, it is an add-on.
You no longer have to search around the internet for templates, you can access them all right from inside Google Sheets add-ons manager. To get templates first you will have to get the add-on. Then click Add-ons → Template Gallery → Browse Templates. A box will open with many different templates you can try.  Choose one you like and then click Copy to Drive, then Open File. Click through the different tabs in the sheet to explore the functions of this template and learn how to use it. Below are a few great financial templates for startup businesses.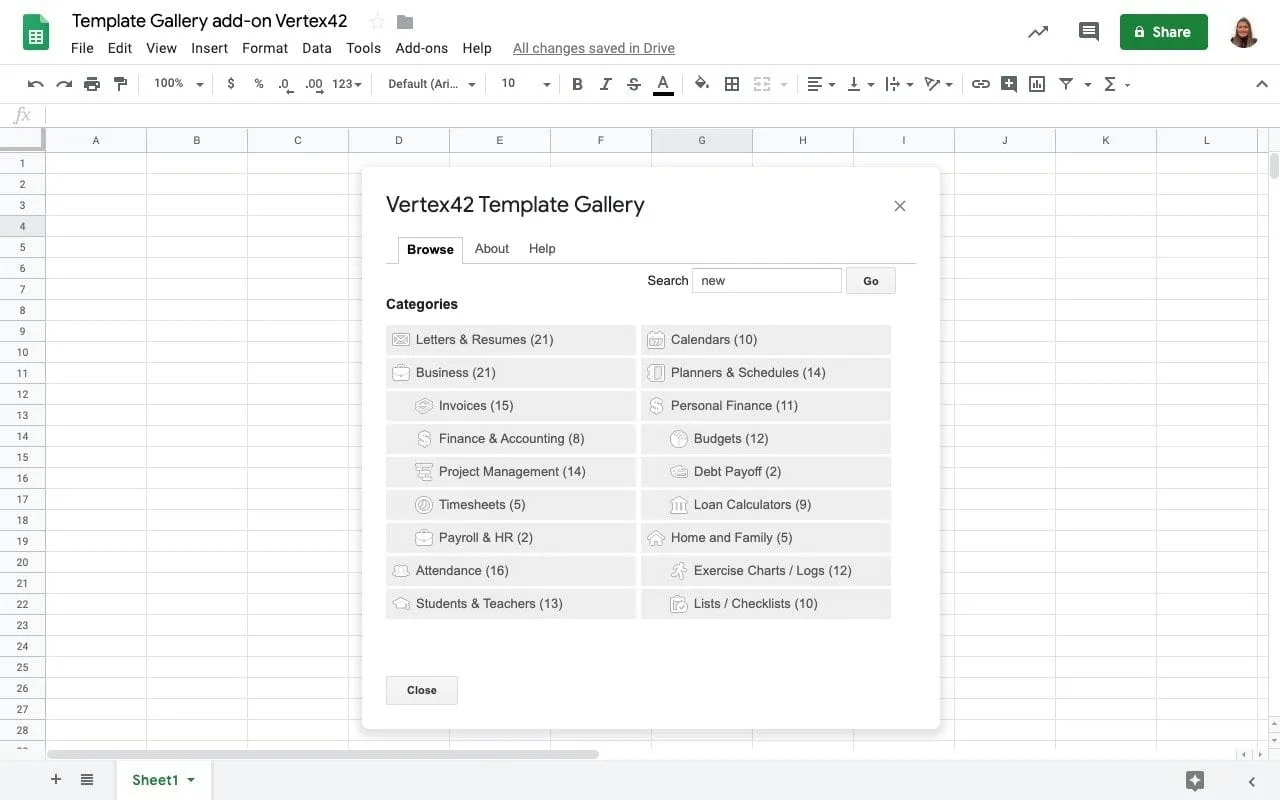 Two Versions of a Stock Portfolio With Dividends
NoMoreWaffles created another great template for managing investments. They use the GOOGLEFINANCE function to update real-time information about the stock market. This blog post by Reinis Fischer gives detailed instructions on how to use that template and also provides a simplified version for those of us that want simple solutions to managing finance. When you open a Google Sheets template, it will be View Only. You will need to click File → Make a copy to make your own copy and get started.
There you go, our Top Free Google Sheets Finance Templates. Enjoy reading more about each one of them and finding the perfect fit for you personally.