The CRYPTOFINANCE add-on for Google Sheets is a great tool that allows users to automatically transfer the latest cryptocurrency data into their spreadsheets. CRYPTOFINANCE also allows you to analyze and create insightful reports, as well as your own personal portfolio to keep track of the currencies you own. Now part of Cryptowatch, CRYPTOFINANCE pulls real-time cryptocurrency insights from over 988 cryptocurrencies in 29 exchanges.
CRYPTOFINANCE is essentially a formula that you can use within Google Sheets to access Cryptowatch's huge database of cryptocurrency information. To access, you must have a Cryptowatch account. There is a free and paid version of Cryptowatch, which will determine the amount of access to both live and historical data.
Let's explore in more detail on why you should use the CRYPTOFINANCE add-on in Google Sheets and how to successfully install and use it.
Why use CRYPTOFINANCE in Google Sheets?
The CRYPTOFINANCE add-on in Google Sheets is a great way to receive all of the latest cryptocurrency data whilst turning these into useful insights easily. Here are just a few of the additional benefits of choosing to use the product:
Real-time insights: You can create a live connection to Cryptowatch with Google Sheets to receive all real-time data.
Easy-to-use interface: By monitoring cryptocurrency through the Google Sheets interface, you can make the most of a tool that you're already familiar with, for maximum efficiency.
Implement analytical features of Google Sheets: Use Google Sheets' powerful analytical tools to create visual representations of your data and calculate useful insights.
As CRYPTOFINANCE can only be accessed via Cryptowatch now, you must create an account to access the data. Cryptowatch has a number of plans that vary in price, or simply pay as you go. Every subscription is paid using credits, which you can exchange your money for. Cryptowatch does have a Fundamental package that's free to use (offering 100 requests), and you can also get a 2 week free trial of their Derivative package which offers unlimited access to everything.
Click on this link to learn more about Cryptowatch's pricing plans.
How to install CRYPTOFINANCE on Google Sheets
Step 1: Remove old CRYPTOFINANCE add-on
If you already have CRYPTOFINANCE installed as an add-on from its old version on Workspace, you must remove it before installing the new version.
To do this, open your spreadsheet and head to Add-ons > Manage add-ons and select Uninstall from the More options (⋮) button located on the CRYPTOFINANCE app.
Step 2: Add the script
In your Google Sheets file, select Tools > Script editor. The script editor should open in a new tab.
Delete any existing copy. Copy and paste the content of CRYPTOFINANCE.gs into the page. Don't forget to name the script clearly.
Once pasted correctly, click the Save icon found on the top menu.
Step 3: Run the script and refresh your Google Sheet
Once saved, click the Run button located immediately to the right. Cryptofinance may require permission to access your Google account.
Head back to your Google Sheet and refresh the page. A new CRYPTOFINANCE section should appear in the toolbar.
Now that you have successfully connected the CRYPTOFINANCE tool to Google Sheets, it's now time to learn how to use it.
How to use CRYPTOFINANCE in Google Sheets
Google Sheets is able to access Cryptofinance data by generating Cryptowatch API keys.
You must create your API keys in the Cryptowatch software before you can access it in Google Sheets.
1. Sign in/create Cryptowatch account
First, you must sign in to your Cryptowatch account. This should take you to the homepage.
2. Generate API key
In the top right-hand corner of the homepage, click on the Account dropdown and select API Access.
To generate your key, provide a title for the Key name field. Then press Generate key.
You should see two unique key codes appear. To access CRYPTOFINANCE, we only need the Public key code.
3. Connect API key to Google Sheets
Now head back to your Google Sheets file. Go to CRYPTOFINANCE > Enter Cryptowatch Public API Key and enter the unique Public key code into the field.
Once entered, press Ok.
4. Enter formula to extract data
Now that your Google Sheets is successfully connected to CRYPTOFINANCE, you can enter any formula to get the data you want.
Your formula will always start with =CRYPTOFINANCE("name"):
Here are just a few examples of what you can do:
Access ALL data from Cryptowatch
To transfer all the data from Cryptowatch, enter the following formula:
=CRYPTOFINANCE("CRYPTOWATCH")
You should now have a new row for every cryptocurrency that Cryptowatch has data on.
Transfer specific cryptocurrency value
To get the latest data from specific cryptocurrencies, simply add the cryptocurrency symbol and your chosen exchange currency to the formula.
For example, let's say I want to find the current exchange rate for Bitcoin in USD. I would enter the following formula:
=CRYPTOFINANCE("BTC/USD")
The value should appear as shown below:
How to create your own crypto portfolio
As long as you have a tab full of all CRYPTOFINANCE data (aka, your source sheet), you can then create your very own personal portfolio!
Use this to keep track of any cryptocurrencies you own, and keep stay up-to-date with the latest insights.
1. Create new tab
Create a new tab and name it "My portfolio".
Copy and paste the headers you want to include in your portfolio from the source sheet.
2. Pull in data from source sheet to your portfolio
To transfer data of specific cryptocurrencies, create a formula that pulls the data of specific cryptocurrencies from your source sheet.
To do this, you first need to locate the cell of your chosen cryptocurrency.
For example, if I want to use Bitcoin, I can see that in my source sheet, it is located in cell B4.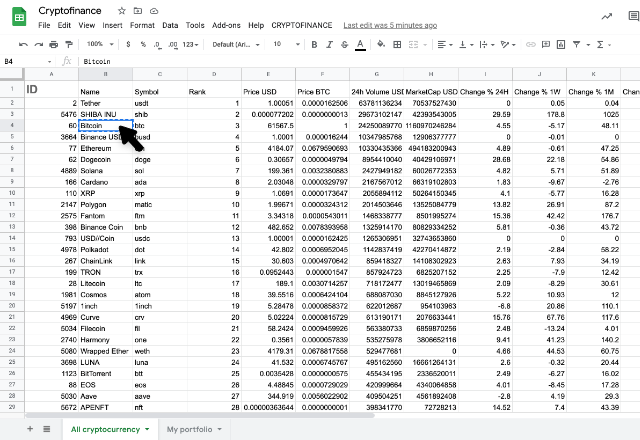 Now, I can use a formula in My portfolio to transfer the Bitcoin data. The formula is as follows:
= 'source sheet' !XX
'sourcesheet' should be substituted for the name of your source sheet
'XX' should be substituted for the cell location of your cryptocurrency
In this example, I would enter the following formula:
='All cryptocurrency' !B4
Once entered, click the blue square on the cell and drag it to the right over the rest of your columns. Google Sheets will autofill the rest of the information for you.
Continue to repeat the process for each cryptocurrency until you have a complete portfolio!
Editor's note: This is a revised version of a previous post that has been updated for accuracy and comprehensiveness.