We all know how working from home can be difficult. But for teachers, it's an even bigger challenge. They are used to creating their classes and teaching right in front of their students, delivering a very personal and interactive course. Recently, however, we've seen how important it is to be able to work from home.
Luckily there are online tools that enable teachers to continue teaching their students in an interactive way. The most well-known probably is Google Classroom. With Classroom, educators can create classes, distribute assignments, grade and send feedback, and have everything in one place — online.
Google Classroom attendance
Google Classroom has loads of great features but it does not offer an easy, automated way to track all students' attendance. Especially during these challenging times, teachers need to be able to see who attended the class and who didn't. This is not only to make sure that each student is up-to-date with the course material but perhaps also to check whether or not their families are safe and healthy.
On top of that, keeping a Google Classroom attendance sheet for the entire school is useful for school administrators to be aware of the current situation and progress of each class of students. Below are the steps to set up an automated Google Classroom attendance tracker.
Step 1
Inside your Google Classroom, create a Google Form to register student attendance. Share this form with your students. They then have to fill out their personal information every time they enter your Classroom.
Note that to make this system work, it's better to provide a dropdown of all student names inside the Forms. This way, you avoid mistakes when writing their names. Some students may not give their full name, or may even type in a nickname instead.
Step 2
Once your students fill out the attendance Form, the Form responses are automatically sent to a Google Sheet. Store all of these Google Sheets files in the same Google Drive folder. We will use Sheetgo to merge all Google Sheets files from your different classes into a single Google Sheet.
Step 3
As said in the previous step, the next step is to merge all Form responses into Sheetgo's student attendance tracker template. With Sheetgo, you can transfer data between any type of spreadsheet — automatically. Merge the attendance registrations together into your attendance tracker dashboard.
To make sure that the template works smoothly, your data needs to be in the right format. Let us help you create the spreadsheet formulas necessary to fill out the attendance tracker automatically.
Step 4 (extra)
One of the systems we have created for a school district in New York uses Sheetgo to filter out students that requested help and tutoring.
The setup is the following: from inside your student attendance tracker, we filter out students that require some extra attention. We then use another Sheetgo connection to distribute these students to the correct tutor that can help them. 
On top of that, we filter out all students that haven't filled out the attendance form. This way, the attendance support team can reach out to those students and make sure they are doing well and their family is safe.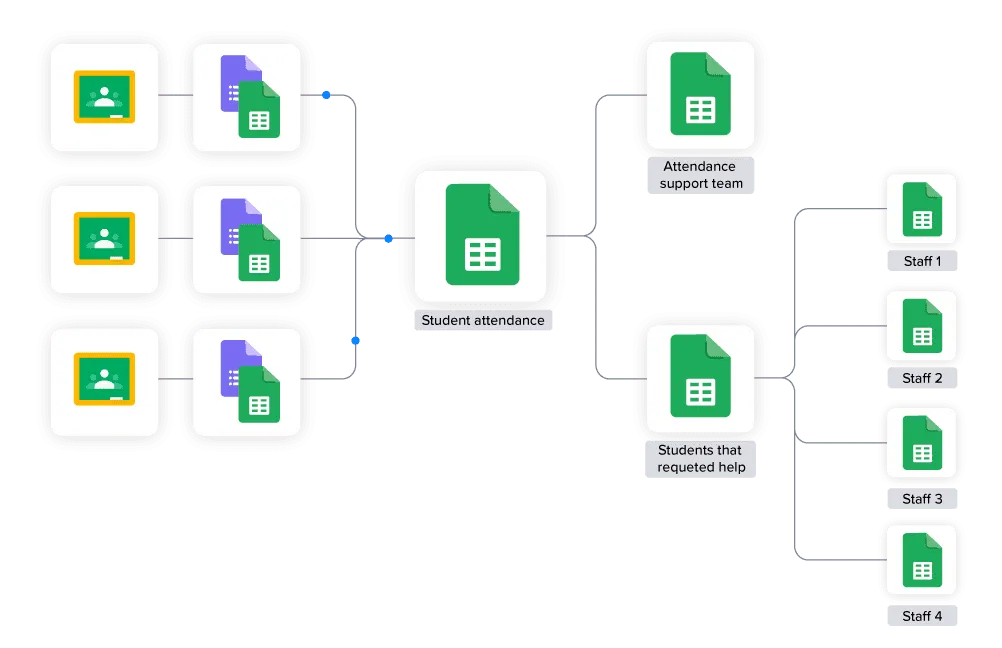 Conclusion
This is how you set up a Google Classroom attendance monitor. If you need a more comprehensive solution for your school contact our automation experts about custom project design. New to G Suite for Education? Check out our guide on how to use all the G Sheet apps when teaching remotely.