Grading students can be a hard and time-consuming task when you are teaching a lot of different classes and evaluating multiple assignments and tests. Furthermore, tracking your grades manually or by memory often leads to mistakes or unnecessary piles of documents. As a result, many teachers are opting to use online gradebook templates because of their ease of use and accuracy.
The education sector is gradually moving towards more digitalisation in many of their processes. Indeed, the benefits of having online tools availables are many. Besides reducing the amount of work administration departments have to deal with, teachers benefit from using a template that is easy to use and designed for their needs.
The lion share of teachers are no strangers to using spreadsheets. Therefore, Sheetgo's gradebook management template in Excel is the ideal tool to track their grades and evaluations. Read on to discover the benefits it provides.
The benefits of using Microsoft Excel to manage gradebooks
Flexibility: Excel spreadsheets can be modified and changed according to your school's needs and requirements. As such, there is no need for complicated software solutions or appointments with your school's IT department.
Accessibility: Whether you are working from a tablet, a desktop, laptop or smartphone, teachers and people with access to the workflow can always access their gradebooks when they need to.
Compatibility: Microsoft Excel is easily compatible with other software that your school might be using. Therefore, data is easily imported into Excel spreadsheets.
Ease of use: Many teachers and administrators are familiar with spreadsheets and if they are not, it is easy to train them. Indeed, using an Excel-based template is ideal for beginners and advanced users alike.
What you get with this template
When you install Sheetgo's gradebook management template in Excel, four Microsoft Excel files with pre-built Sheetgo connections are saved to your preferred cloud-based account:
Three Class spreadsheets, stored in one folder. Share each file with a teacher, and make as many copies as you need for additional classes. Teachers use their copy of this spreadsheet to record student grades. The spreadsheet automatically calculates a total, percentage, and average grade for each student, as well as class averages for each assignment.
One Gradebooks Management master sheet, for the school administrator or head of department. Sheetgo connections import data from the teachers' Class spreadsheets directly into this file. A dashboard displays key information such as the top 10 best students, top classes by grade, and the top 10 best grades by assignment. A top-priority students chart alerts you to pupils who are falling behind and may need extra support.
How to install the Gradebook management template in Excel
Follow the steps below to get started:
Click the blue button below to start the process. Sign up for Sheetgo with your Google, Microsoft, or Dropbox account. It is free, no credit card is required.
Click Install template and choose your preferred platform to store your copy of the template.
Please allow a few moments as Sheetgo creates the connections and saves a copy of the template files to your chosen storage.
Gradebooks management
Spreadsheets workflow template with teachers to track student grades for different classes.
How to use the Gradebook management template in Excel
Step 1: Set up your grading scale
Open the Gradebooks management master sheet by double clicking it in the workflow view. In the Instructions tab, set up your grading scale as you wish. The Gradebooks management template assigns letter-based grades based on a percentage score. If you prefer working in the Excel application, open the template in Excel by clicking Open in Desktop App.
After you have changed the grading scale, go back to the workflow view, open the Classes spreadsheets and repeat this process. It is important that every Class file has the same grading scale for correct evaluations.
Step 2: Share the Class spreadsheets with teachers
In the workflow view, double click the Classes folder. A new tab will open in your chosen cloud-based account with the 3 Class files.
Share each of the Class spreadsheets with the correct teacher.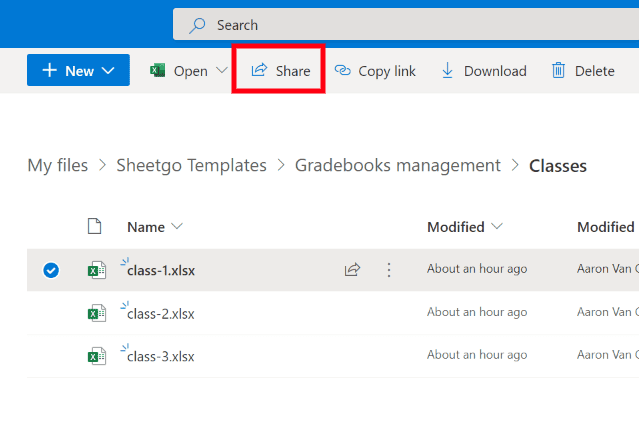 Step 3: Enter student data
The Class spreadsheets contain sample data to demonstrate how the template works.
In the Gradebook tab, overwrite the data in Column A with the correct list of students.
In Row 1 , enter the names of assignments, exams, and tests.
Step 4: Automate or run the workflow
Once courses begin and teachers start grading assignments, they enter their students' marks directly in their spreadsheet.
When you automate, or run, the workflow, the latest student grades data from the teachers' Class spreadsheets is imported into the management master sheet.
To do this, open Sheetgo and your Gradebooks management workflow.
Click Run in the left bottom corner.
To ensure you've always got the latest data from all classes, automate the workflow.
Instead of Run, click Automate in the left bottom corner.
Step 5: (optional) Add more Class spreadsheets
If you want to add more classes to your Gradebook workflow, simply copy one of the Class spreadsheets, rename them, and add them to the same Classes folder.
The next time Sheetgo runs your workflow, the grades from that extra class will automatically be considered as well.
Congratulations!
Your automated gradebooks management template in Excel is now up and running!
Check out the dashboard in the gradebooks management master sheet to see the latest metrics from across the school or department.
Add your school logo to the dashboard to customize the template.
Did you like this post?
If you found this post helpful or interesting, share it with your colleagues and friends via the social media buttons on the left!
And don't forget to check out our Attendance tracking template in Excel.