Google Sheets is an awesome interactive tool for classroom projects and managing student information. But sometimes additional extensions can help you work even more efficiently and creatively in spreadsheets. If you're a teacher or school administrator using Google Sheets, it's worth checking out the hundreds of add-ons available.
Add-ons run on Google products, but they're made by third-party developers who want to provide an extra tool for a specific task. The cool thing about this is that ordinary people all over the world, teachers included, are able to create their own spreadsheet apps and share them with others. Here I'll run you through some of the best add-ons for education available right now.
How to access Google Sheets add-ons for education:
Accessing add-ons for Google Sheets is really simple. The easiest way is from the Google Workspace Marketplace. The links provided in the following list will take you straight there.
In the Google Workspace Marketplace, just click the Install button, and the add-on will be added to your Google Sheets account. As a result, when you open a spreadsheet it will be visible under the Add-ons menu.
If you see a "Not available for install" notification when you try to install the add-on, speak to your IT administrator. In large companies and organizations such as schools, the G Suite administrator can install add-ons for everyone working in the domain.
Alternatively, you can install an add-on while you're working in a spreadsheet.
Open a Google Sheets file.
Click the Add-ons button in the navigation menu.
Click the Get add-ons button.
A window will pop up for you to browse.
Click on any add-on to get more details.
Click the Install button.
The top 5 Google Sheets add-ons for education
1. Flubaroo
Flubaroo is one of the most popular Google Sheets add-ons for education, boasting more than 10 million users. This add-on helps teachers grade online coursework. Many teachers are now going paperless, setting assignments and quizzes via Google Forms, for example. Others are teaching remotely with the help of Google for Education tools. With Google Sheets and Flubaroo, quizzes can be graded automatically and nearly instantaneously. You can provide manual scores as well if the test includes a combination of multiple-choice and open-ended questions.
Flubaroo lets you share scores with your students easily and review results for the whole class. You can see which questions students commonly get wrong, and identify where you need to improve your teaching methods. Flubaroo reports that more than 400,000 assignments are graded every month, showing just how useful this add-on is for teachers. Read this blog post to learn how to use it.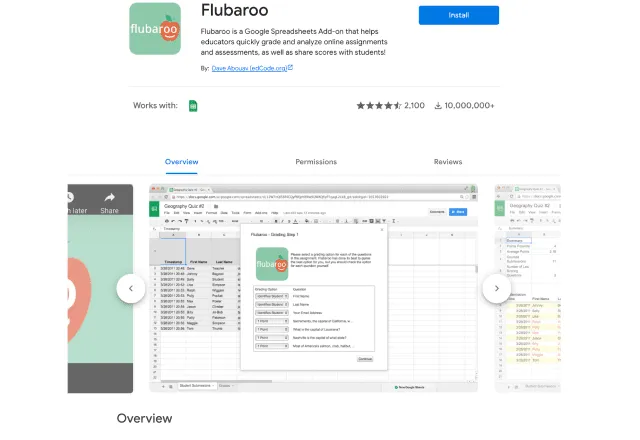 2. Flippity
Flippity was one of the earliest educational add-ons available for Google Sheets. It allows teachers to turn a simple spreadsheet into an interactive educational game or collaborative class activity.
Originally, Flippity was designed to help you create online flashcards from Google Sheets, but the range of templates now includes everything from quiz shows and crossword puzzles to spelling and typing tests.
The add-on has recently been discontinued but all the same great templates are available directly via the Flippity website. Learn how to use Flippity in this article.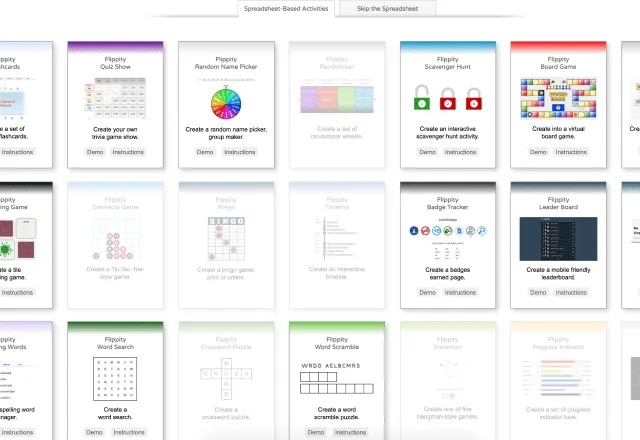 3. Wikipedia and Wikidata tools
This add-on is great for mining data for your classes. You can use Wikipedia and Wikidata tools to do a ton of information gathering, instantly. The add-on provides you with a host of custom lookups such as WIKITRANSLATE and WIKIGEOCOORDINATES.
These functions pull live data straight from Wikipedia into a spreadsheet, enabling teachers to compile an up-to-date and accurate database of facts.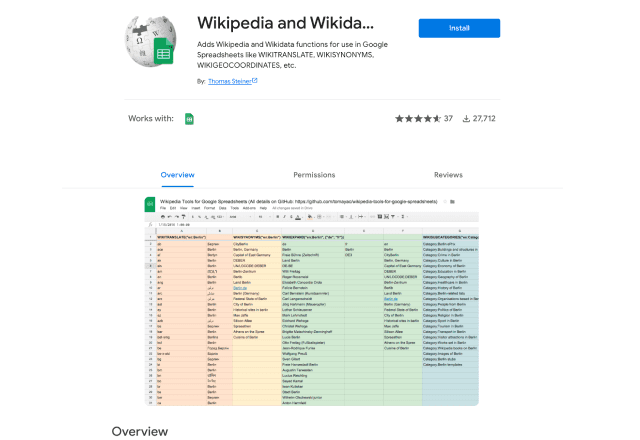 4. Quiz Banker from New Visions for Public Schools
Are you a high school teacher working in New York state? If so, you'll be familiar with the pressure of having to get your students through Regents exams. Luckily the New Visions CloudLab team has created this brilliant add-on that allows you to generate tests and quizzes based on past Regents exam papers.
Quiz Banker provides over 3,500 questions and answers for all areas of the curriculum so you can create student-ready quizzes right in Google Sheets.
5. Autocrat
From the creators of Quiz Banker, this is another powerful add-on that can help transform your teaching prep. In a nutshell, Autocrat takes data stored in Google Sheets and puts it into PDF, a Google Doc, or Google Slides presentation. The templates help you create personalized, sharable docs quickly and easily.
As Autocrat merges data automatically, this tool will save you countless hours of manual work. You can create one document per row of data or create a single file that merges data from every row in the Sheet. Get full instructions here.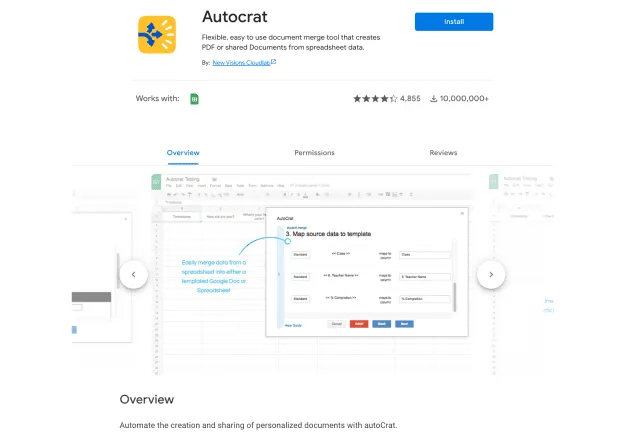 Free up time and power your classroom with Google Sheets
These are just a few of the powerful Sheets add-ons for education available right now, so it's worth having a browse in the Google Workspace Marketplace for other useful tools.
Thanks to its flexibility and powerful collaboration function, Google Sheets is a surprisingly useful tool for teachers and administrators. Many schools now use Sheets to take attendance, track grades, analyze test scores, share assignments with students, and create informational databases.
Browse our other posts below for more ideas!