Google Sheets is a busy teacher's best friend, no matter which subject you teach or the age of your students. You might think of spreadsheets as a dull document for data processing but they're also a handy tool for educators. In particular, spreadsheets are helpful if you teach online and manage students remotely. Google Sheets is powerful in itself, but add-ons enable you to get even more creative with spreadsheets. Education-focused add-ons allow you to distribute homework and grades, manage attendance, and organize contact information. There's a ton of cool add-ons available for Google Sheets and one of our favorites for education is Doctopus.
How Doctopus helps teachers
Doctopus is an add-on that helps teachers assign and manage student projects online. It enables you to distribute projects from master template docs stored on your Google Drive. You can give all your students access to one single Doc, or create an individual doc for each student or group.
Doctopus also provides activity monitoring and custom permissions controls. These can be used to track student progress, project deadlines, and carry out peer-reviews. You can easily add grades and feedback and send it off by email, all from inside a spreadsheet.
Doctopus was created by a science teacher turned school administrator who wanted to transform teacher and student collaboration. When coming up with the concept he imagined an octopus using its tentacles to hand out homework around the web. That's pretty much how it works!
Doctopus core features
Create a class roster for multiple classes.
Create a structured, shared folder.
Choose to share a document, project, or entire folder with one or multiple classes at once.
Share different versions with students based on their level.
Automatically grant or restrict permissions.
Use email to send notifications, feedback, and grades.
Gain statistical insights into how your students revise their work and collaborate.
Integrate with

 

Goobric.
How to access Doctopus
Installing add-ons for Google Sheets is really simple. The fastest way to get Doctopus is to click this link that takes you directly to the G Suite Marketplace. Simply click the Install button and the add-on will be added to your Google Sheets files.
Alternatively, you can get the add-on by following these steps:
1. Open a Google Sheets file.
2. Click the add-ons button in the navigation menu.
3. Click the Get add-ons button.
4. A window will pop up for you to browse.
5. Type "Doctopus" into the search box.
6. Click the Free button to get the add-on.
How to use the Doctopus add-on
Launch Doctopus
Firstly, click add-ons → Doctopus.
When you first open the add-on, you'll see a welcome message to help you get started.
Google Classroom mode: Easily ingest existing Google Classroom Assignments for use with Goobric, providing a seamless paperless rubric assessment workflow!

Roster mode: Doctopus in its full-tentacled glory. Distributes Drive resources to a roster of students' class Drive folders. Great for differentiated and group projects. Allows embargo, Goobric, etc.
Follow the steps in the toolbar
Look at the toolbar on the right-hand side of the spreadsheet.
For Step 1 you can choose to either:
Ingest a Google classroom assignment
Distribute drive resources to a roster
Option 1 is only for teachers who use Google Classroom with the G Suite for Education apps.
In this example, I will choose option 2.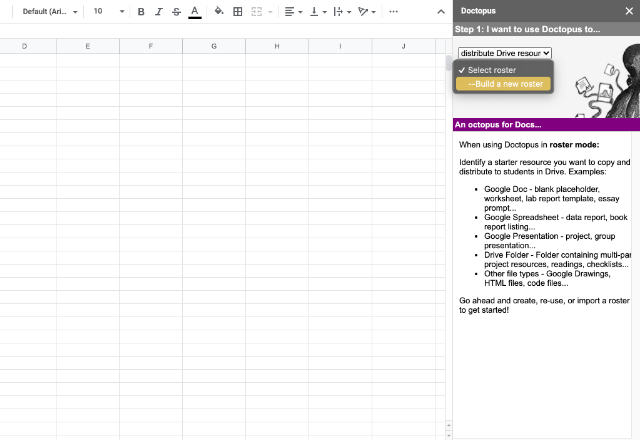 Next, select build a new roster in the toolbar. Then, select on this sheet, and finally, click the Create Roster button.
Populate your class list with names and emails. Use a different roster for each class. Doctopus recommends you keep the roster to under 40 students. Once you have entered all the names, choose a name for your class, select the 'create class folders', and click the Create and Share Folders button in the right-side toolbar.
You will see that Doctopus has now created cascading, organized folders within your Google Drive. Simply click the link to open them.
In the next step, you need to choose a sharing type.
Next, set your sharing and permissions levels to control access.
Now it's time to start filling those folders up! Doctopus will prompt you to upload a Doc from your Google Drive. Choose where in your Doctopus folders to keep the file, and add a special message to your students if you want.
Now for more Doctopus magic! The header populates with more content, and the app works like a digital copy maker to make an individual file for each student! Here is your dashboard for this assignment!
That's it!
Have fun exploring Doctopus and seeing how it can transform the way you interact with students.
For more inspiration and ideas, check out our list of the top 5 Google Sheets add ons for education.