Flippity is an incredible — and free — resource for teachers. It offers a brilliant collection of Google Sheets templates that allow you to create online flashcards and other activities for students. The templates are ready to use; just click to download and customize them for your classes.
As well as flashcards, Flippity offers spreadsheet templates for quizzes, crosswords, spelling tests, and other educational games. As all the activities are based in Google Sheets, Flippity resources are perfect when you need to create engaging activities for online and remote classes.
Thanks to Google Sheets' collaboration function, these resources are highly interactive. As a result, kids will learn how to collaborate and work together online. Once you set up the template, you simply publish the activity to the web before sharing the link with students via chat, email, or in Google Classroom.
Flippity provides all their templates for free — the website is maintained by ad revenue so there's no subscription or need to create an account. You can access everything with your Google account and customize the templates for your own students.
What Flippity offers
Flippity's Google Sheets templates enable you to create interactive learning materials such as
Flashcards
Quiz shows
Interactive timelines
Typing speed tests
Scavenger hunts
Spelling tests
Word clouds
Certificate quizzes
Wordsearches
Progress indicators
Memory games
Bingo
MadLibs creators
How to access Flippity resources
Get the full range of templates from the Flippity website.
Under each activity, you'll see a thumbnail with links to a demo, instructions, and template. Click template to make a copy. (If you're not already signed in with your Google account, you'll be prompted to do so).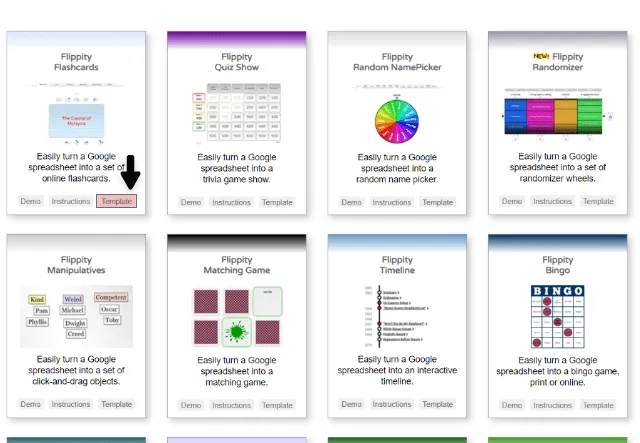 How to use Flippity templates
Step 1:
First of all, I'd recommend checking out the demo and instructions on the Flippity website. This will give you an idea of what you can do with the template and step-by-step instructions.
When you click Template > Make a copy, a copy of the template is saved to your Google Drive and it opens in your browser.
Rename the file as required.
Step 2:
Customize the template with your own questions, words, categories, and activities.
Do not edit the blue cells or delete any rows or columns. These are part of the template and if you alter them, the spreadsheet might not work correctly.
Here I will customize Flippity's flashcard template for my French class.
I change the Audio on Side2 of the flashcards to French using the dropdown menu and add an image from Wikipedia for one of the cards.
How to add images to your Flippity template
You can add photos and videos to any of the templates, as long as they're available online. Just paste the URL of a picture directly into the cell. Note that this will not work with pictures stored in your Google Drive. Choose smaller-sized images for optimum speed.
To embed YouTube videos into the template, copy the "Share this video" link from YouTube and paste it straight into the target cell.
To add a picture from Wikipedia, click on the image then Share or embed this file. It's the icon on the bottom right-hand side of the screen. Under embed, copy the link that begins with "https://upload".
Here's the URL to the image of a lemon I used on my flashcards:
https://upload.wikimedia.org/wikipedia/commons/thumb/c/c7/Lemon-Whole-Split.jpg/1200px-Lemon-Whole-Split.jpg" alt="Lemon-Whole-Split.jpg
Step 3:
Now publish your Flippity spreadsheet online, so that your students can access it. Do this by clicking on File > Publish to the web > Publish.
A URL appears in a box. This is the link you can copy and share with your students via Google Classroom, chat, or email.
 Step 4:
Open the URL to view the published version of your Flippity spreadsheet.
When I paste the URL for the flashcards I created into my browser, the online file appears. If I click on the Get the Link Here tab, it provides a link to my flashcards.
Click the arrows to scroll through the flashcards:
Check out the other activity options. This is the list view:
Create quick class activities with Flippity
That's a quick overview of how to use Flippity's Google Sheets templates. Follow Flippity on Twitter for more ideas and updates.
Looking for more online templates for education? Check out these certificate templates to provide a nice award to hardworking students in your classes.